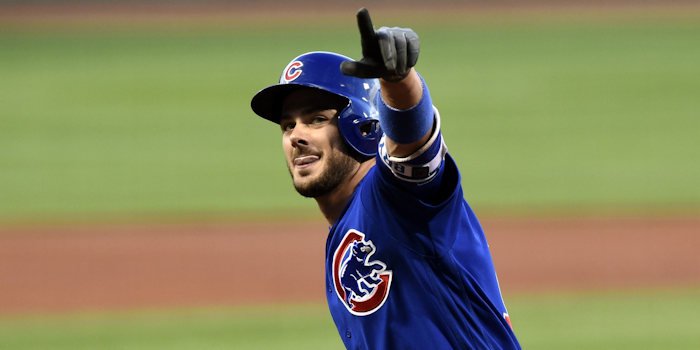 | | |
| --- | --- |
| Bryant hits early homer, but Cubs fall to Red Sox | |
---
| | | |
| --- | --- | --- |
| Friday, April 28, 2017, 11:17 PM | | |
BOSTON -- Late inning threats never came to fruition as the Cubs lost the first game of three to the Red Sox, 5-4. Despite scoring runs in the seventh and threatening in the eighth and ninth, no one could push the tying run through. Ben Zobrist doubled with two outs to get into scoring position, but Addison Russell fanned to end the game.
Jake Arrieta (3-1, 4.66 ERA) suffered his first loss of the season after giving up five runs in the first inning. Six consecutive Red Sox hitters reached base in Arrieta has had continuing issues with his command of the slider which led to him rarely using it and sticking to his slider. His fastball usage is at a career low and the sinker is at an all-time high. Arrieta also has had a tough time getting batters to swing at pitches outside of the zone. All of these factors have led him to the 4.66 ERA he currently sports, and if nothing changes soon, he could see an ERA above 5.00 for a long portion of the season.
The Cubs drew first blood when Kris Bryant went deep over the Green Monster in the first inning off of starter Drew Pomeranz (2-1, 4.15 ERA). Albert Almora would also send one up and over the famous left field wall, in the third inning, to bring the Cubs within three. Alas, Red Sox pitchers were throwing fireballs in the later innings as Joe Kelly hit 102 and Craig Kimbrel broke 100 on the gun which helped to shut down the Cubs and keep them off balance.
The second game of the series will be pitched by John Lackey (1-3, 4.88 ERA) and knuckleballer Steven Wright (1-2, 8.66 ERA). Both pitchers have gotten off to particularly bad starts and hope to perform better on Saturday. The game is scheduled for 4:05 PM EDT.
Play ball!

?? https://t.co/B7md53ZhbA ?? pic.twitter.com/25OwIdZdGT

— Chicago Cubs (@Cubs) April 28, 2017
.@albertalmora starts chipping away with a solo homer!

We trail 5-2 in the 3rd. pic.twitter.com/C2IY1NTxoI

— Chicago Cubs (@Cubs) April 29, 2017
Middle of the 6th:#RedSox 5, #Cubs 2. https://t.co/XQBoZbGlce pic.twitter.com/N1lEMWOgzD

— Chicago Cubs (@Cubs) April 29, 2017