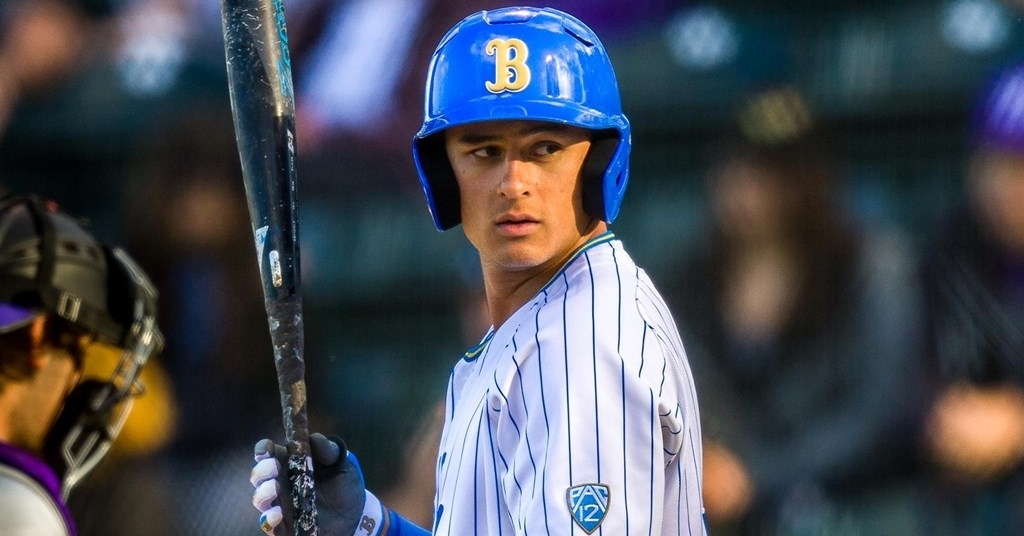 | | |
| --- | --- |
| Chase Strumpf could be next great Cubs hitter | |
---
| | | |
| --- | --- | --- |
| Monday, November 30, 2020, 10:16 AM | | |
As tough as it has been for the Cubs to develop pitching, finding major league level hitters has not been a problem. From Javier Baez, Kris Bryant, Kyle Schwarber, and Ian Happ, the Cubs have certainly done their homework when drafting big-time MLB quality hitters.
The last few seasons have seen the Cubs go with more of a pitching first approach, but plenty of good hitters are left coming through the system. Nico Hoerner, Brennan Davis, Miguel Amaya, and Cole Roederer are the four most people think about, but let's not forget the Cubs 2019 second-round pick as he is starting to turn heads and put himself on the map.
I'm talking about former UCLA second basemen Chase Strumpf who started to turn heads during the instructional league this fall.
UCLA's Chase Strumpf was drafted by the Cubs and seconds later hit a bomb pic.twitter.com/IRxNx5iwwW

— Baseball Bros (@BaseballBros) June 4, 2019
Known as one of the better pure hitters in his class, the Cubs wasted no time snatching him up in the second round and stashing him with Eugene. After spending the first half of the season with the Emeralds, Strumpf was promoted to South Bend for the stretch run, where he helped the Cubs win the Midwest League title.
Strumpf showed tons of potential all season long in the minors but was a bit overmatched at times in South Bend. Still, the Cubs believed in him and showed confidence, and out of all the prospects that we have heard noise about in the instructional league, Strumpf may be the one that stood out the most. Don't get me wrong, Davis is by far the Cubs best hitting prospect in the system, but Strumpf may be a close second at this point.
A lot of the talk surrounding Strumpf this fall was his work ethic and makeup. The pedigree he showed this entire season was impressive, and it must make fans wanting to root for him to do good things. Ideally, every fan wants prospects to do well, but with second base being his primary position, fans may want him to do well to be the long-term option at second perhaps.
Strumpf was often compared to Happ in college and had first-round talent written all over him. That projection was mainly because of his bat, but after he saw a dip in production during his junior season, Strumpf fell to the second round but was still a solid pick. People have always believed in his bat and have seen his power come along, but the fact remains Strumpf may be limited to either second base or left field defensively as that is not part of his game.
Ideally, the Cubs would love to improve his defensive repertoire, but the bat that people believed in showed up this fall, which is why heads are starting to turn. Not only did Strumpf continue his calm and controlled approach at the plate, which scouts were attracted to, but he began to display some tremendous opposite-field power this fall. Couple that with his immense pull power, and Strumpf is starting to display everything he can do.
Strumpf also led all Cubs hitters in hits, runs, Home Runs, and OPS while showing enough defensive ability to land as a bat-first every day second basemen. Strumpf had an impressive fall would be an understatement as he was worth watching during Instructional League.
A lot of debate has been discussed on who the 2020 season was most difficult on. 2020 draft picks never got a chance to play their 2020 season and never landed in the Cubs minor league system. However, the 2019 class may have had it rougher as they started to come into their own in the Cubs system only to lose a year of development.
After playing in both short-season A ball and regular A ball in 2019, Strumpf had a chance to explode in high-A if there was a season this past year. Had that happened and knowing Strumpf always had a pro-ready bat coming out of college, there was a good chance he would have been in AA to enter 2021 or even AAA, for that matter.
That lost year hurts him as he went from someone who may have been on the Cubs' radar in terms of a big-league promotion this season to perhaps needing to wait one or two more years. With no competitive games this past season, fans have no idea how much Strumpf's development has been hurt as a player. Given the way he turned heads this fall, he may have the highest expectations of any hitter not named Davis in 2021.
Strumpf was a player I liked coming out of college, and when the Cubs took him, I thought he was the perfect fit. There was going to come a time when some of the Cubs core players would no longer be in Chicago. The best way to continue to be successful is to have players ready and waiting in the wings. Strumpf could be the next one in a great line of Cubs hitters.