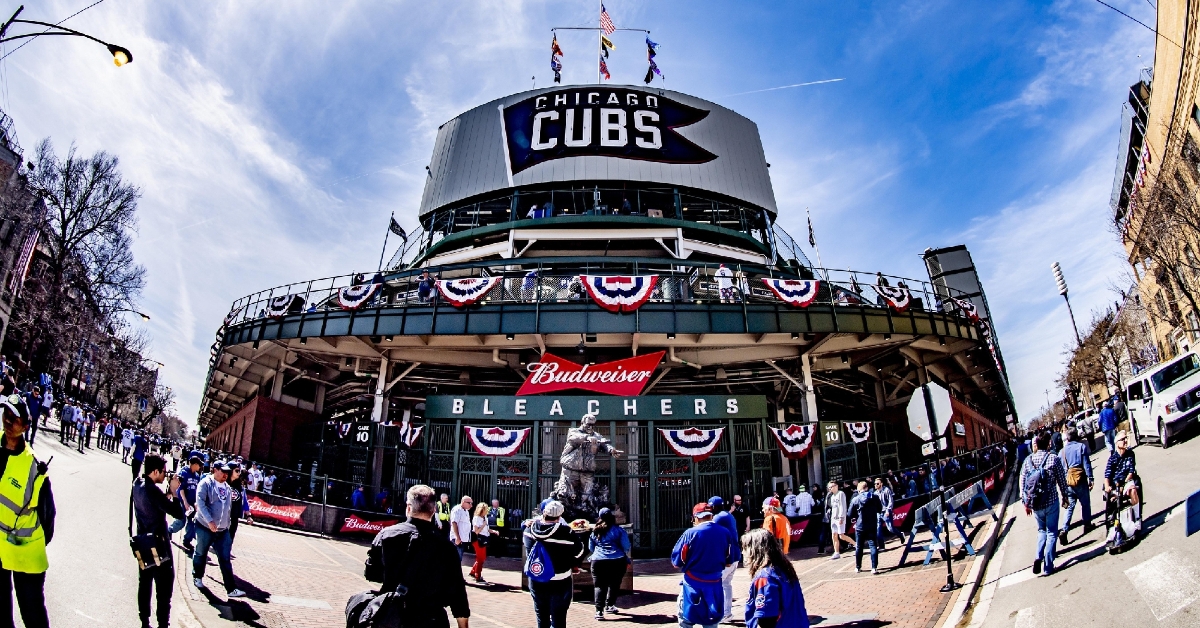 | | |
| --- | --- |
| Chicago Cubs release promotional calendar for 2023 season | |
---
| | | |
| --- | --- | --- |
| Tuesday, February 7, 2023, 12:56 PM | | |
CHICAGO – The Chicago Cubs today released the promotional calendar for the 2023 regular season featuring over 50 promotional items including a new Wrigley Field statue bobblehead series and exclusive #BudFridays cap collection, nine ballpark celebrations, 25 Special Ticket Offers and more. Cubs fans can take advantage of some of these offers and special events when single game tickets go on sale Friday, February 24.
BOBBLEHEADS
For the first time ever, the Cubs will have a bobblehead series featuring the five Cubs legends who have statues at Wrigley Field. These new statue bobbleheads will be given to the first 10,000 fans who enter Wrigley Field on the designated date and are meant to be collected as a series to create a miniature version of Wrigley Field's "Statue Row" (Harry Caray statue included!).
The statue bobblehead schedule is as follows:
Saturday, May 6: Fergie Jenkins statue bobblehead presented by Wendella
Saturday, May 27: Billy Williams statue bobblehead presented by Coca-Cola
Wednesday, July 19: Ernie Banks statue bobblehead presented by Wintrust
Sunday, August 20: Ron Santo statue bobblehead presented by Reynolds/Hefty
Saturday, September 9: Harry Caray statue bobblehead presented by Jewel-Osco
Fans will have access to additional bobbleheads tied to specific ballpark celebrations, Special Ticket Offers and gate giveaways throughout the 2023 regular season.
GATE GIVEAWAYS
This season's #BudFridays giveaways will include a collection of six exclusive caps featuring various Cubs logos throughout the years, starting with the iconic Cubs 1914 logo Friday, May 26. The first 5,000 fans who are 21 years of age or older and enter through the Budweiser Bleacher Gate on the designated gameday are eligible to receive these #BudFridays giveaways.
Fans also can enjoy additional gate giveaways such as a 2023 Opening Day pin, Cubs branded beanie and Hawaiian shirt both presented by Jim Beam (21+), replica Nike Cubs City Connect Jersey presented by Benjamin Moore and an MLB London Series luggage tag presented by American Airlines. The first 10,000 fans are eligible to receive these gate giveaways on the designated gameday.
BALLPARK CELEBRATIONS
The Cubs will host nine ballpark celebrations this season at Wrigley Field with new additions to the lineup including NASCAR Night, "Rookie of the Year" 30th Anniversary Day, Marvel Super Hero™ Night presented by Toyota and Star Wars™ Night. Ahead of each ballpark celebration, the Cubs will release additional details regarding what fans can expect. Cubs fans interested in attending must secure the Special Ticket Offer associated with the ballpark celebration in order to receive the corresponding promotional item.
The ballpark celebration schedule is as follows:
Tuesday, June 13: Pride Celebration
Thursday, June 29: NASCAR Night
Sunday, July 2: "Rookie of the Year" 30th Anniversary Day
Tuesday, July 18: Marvel Super Hero™ Night presented by Toyota
Wednesday, August 2: Star Wars™ Night
Monday, August 28: WWE Night
Tuesday, August 29: HBCU Celebration
Tuesday, September 19: Hispanic Heritage Celebration
Sunday, September 24: Sesame Street Day
SPECIAL TICKET OFFERS
Cubs fans can secure tickets to more than 20 Special Ticket Offers this season, including Jackie Robinson Night, Grateful Dead Night, various college-themed nights and Special Ticket Offers that show support for military members, health care providers and educators. Each Special Ticket Offer includes a ticket to the selected game and a promotional item specific to that Special Ticket Offer.
To view the full promotional calendar for the Cubs 2023 regular season or for more information, please visit www.cubs.com/specials.