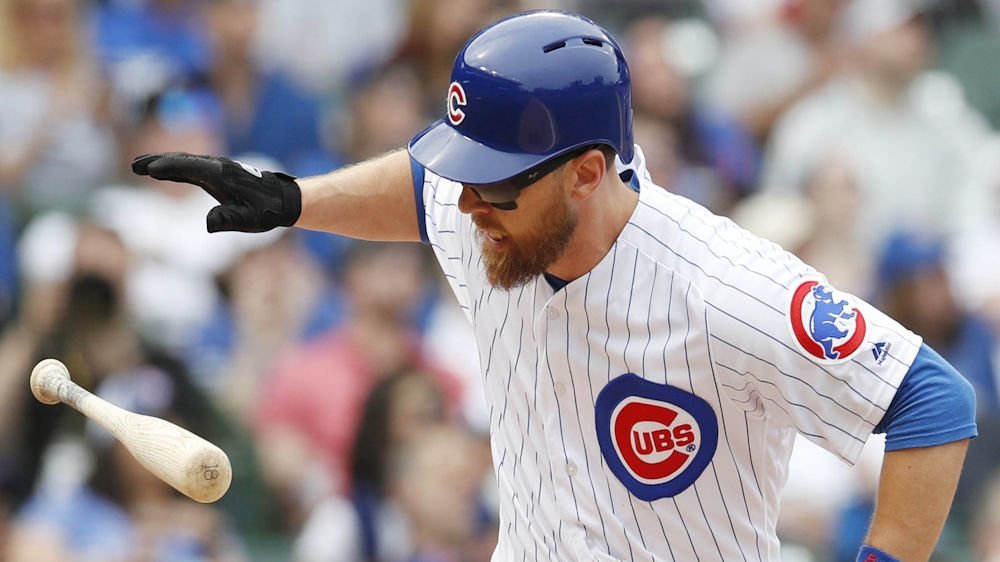 | | |
| --- | --- |
| Comeback Cubs: Zobrist hits clutch single to defeat Braves | |
---
| | | |
| --- | --- | --- |
| Tuesday, May 15, 2018, 10:36 PM | | |
ATLANTA — Using a ninth-inning rally to stun the Atlanta Braves (25-16), the Chicago Cubs (22-17) won a really strange game at SunTrust Park on Tuesday evening.
Following up a makeup game against the Braves at Wrigley Field on Monday, the Cubs came out on top in a contest that saw the Braves suffer from a few questionable calls and odd blunders, with the North Siders winning 3-2 in the first of three games at Atlanta.
Returning from a stint on the disabled list, Chicago Cubs starting pitcher Yu Darvish pitched well. Understandably, he was left in the game for only four innings before being pulled in his first start after an injury layoff.
Darvish avoided going down 1-0 early, as Cubs left fielder Kyle Schwarber threw Braves first baseman Freddie Freeman out at the plate in the first frame.
Just like we drew it up in Spring Training. pic.twitter.com/Y0X2XBgDDJ

— Chicago Cubs (@Cubs) May 15, 2018
Striking out five and being taken for three hits and two walks, Darvish would have experienced an excellent start, if not for Braves center fielder Ender Inciarte. Inciarte tallied two hits off Darvish. His first hit came on a surprise bunt single toward third base that was followed by a stealing of second base. Inciarte was left stranded, though, as Darvish struck out Jose Bautista to end the inning.
But Inciarte got the last laugh by taking Darvish deep on a solo home run to right in the fourth. Coming on a fastball thrown over the plate, Inciarte's bomb was skied to right, tying the game up at 1-1.
The Chop House is a fabulous place to catch a ballgame.?? And a homer.#ChopOn pic.twitter.com/YfqWZzipb9

— Atlanta Braves (@Braves) May 16, 2018
The Cubs went up 1-0 in the top half of the fourth, benefiting from one of several strange plays on the night. With runners on first and second and two outs, Cubs shortstop Addison Russell inexplicably swung at a pitch in the dirt from Braves starter Mike Foltynewicz for a third strike.
However, the wild pitch got by Braves catcher Kurt Suzuki, who proceeded to collide with the home-plate umpire while chasing after the baseball. Making a rushed throw to first in an attempt at outing Russell, Suzuki sent the ball sailing into the outfield for a throwing error that enabled Cubs catcher Willson Contreras, who led off the inning with a double, to come around to score.
I love baseball. Ump gets pushed down, catcher throws ball away, #Cubs score. pic.twitter.com/LYNSLKZtc4

— Aldo Soto (@AldoSoto21) May 16, 2018
Foltynewicz was quite dominant in his start, despite pitching for just five innings. Striking out 10 but walking five, Foltynewicz was somewhat unpredictable in terms of control, but he frequently baffled Cubs hitters.
The bottom of the fifth featured peak strangeness that worked in the Cubs' favor. After Darvish was pulled, Cubs reliever Mike Montomgery replaced him on the hill. Montgomery quickly found himself in a jam, with men on first and third and no outs. Braves shortstop Johan Camargo led off with a single and next reached third base on what should have been an easy double play for the Cubs.
Chicago second baseman Javier Baez corralled a short-hopper from the Braves' Charlie Culberson but rushed a throw to shortstop Addison Russell at second, sending it behind him for an error. Interestingly, the error actually worked in the Cubs' favor. Thereafter, a wild pitch by Montgomery incited Camargo to attempt to score from third, but Contreras flipped the ball to a charging Montgomery, who applied the tag for the out.
Get set - another close one earlier in the game at home where the umpire's head is moving as he adjusts to one knee. Reviewed and stood - assumption was not enough to overturn #Cubs #Umpire pic.twitter.com/fGNVhk6qsH

— umpvideos (@umpvideos) May 16, 2018
Camargo appeared safe, and, even after a Braves challenge, the call was upheld. Moments later, another bad pitch from Montgomery caused Culberson to attempt to advance to third. Contreras was quick to the draw and gunned him down. Once again, the Braves runner appeared safe, but Atlanta did not have a challenge available. Therefore, the questionable call stood, and the boo birds at SunTrust Park let the umpires hear about it.
Get set as much as possible - certainly a close play where the ball may have beat the runner who appears to be safe after the luxury of slow motion replay #Cubs pic.twitter.com/gN0ZyNbjCD

— umpvideos (@umpvideos) May 16, 2018
Later, in the eighth, rookie Braves sensation Ronald Acuna, Jr., assuaged the situation for Atlanta by taking Cubs reliever Carl Edwards, Jr., deep for a two-out solo bomb. The home run, which flew well over the wall in center, put the Braves up 2-1, but the Cubs jumped all over Braves closer Arodys Vizcaíno in the ninth to take the lead.
Welcome home, @ronaldacunajr24!#ChopOn pic.twitter.com/KspDWIdauN

— Atlanta Braves (@Braves) May 16, 2018
Chicago center fielder Albert Almora, Jr., stretched a hit to deep left into a one-out double. Then, Russell converted a hard-fought seven-pitch at-bat into a double off the wall in center, scoring Almora to tie the game. Following a groundout that pushed Russell to third, right fielder Ben Zobrist, who batted leadoff, hit a game-winning single to center that scored Russell.
All tied up. #EverybodyIn pic.twitter.com/qaeelg1Tjy

— Chicago Cubs (@Cubs) May 16, 2018
The kind of clutch we've come to expect from @benzobrist18. #EverybodyIn pic.twitter.com/92d3g2D2NH

— Chicago Cubs (@Cubs) May 16, 2018
Winning 3-2, thanks to a two-run rally in the ninth, the Cubs took advantage of their late scoring opportunities by converting several hard-fought at-bats into runs. And, of course, coming out on top in the bevy of strange plays certainly helped their cause.