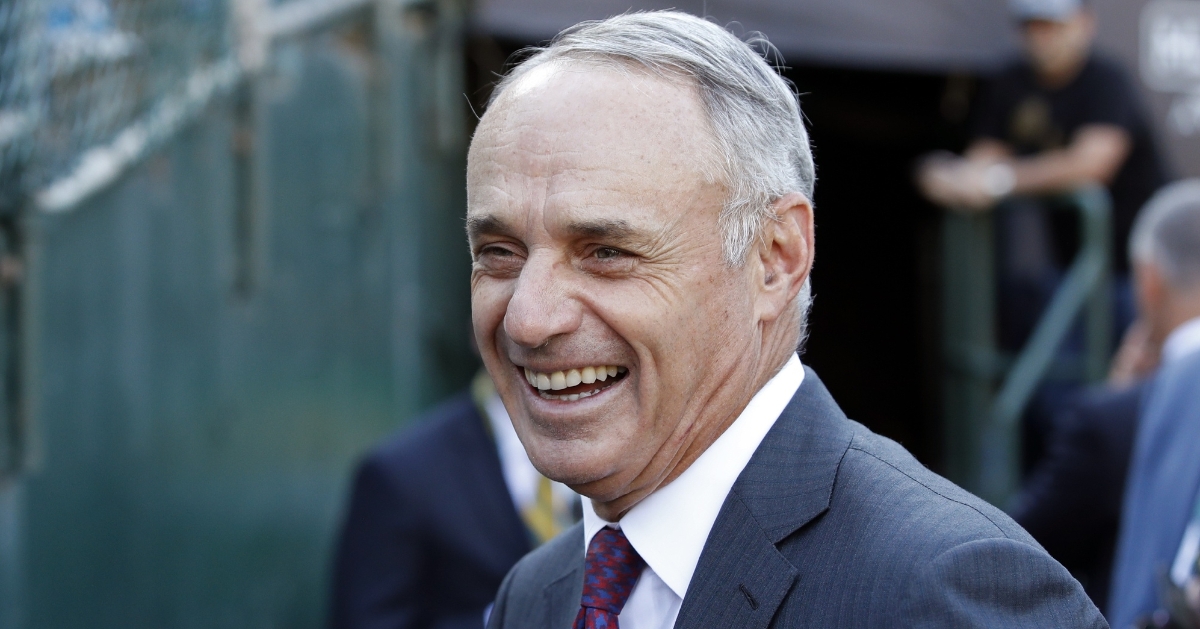 | | |
| --- | --- |
| Commentary: Can MLB afford another lockout? | |
---
| | | |
| --- | --- | --- |
| Wednesday, October 27, 2021, 9:25 AM | | |
Lockouts in sports have happened before, but are becoming less common in recent years as teams, owners and players alike all want the same thing in return. For MLB, that streak of no lockouts may be coming to an end in what could be the worst thing possible for the league at this point.
As the casual fans watch the Houston Astros and Atlanta Braves to meet up in the World Series, they tend to focus on free agency, which takes place in the days following the conclusion of the series. Over the past several years, we have seen a prolonged free-agent period as COVID and the uncertainty of 2020 forced players to wait a little longer before signing deals with new teams.
Expecting things to be different in 2021, fans may be treated to more of the same again this season as the current CBA expires on December 1. With that in mind, owners may not be willing to spend money this offseason until they know where things stand and exactly how much funds they have to work with. To make matters worse, the players union representatives are not on the same page as the owners right now, and if they don't sort things out, it could signal the beginning of another MLB lockout.
When you hear the word strike or lockout, it is a scary thing to think about, but the reality is that it does look like some form of work stoppage will begin on December 2nd. That will not only freeze the free-agent market, but it could jeopardize the start of spring training costing the league and owners even more money. This would also be the first time in 26 years where there was a stoppage going back to 1994 as the last time this happened.
The only silver lining that fans can take away from this is that the owners and players union continue to discuss the new CBA. That is because the agreement expires in just over a month, but they want to come to a common ground sooner rather than later. The problem with this is these negotiations have been taking place since spring of last year, and now almost one year later, neither side feels like the other has made good enough proposals. That doesn't bode well with a month to go.
This follows a similar trend to the 1989-90 season, where the CBA expired on December 31. After failing to reach an agreement, owners announced on January 9th that a lockout would begin on February 15th should a deal not be reached. That did happen, and the two sides came to an agreement on March first. However, that three-week lockout forced opening day to be pushed back a week, and the league had to reschedule 78 games.
If a deal is not reached by December 1st, it is not like owners and players alike will stop working the next day. Typically, they will give a window when a lockout will start meaning the two sides will have more time to get something done. At some point, you have to think that the Players Union or the Owners are going to back down, so they don't have to go down this road yet again.
Given that COVID shortened the season to just 60 games in 2020 and having limited attendance for the first two months of this season, the MLB would be wise to figure this out soon as they can't afford another lockout. Baseball was once America's Passtime, where fans would come to see their favorite teams play.
Now, it is becoming more and more challenging to do that for a variety of reasons. Ticket Prices are one of the biggest concerns as they continue to rise despite the product on the field. The Chicago Cubs are a prime example of this as they have the highest average ticket price in the league, making it difficult for an average working family to attend a ballgame.
The pace of play and the recent rule changes have taken some of the fun out of the game, but most importantly, baseball viewership has taken a tumble. A big reason for that is the blackout restrictions associated with MLB, making it difficult to watch a game. With other networks like WGN dropping the Cubs, millions of fans can no longer watch their favorite team play, thus alienating the MLB population.
Major League Baseball knows this CBA is critical for the future of their sport, and should they go into another lockout, and it could mean the death of MLB as we know it in terms of popularity. I would love to be optimistic and think all will end well, but when you look at how each side has treated one another the last few years, it is doubtful that this will go smoothly.
Not only have angry words been exchanged, but the owners have been the ones reaping in the rewards over the last several CBA's. The Players Union is set to change that this time around as they know how critical player's issues are this time around. Despite the annual revenues generated by the MLB continuing to climb each season, for some reason, the average player salary goes down.
That is a problem that needs to be resolved, and for once, it is time for the Players to dig their heels in and prove to the owners they won't be pushed around anymore. I understand these players are millionaires, with the owners being billionaires, but there is a fine line to cross regarding greed. The owners are getting too greedy with what they want as if it wasn't for the players, they wouldn't make the money they make.
The players have every right to be upset with a lot of what has gone on, and it is their time to stick it to the owners even if it means a lockout. In any sense, someone is going to cave, and I think it could be the owners who indeed cave this time. No one wants to see any lost games during the regular season because they know they can't afford to lose large chunks of cash yet again.