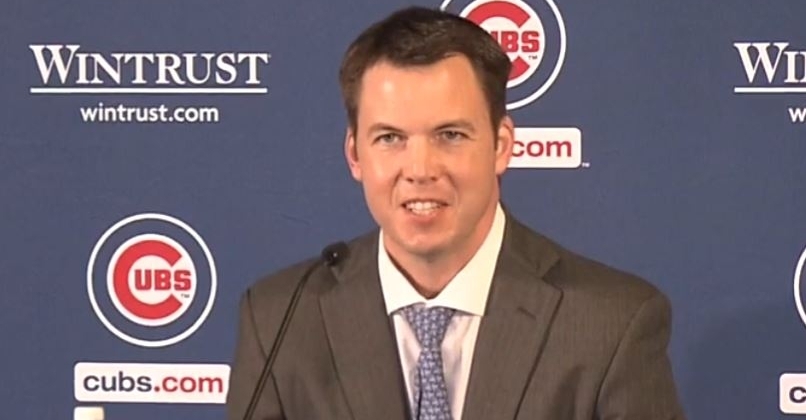 | | |
| --- | --- |
| Commentary: Cubs front office needed a new-look | |
---
| | | |
| --- | --- | --- |
| Tuesday, October 26, 2021, 9:15 AM | | |
Lost in the shuffle of the Cubs hiring Carter Hawkins as the team's new GM and Jason McLeod leaving the organization are a couple of other moves that will have drastic impacts within the organization. The first of those moves revolves around Randy Bush as the former assistant GM is stepping back into a different role within the organization.
Change in a front office is an annual thing, and to run an organization successfully, it needs to happen. The Cubs are looking to get back to being a successful organization, and to do that, they went through a lot of front-office turnover so far this offseason. Hawkins being hired as the team's new GM stole the show last week, which was followed by McLeod leaving the organization.
Another move that not many have talked about is having former assistant GM Bush transition into a different role with this team. Not only was Bush a world series winning player, but a world series winning executive who is now leaving a Wrigley Field role with the club and will be stepping into an advisory role instead.
After his playing days were over, Bush contacted the University of New Orleans before Jim Hendry hired him as an assistant to the GM back in 2005. He was made assistant GM in 2006 and has held that position for the last 15 years. The 63-year-old was nearing the end of his current contract, and change was inevitable, so this move seems like the best move for him at this stage in his career.
He indicated to Hoyer that he wanted to step down from his role after the 2020 COVID season allowed him to reassess his life and what he wants to do outside of baseball. Bush was a treasured piece to the Cubs puzzle long before Hoyer and Epstein arrived. Now he is being granted his wish to transition out of a front-office role and be more of a behind-the-scenes guy as his career in baseball seems to be coming to a close.
With Bush no longer the Assistant GM of this team, the Cubs knew they needed to fill his position. Instead of leaving it vacant for a little bit like many thought they would, Chicago wasted no time bringing in a new face as former Houston Astros executive Ehsan Bokhari was hired to be the team's new assistant GM.
Saw what you want about the Astros organization, especially after the Cheating scandal, but Bokhari knows his stuff. Not only did he spend time with the Astros organization, but also with the Los Angeles Dodgers, so he knows a thing or two about winning. Bokhari joins the Cubs as Hawkins right-hand man, and just like that, the Cubs front office has a new look with two new faces leading the way.
Bokhari joined the Houston Astros as Director of Research and Development in November 2018. A year later, Ehsan was promoted to his current role as Senior Director, Player Evaluation. In his current role, Ehsan contributes to amateur, professional and international player evaluation. Ehsan previously spent four seasons (2015-2018) with the Los Angeles Dodgers.
When you look at both the Astros and Dodgers organizations as a whole, not only are they two of the more successful organizations over the last seven years, but they have thrived in player development which is something this Cubs organization needs. Bokhari is a statistical analysis type of guy who loves to look at analytics, among other things.
For a league that is starting to take an analytical approach that follows the trend and is something, the Cubs will look to capitalize on. Bokashi has a well-rounded skill set that will fit in very well with Hawkins and the Cubs. Much like Hawkins, Bokhari specialized in developing pitching, which is something the previous Cubs regime failed miserably at.
In a league about velocity and high strikeout guys, the Cubs built their last championship by going against the grain and creating a team built on young, powerful hitters. By pushing all their chips to the table in position players, the Cubs failed to develop pitching and thus hurt their long-term title contention run.
Some of the lack of pitching is starting to show up now with Justin Steele, Keegan Thompson, and Adbert Alzolay, but more help is needed. Make no mistake about it, the Cubs still have plenty of excellent position prospects available, but it will be the pitching that carries this team in the future. Along with the names mentioned above, guys like Jordan Wicks, DavidJohn Herz, Ryan Jensen, Kohl Franklin, and Brailyn Marquez will be the key pieces to bring another world series title to Chicago.
For them to reach the level they need to, it is all about development, and Bokarhi and Hawkins make the perfect tandem together. Things will look very different in the Cubs organization over the next several years, but a change was needed. Change is also not bad when it works, and fans should be excited about the things to come with the new look regime about to take over.