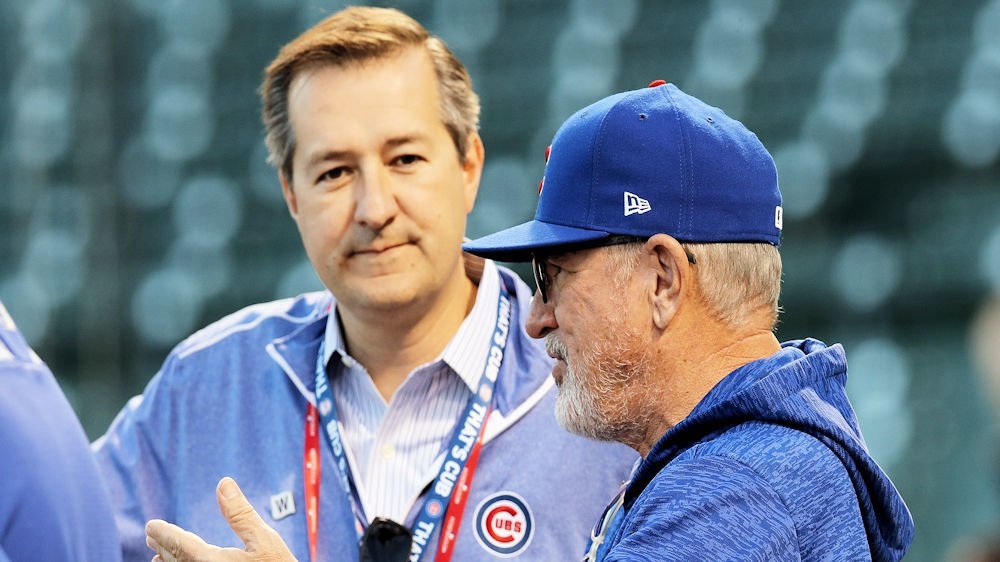 | | |
| --- | --- |
| Commentary: Cubs have nobody to blame but themselves | |
---
After signing what seemed like anyone they ever wanted early in the Tom Ricketts era, things have come to a crashing halt as of late. For the second consecutive offseason, not only have the Cubs been quiet, but they haven't spent much in terms of minor league contracts focusing more on building depth in the system. And you know what, the Cubs have only themselves to blame for the current state they are in.
As of right now, the Cubs have spent precisely zero dollars on a fully guaranteed Major League contract meaning all their signings are minor league deals. This is both stunning and inexcusable for a team that makes as much as the Cubs make and is starting to become a sick joke for the Fans who know this team can do more than they have.
We are now in the first full week of the new year, and the Cubs have yet to offer anyone an exclusive major league deal through free agency. The real punch in the stomach is that the Cubs are one of three teams joining the Pirates and Rockies as teams that haven't spend a penny on the major league roster while seeing playoff teams such as the Braves (99.8 Million), Nationals (314.8 Million) go all out in free agency with the Phillies spending 132 million. Even the Reds at 100 million and cross-town White Sox 195.5 million have shown they have no issues spending this winter.
For the Cubs' sake, the Cardinals have only spent 13 million and the Dodgers at 10 million, so some of last season postseason teams are not blowing their wad in free agency. However, outside of the Cubs, Pirates, and Rockies, everyone has offered at least one major league deal, so why are the Cubs still sitting here with nothing to show for it?
Even with the Cubs signing Carlos Asuaje the other day, that might not be a major league deal either. He is a utility player that can play multiple positions but doesn't have one great position where he could battle it out for a roster spot on a team with several holes. We all know the Cubs have at least two significant holes to fill, yet they continue to coast through the offseason, making cheap low-risk signings that likely won't pay off at any point this season besides adding depth.
Cubs fans are starting to get frustrated with this front office and the lack of spending. Still, with the recent overhaul to both the front office and player development fronts, we can safely say that this has been a group effort putting the Cubs in the position they are in.
After listening to what Theo had to say following the 2018 wild card loss, a playoff-less 2019 season would certainly mean change for this organization. At the time, that led many people to believe that this roster would be reconstructed, so 2020 didn't give us the same fate, and questions that have lingered over the past few years would be answered. Well, here we are about a month from spring training, and not only is this roster still intact, but none of what Theo claimed would happen has happened except for the coaching and front office overhaul.
I get those are essential pieces to the puzzle, but will any of that matter if the product on the field continues to underachieve. After this team shelled out 348 million to Jason Heyward, Yu Darvish, and Tyler Chatwood in total salary, mixed with the rising arbitration numbers for some of their young core, the Cubs are finding their dance with the Luxury Tax a near impossible figure to get around. The uncertainty of the Cubs' financial flexibility continues to puzzle everyone in baseball. However, for all the people siding with Ricketts when he says there is no money, that is entirely not true, and siding with him is taking the easy way out. As of today, the Cubs are worth 3 billion dollars, and the Ricketts family recently sold their business for 26 billion. Add in the cost that the renovations are bringing in, and the Cubs have no trouble making money.
Not only are the Cubs worth a ton, but they are in the third biggest market in the country, only behind New York and Los Angeles. Not only is spending money logical in this market, but it is also a necessity especially for a franchise that, in my opinion, has two years remaining in playoff contention with this group of players. They also just launched their own network, which will also make money, so there is plenty of money that can be spent.
With the Cubs getting hit with a 7.6 million dollar penalty for hitting the luxury tax this season, there are a lot of good reasons to dodge the penalties long term, but at this stage in the game that is more of an excuse than a reality for has been another useless winter. We know the only way the Cubs will genuinely get under the luxury tax is if they can move Heyward, Chatwood, and some others. With no team willing to take on the Heyward deal, the Cubs are stuck, so they need to find a way to stay competitive while accepting the punishment of passing the Luxury Tax.
The thing that is so disheartening about this offseason is that there were a lot of big names out there that were not asking for a ton of cash. Blake Treinen would have been a great addition to the back end of the bullpen, and he signed for 10 million. Alex Claudio signed for just 1.75 million while Shogo Akiyama, who seemed to be the lone player the Cubs were interested in, just signed for 21 million over three years with the Reds. With Hamels, Zobrist, and others off the books, the Cubs had some money to spend, and they could have gotten at least one of these names to help the team.
With the way the roster looks right now, I hate to say as much as I like the David Ross hire, he could be set up to fail this season. When you look at who the Cubs have signed this winter, (keep in mind none are major league guarantees) Dan Winkler RP, Ryan Tepera RP, Trevor Magill RP, Brandon Morrow RP, Ian Miller OF, CD Pelham RP, Hernan Perez INF, Jharel Cotton SP and now Asuaje INF and you start to wonder if this team can even compete this season.
Yes, some of these names do carry an upside and could wind up on the MLB roster, but who is kidding, none of these names would make a significant impact apart from Morrow should he stay healthy and return to form. For a team that is desperately in need of some roster shakeup, they seem to be trusting the process over performance, which Theo rejected in 2018. Has he gone back on his word, or has there been a reason for it?
The main reason you continue to see Kris Bryant and Willson Contreras brought up in trade talks is nearly everyone believes the only way this team can improve itself this season is through the trade market. Given those two seem to have the most value outside of Javier Baez, it makes sense to see what you could get for either of them. The problem has now become the Cubs absurd asking prices, especially for Bryant as they potentially could get rid of guys about to have career years to anchor the lineup with Anthony Rizzo, Baez, and Kyle Schwarber.
Heyward could provide the team with significant offensive value if he doesn't lead off and sits against lefties. Nico Hoerner could become a pure leadoff hitter, and both Albert Almora and Ian Happ may turn a corner this season. That is all an assumption, and the Cubs can't afford to bank on all that happening; otherwise, they may find themselves in even more trouble next offseason. I am not here to criticize the front office too much because they have given us something that many never thought would happen.
Instead, I am here writing this to show people just how serious the Cubs situation is despite how talented the bulk of this roster continues to be. We knew the only way this team was going to improve was to make trades or to hit the luxury tax once again. Instead of figuring out how that was going to happen, this team has sat on their hands for the second straight year when creativity and proactive decisions were required.

Tags: Cubs Baseball
,
Jason Heyward
,
Yu Darvish
,
Tyler Chatwood
,
David Ross
,
Brandon Morrow
,
,
Willson Contreras
,
,
Anthony Rizzo
,
Kyle Schwarber
,