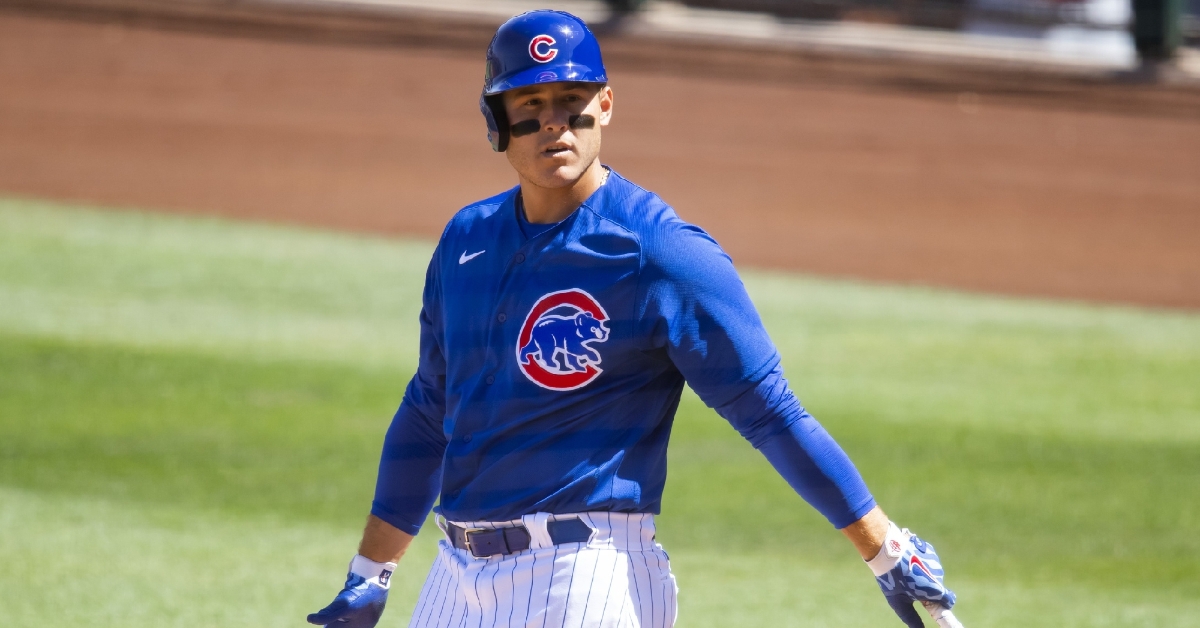 | | |
| --- | --- |
| Commentary: Cubs need to step up and extend Anthony Rizzo | |
---
| | | |
| --- | --- | --- |
| Friday, April 2, 2021, 12:13 PM | | |
The biggest news that came out of Cubs camp has nothing to do with opening day lineups or starting pitchers. Instead, Anthony Rizzo and the Cubs could not agree on a possible extension — and talks are on pause for now.
One of the biggest reasons that discussions have come to a halt is because the Cubs lowballed Rizzo with their offer. Rizzo has been a Cub for eight years — making three all-star games, winning four gold gloves, and helping the organization to its first World Series title in 108 years.
Rizzo had already signed a team-friendly deal once before, back in 2013 when he inked a seven-year, 41 million dollar deal. As he enters his walk season, he expressed interest in staying with the Cubs for the rest of his career and optimism that a deal would get done before Opening Day. We now know that the latter is not going to happen, and the former may be increasingly unlikely.
What is causing even more frustration is the reports of the offers given to Rizzo. According to reports, the Cubs originally offered Rizzo a four-year, 60 million dollar deal and eventually upped their offer to 5 years, 70 million — both offers extremely below what he wants and quite frankly deserves.
"My desire to stay here has been worn right on my sleeve, and obviously, it hasn't worked out to this point," Rizzo said recently. "But that's OK because we have a full season to play and a full 'nother offseason a year from now. A lot can happen from now and then."
Rizzo loves being a member of the Cubs.
"As I've said before, I love Chicago," Rizzo said. "I love the fans. I love Wrigley Field and what being a Chicago Cub is all about. It didn't work out thus far, and that's OK. I'm at peace with it."
Rizzo has been the heart and soul of this Cubs team for almost a decade. He was a bright spot during some of the Cubs' darkest seasons and has been a model of both consistency and excellence during their recent period of success. Not to mention Rizzo has made his presence felt off the field, especially in the cancer community, with his donations to Lurie's Children Hospital and his charitable actions through his Anthony Rizzo Family Foundation.
He is often viewed as the modern-day Mr. Cub, and quite frankly, him ever wearing any uniform that isn't Cubs pinstripes would be a travesty. The Cubs should be doing everything in their power to give Rizzo what he has earned and keep him in Chicago, especially since he took a pay cut last time around.
It's especially frustrating to a fan base that pays the most in the country for tickets and a brand new network to watch their team play, watching the team repeatedly chose to disrespect and not pay their favorite players—the low-ball offer to Rizzo worth some that a deal may never get done. And even more concerning, if the Cubs gave Rizzo — who many expected to be the easiest to extend — an offer like this, what are they offering to Javier Baez, Kris Bryant, and Willson Contreras? If Rizzo is this difficult to extend for the Cubs, the rest of their core would be nearly impossible to keep around long term.
This all on the heels of what appears to be a clear manipulation of service time with Nico Hoerner, gives Cubs fans plenty of reasons to be frustrated with the franchise.
Despite all of the frustration, Cubs general manager Jed Hoyer remains optimistic that a long-term deal with Rizzo will get done at some point.
"I would just say when it comes to Anthony, I don't think I have to express my affection for him," Hoyer said. "We signed him to a long-term deal when he was struggling. There is not any bigger Anthony Rizzo fan out there. I want him playing first base for the Cubs for a long time. I told him directly I want him here for a long time. I made that clear. I also articulated the Cubs' position to him. I think he knows where we stand. I certainly hope we are able to work something out. I am very confident (a new deal will get done)."
Hopefully, Hoyer steps up his offer, so Rizzo remains a Cub for the rest of his career.
Jed Hoyer said he's "very confident" the Cubs and Anthony Rizzo can ultimately reach an extension: "Obviously, I want him playing first base for the Cubs for a long time — for 2022 and beyond. ... We want him back and I certainly hope that we're able to work something out." pic.twitter.com/7o1sHzRNkc

— Chris Emma (@CEmma670) March 31, 2021