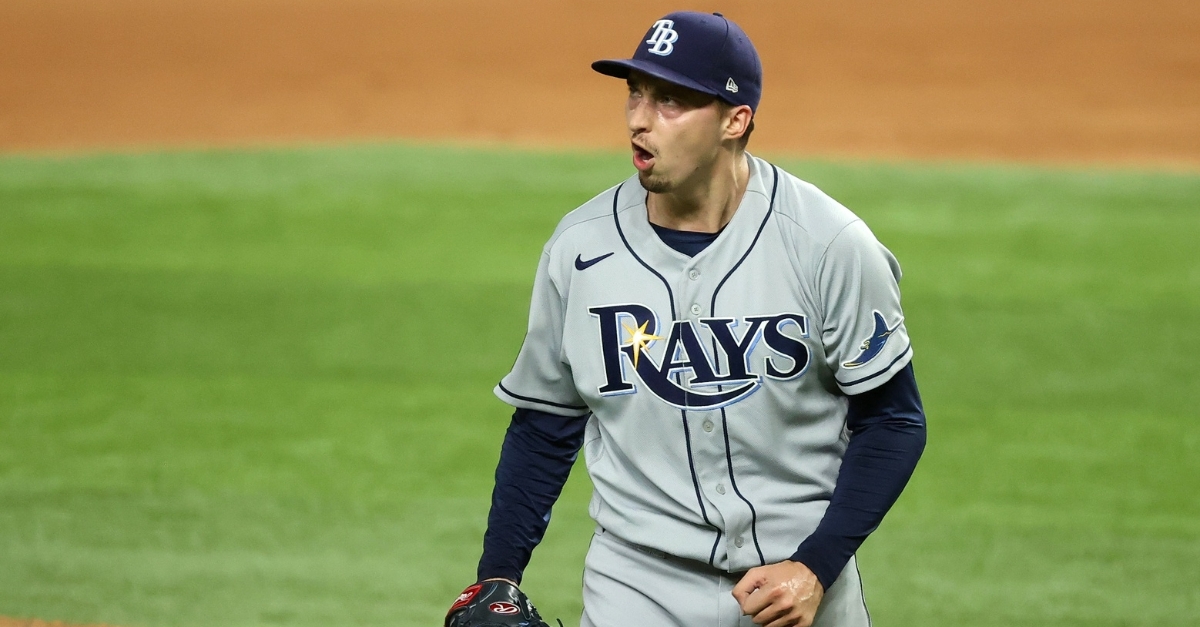 | | |
| --- | --- |
| Commentary: Cubs trading for Blake Snell would be a logical fit | |
---
The Cubs were set to go through one of their most significant roster turnovers in quite some time coming into this offseason. Fans saw some of that already with Kyle Schwarber and Albert Almora not being tendered. The list goes much further than that.
Along with those two outfielders, the starting rotation is a mess as Jon Lester, Tyler Chatwood, and Jose Quintana are no longer with the team and are free agents. That leaves just Kyle Hendricks and Yu Darvish as returning starters, but those are two great options to have atop your rotation. I guess you could argue that Alec Mills is a returning starter, but can he be counted on for a full 162 game season to make 25 plus starts.
I know people are pushing for the Cubs to sign some hitters with all due respect they need, but the starting rotation is another position they need to fill. With Darvish and Hendricks on the hook for three more seasons, the top of the Cubs rotation appears set for the next few seasons. Adbert Alzolay will be given a chance to fill one of the two back end spots, as will Mills. That leaves the No.3 spot of the rotation wide open.
Lance Lynn was one of the options I thought the Cubs would pursue, but he is no longer on the market after being dealt to the White Sox. Rick Porcello would be another good fallback option, but with no current lefties in the rotation, the Cubs need to focus on adding a lefty. Should the free agency be the direction the Cubs go, Matt Moore and J.A. Happ appear to be the top contenders. I doubt the Cubs make a run at two aging lefties with injury history no matter how big of need it may be.
What about the trade market? Are there any lefties out there worth going after? Surprisingly, the Cubs are the one team that really could make things work to acquire him. The pitcher I am referring to is Tampa Bay Rays ace Blake Snell reportedly on the trade block. Before I get into what it would take to get Snell, let's talk about why he is ideal for Chicago.
Snell has been a part of the Rays rotation since 2016 and quickly emerged as one of the best starters in the game. Throughout his career, Snell has gone 42-30 with a solid 3.24 ERA. He is also the 2018 AL Cy Young winner, where he went 21-5 with a ridiculous 1.89 ERA. Take away that season, and he is a below .500 pitcher, but a lot of that has to do with the Rays and the division he plays in.
Snell is the perfect addition for the Cubs to make for a variety of reasons. First, he is just 28 years old and would immediately become one of the rotation's younger arms. Second, he is an ace and quite possibly could become the ace of Chicago. Worst comes to worst, and Snell drops down to the NO. 2 or No. 3 spots in the rotation giving the Cubs a legitimate three-headed monster. Finally, he has three years left of team control, so the Cubs would have him locked up. All those are huge needs the Cubs are looking for, so you can see why the need fits.
Ultimately the biggest question is, what would it take to get him? If you listen to what the Rays are looking for, the Cubs are in the best position to make a run at him, as strange as that sounds. Tampa Bay has made it clear they are willing to ship Snell. They have also made it clear they are looking for an MLB caliber catcher to go with infield depth. Both are things the Cubs possess.
Starting with the Catcher position. The Rays are reportedly in on Willson Contreras, and they want him bad. The Cubs have said to be open to trading Contreras and as difficult as that may be to do, it makes a ton of sense. Contreras may net the most significant return among the Cubs core players, so seeing him go wouldn't shock me. The team also has Victor Caratini and Miguel Amaya as one of the game's top catching prospects, so it isn't like they don't support him.
Caratini is more than capable of holding down the fort until Amaya is ready, but dealing Contreras would force the Cubs to bring in someone to back up Caratini. I'm sure there will be guys like Josh Phegley, Martin Maldonado, and others available, so the Cubs should already be looking at that market.
Now moving over the middle infield talk is where things get interesting. Although it is unclear what type of middle infield help the Rays are looking for, the Cubs have already helped them out. When Chicago traded for Jose Martinez last August, they sent Pedro Martinez the Rays way, which could be a steal for the Rays. Tampa Bay may not be done digging through the Cubs system.
With Javy Baez and Nico Hoerner in the bigs, expect those two to be off-limits for the next few years. However, looking down the system and that may not be the case. Guys like Christopher Morel, Rafael Morel, and Chase Strumpf are all of the Cubs system's best prospects and play 3B, 2B, and SS. Tampa Bay will undoubtedly target one of these names if a Snell trade was to happen, and Christopher Morel and Strumpf make the most sense.
Kris Bryant is currently patrolling the hot corner with David Bote as his backup. We don't know what will happen next year, but it looks like the Cubs will need third base help, which is why losing Christopher Morel would hurt the most. Considering Hoerner is going to play second, I could see Chicago part with Strumpf despite his recent rise in the prospect ranking list.
Rafael Morel is an interesting name to watch, as could Kevin Made. Both are shortstop prospects who are expected to make huge strides this season. However, with Ed Howard as the future for that position, one if not both of those men could find themselves with new organizations sooner rather than later.
Theo Epstein made several trades during his tenure, and many of them hurt this team's farm system. With Jed Hoyer now running the show, expect him to be a bit more cautious when it comes to making a deal. I don't expect him to make a trade for the sake of making a deal. Nor do I expect him to jeopardize the franchise. I do, however, look for him to make a deal to not only help the MLB team but to be beneficial for all parties involved.
That is precisely what a Snell trade would be. Trading for Snell would help the Cubs in the short-term and the long-term also as it would also give the Cubs three ace quality arms at the top of the rotation through 2023. It would also benefit the farm system as the Cubs could potentially deal with players stuck behind other players at the same position to get better. If the Cubs are planning on going all in for a starter, trading for Snell seems too logical.

Tags: Cubs Baseball
,
Kyle Schwarber
,
Albert Almora
,
Jon Lester
,
Tyler Chatwood
,
Jose Quintana
,
Kyle Hendricks
,
Yu Darvish
,
Alec Mills
,
Adbert Alzolay
,
Willson Contreras
,
Victor Caratini
,
Miguel Amaya
,
Pedro Martinez
,
Javy Baez
,
,
Christopher Morel
,
Chase Strumpf
,
Kris Bryant
,
David Bote
,
Theo Epstein