| | |
| --- | --- |
| Commentary: Did owners want to start season on time? | |
---
| | | |
| --- | --- | --- |
| Friday, March 4, 2022, 9:00 AM | | |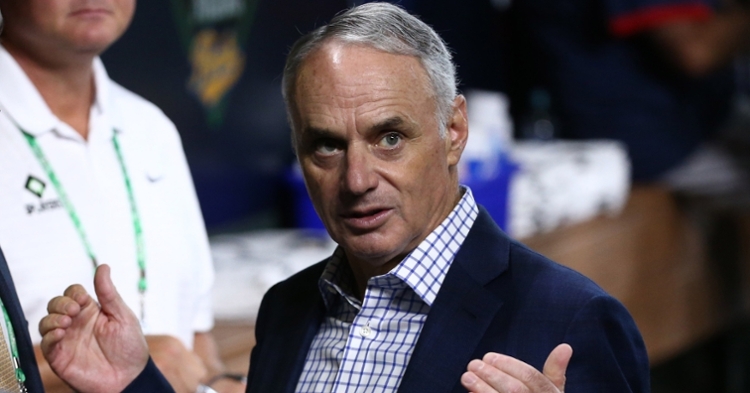 Over the last several years, you started to see the tension between the MLB owners and the players as the previous CBA wasn't working as well as they would have liked. Once things got to the point of having a new CBA put in place this year, fans knew that it wouldn't be all sunshine and roses as a lot of work had to be done.
With each passing day, the two sides seemed to grow further apart as they never could get on the same page about what each one wanted. We say some give, we saw some take, but in the end, it resulted in heated discussions that went no, whereas the lockout began in early December. Here we are four months later and nothing has changed.
In fact, things got worse as the league is not only in a lockout, but spring training and the first two weeks of the regular season have all been canceled. All along, Commissioner Rob Manfred has said that cancelling games was a last resort for both sides. However, given how the negotiations went, you had to wonder if this was the plan all along with hopes that the Players would eventually cave in to what the owners proposed.
Say what you want about Covid and how it has affected the Sports Industry. The bottom line teams still made money and baseball is not hurting. From merchandise sales to TV markets, ticket sales and concession prices only make up a small portion of a team's revenue, so when you hear that the league is making 43 billion dollars a season, it shouldn't shock you.
That comes out to an average of 1.3 billion dollars per franchise, give or take more or less depending on the situation. So to sit here and feed us the information that the MLB is losing money is a false statement and that alone is what fans are upset about. Essentially the MLB owners are treating the fans like they are stupid and that is not ok.
Given the situation we are in and the fact that a lot of owners have said the MLB season is too long and needs to be shortened, you have to wonder if this was their plan all along. Instead of caving to what the players wanted, the owners dug their heels in and gave them proposals they knew wouldn't be accepted.
On the flip side, the players wouldn't budge and essentially stood their ground as they should. Granted the owners of a team do own these players, but if it wasn't for the players, this league wouldn't have the money they have now. It always comes down to that and comes down to money. The MLB is a multi-billion dollar industry, so to feed the fans and the players for that matter, any line about being broke or not having enough money is a slap in the face.
If losing any amount of games was a last resort, then why would it come down to this. Why would it take so long to reach an agreement and no agreement was reached. This just goes to show you that the owners want complete control of everything when it comes to negotiations. Sure the players want more money, which may not be wise, but when they make the product and make these owners as rich as they are they should be rewarded with more.
This is one of those classic cases where a power struggle was real. The owners feel one way about the situation and feel that they are right about everything. The players feel they were mistreated and feel like they have been played the entire time. That alone is a recipe for disaster and you can see why things are where they are right now.
If you were to ask me, the earliest baseball will start in May at this point with things taking potentially longer than that to get going. If that is the case, it could be a sign of things to come at least for the future of this game. MLB has been playing 162 game seasons for a while now and it is the longest-tenured sport in the country.
Seasons typically begin in late March or early April and go sometimes into October. There have been ongoing discussions for a while now that have circled back to the length of the regular season. Maybe that is why the owners delayed the regular season. They may have wanted to prove that a later start could be a good thing and still get their revenue.
Cold weather climates see miserable weather early in the season, so by eliminating 30 plus games, they avoid some of those cold-weather games. I personally love the 162 season, but I do agree that it is a long season. It will be interesting to see where things go from here.