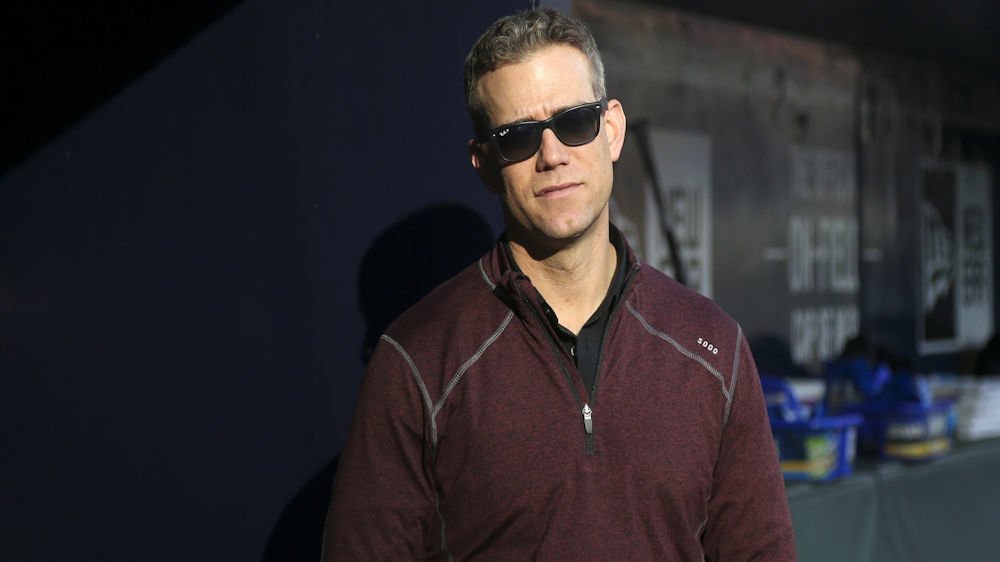 | | |
| --- | --- |
| Commentary: Has the Hot Stove already started grilling Chicago? | |
---
| | | |
| --- | --- | --- |
| Saturday, August 31, 2019, 12:54 PM | | |
I don't want to go into a lot of details right now, but I think you're going to see an off-season that looks very different from last year's. I firmly believe this is going to be a tear-down and rebuild but done so in a way that it changes the scene without changing a healthy portion of the scenery. I've already started working on an article (which will post the day after the season ends), outlining exactly what I see the Cubs doing this winter, but in the interim, this will have to suffice.
With a month left to play in 2019 (plus any postseason time), rumors are already starting to fly, with regard to the Cubs. The funny part is, most of the whispers don't even surround the Cubs who are about to gain free-agency, and that list is quite extensive: RHP Pedro Strop, LHP Yu Darvish (he has a player option), LHP Jose Quintana (club option), LHP Cole Hamels, utility-man Ben Zobrist, RHP Brandon Morrow (club option), RF Nick Castellanos, RHP Steve Cishek, 1B Anthony Rizzo (club option), RHP Brandon Kintzler, RHP David Phelps, RHP Tony Barnette (club option, but he is still MIA from Iowa), RHP Kendall Graveman (club option), LHP Xavier Cedeno and C Jonathan Lucroy.
I think we can agree that the Cubs won't keep half of the players on the list above- some of which you may have never even heard of- but what about the names like Strop, Cishek and Kintzler? I think you'll also see some players announce their retirement after this season (Zo and perhaps Hamels), thus taking them out of the equation. As I said though, the Cubs haven't even started discussing the impending free agents, but the media has latched onto some other gems.
Earlier this week, a rumor- not dispelled by Chicago, stated that they'd be willing to entertain offers on Kris Bryant. KB has been unbelievably good this year, and yet I think trading him is the smartest thing that Theo Epstein and Tom Ricketts could do. Look back at the list of free agents- there are a ton of players on the list that'll never be re-signed, meaning the Cubs are going to have some serious holes to patch, come December.
The Cubs have a ton of options at third base- though some are certainly more appealing than others, so filling that hole won't be an issue. In the interim, trading Bryant could fetch two- maybe even three quality pieces. He's still controllable for a couple of years, and his stock is going through the ceiling- making him overly attractive to teams looking for an elite third baseman with a solid bat.
Bryant has been very outspoken about the upcoming collective bargaining agreement, primarily due to the Cubs toying with his service time. As teams look to lock down players to long-term extensions (in anticipation of lock-out or strike), Bryant is going to be a guy who'll be reluctant to sign- eager to test his skills in the free-agent market. In my opinion, his agent will make the Cubs pay for what they did. Was what the Cubs did fair? No, but it wasn't illegal either.
Though they carry it relatively silently, both Bryant and his agent (Scott Boras) would appear to have huge chips on their shoulders, and they have an ax to grind. Let him go. Trade him now and get what you can get, while the value is still good. Let Los Angeles, Philly or whomever worry about dealing with Scott Boras after the 2021 season, as re-signing him is going to be a cost the Cubs cannot afford to bear.
Almost in the same breath that whispered rumors about Bryant, came a second sentence about the Cubs focusing on locking down Javier Baez this winter. Smart move. Javy's playing for $5.2M this year (one-year deal) and he's eligible for arbitration before the start of next season. This won't be some team-friendly deal like the one they signed David Bote to (5-years/$15M) but signing him ahead of free agency should get them a better price.
Anthony Rizzo has been the unofficial captain for Chicago several seasons now, but Javy has unarguably become the "face" of the Cubs, and both Ricketts and Epstein know it. As with Bryant, Baez will also become a free agent in 2022, but I don't think he'll ever see free agency- at least not for several years. If I were to guess, I'd say they'll be looking at signing him for seven years at $25M-$27M/year, with opt-out clauses along the way. No matter the cost, this deal will likely get done this winter- as they will stamp this matter "urgent."
With the Cubs' free agents that will go unsigned this year, there will be a ton of money available for Theo to wheel and deal. The five year window is about to slam shut, and I think the Cubs have a golden opportunity to refashion the team in a way that will re-open the window, at least for a few more years- but you have to realize, that as a result, Chicago's roster will look very different next year.
The Cubs had a total payroll of $217,662,287 this year- second only to the Red Sox who topped $227,450.00. The luxury tax threshold for this season was et at $206M, so Tom Ricketts isn't afraid to open his checkbook and pay some extra money in taxes, but for that amount of loot, he's expecting a solid team. The threshold increases to $208M for 2020, then $210M for 2021, and I think the amount of salary saved from not re-signing certain players, Theo Epstein will be able to deliver more talent for less money.
Whether the Cubs go all the way, bow down somewhere in the playoffs, or end their season after 162 games, mark my words, changes are coming.

Tags: Cubs Baseball
,
Pedro Strop
,
Yu Darvish
,
Jose Quintana
,
Cole Hamels
,
Ben Zobrist
,
Brandon Morrow
,
Steve Cishek
,
Anthony Rizzo
,
Brandon Kintzler
,
Tony Barnette
,
Kendall Graveman
,
Xavier Cedeno
,
,
,
David Bote
,
Theo Epstein