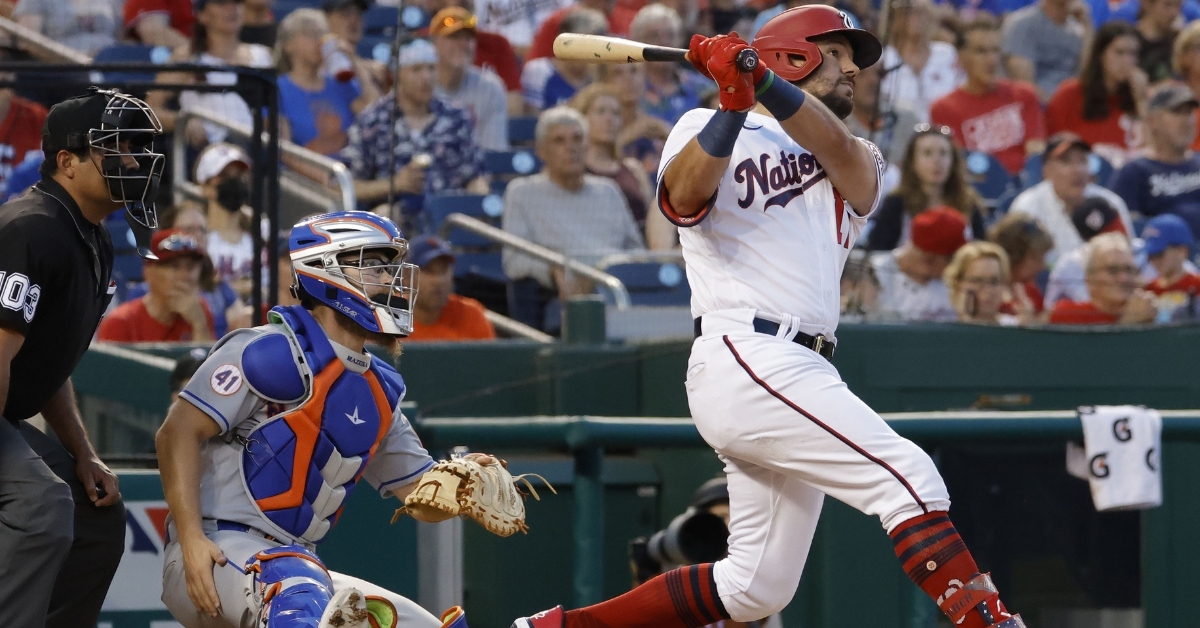 | | |
| --- | --- |
| Commentary: Kyle Schwarber would be a welcome bat in struggling Cubs lineup | |
---
| | | |
| --- | --- | --- |
| Tuesday, June 29, 2021, 12:54 PM | | |
The last calendar week for Kyle Schwarber has been nothing short of spectacular. The Washington Nationals slugger has clubbed 9 homers in his last six games — and is on an absolute tear as of late, powering the nationals to wins in five of their last six games.
After last night, 'Schwarbs' is the third player in major league history to hit 15 homers in 17 games joining Barry Bonds and Sammy Sosa.
Schwarber's season slash line sits at .254/.336/.560 with 24 home runs and 52 runs driven in, ranking near the tops in the National League in both statistics.
Schwarber spent the first six seasons of his major league career with the Cubs after being drafted by Chicago in the first round of the 2014 MLB draft out of Indiana. While being a known power bat, the Ohio native was actually drafted as a catcher. However, due to his bigger frame and a gruesome knee injury at the beginning of the 2016 season, Schwarber became primarily a left fielder and designated hitter when the Cubs' schedule allowed for it. Schwarber etched his name into history books during the 2015 playoffs, hitting five homers in the Cubs' nine-game run to the NLCS.
But, Schwarber will forever be best remembered for his heroic return from injury to the Cubs lineup during the World Series in 2016, hitting .412 in five games — including getting on base as the go-ahead runner in the 10th inning of game seven before being lifted for a pinch-runner.
Meanwhile, after a red-hot month of May, the Chicago Cubs sit three games out of first place in the midst of a tough offensive stretch. Injuries to Nico Hoerner, Matt Duffy, and others have hurt the Cubs' identity as a lineup, as during this stretch, the Cubs have fallen back into their crippling habit of depending too much on the long ball and not getting enough traffic on the base paths to manufacture runs a different way.
Of course, it just makes you wonder, where would this Cubs lineup be if they had Kyle Schwarber in the middle of it?
The answer is probably not much different, considering Joc Pederson — Schwarber's cheaper and more athletic replacement — has not been that bad. Pederson struggled out of the gate but has lifted his season average to .235 to go along with 11 home runs and 33 RBIs, mostly out of the leadoff spot or down around the five-spot in the order. So they're essentially the same player. Schwarber has just been much hotter as of late.
Of course, nine homers in six days coming during a stretch where the Cubs have been struggling offensively — all while Schwarber has been excelling out of the leadoff spot is a hard pill to swallow. Especially since Schwarber struggled mightily out of the leadoff spot when tried in Chicago.
The fact of the matter is that it could have simply been a change of scenery that benefitted Schwarber and Pederson.
It just happens that the Cubs need an ace starting pitcher, starting pitching depth, a backup catcher, and another bat in the lineup to be a true contender… And they traded Yu Darvish, let Jon Lester and other starters walk, traded Victor Caratini, and released Kyle Schwarber before this season.
Here's your daily Kyle Schwarber June HR tally update:

June 12 - SCHWAR??
June 13 - 2 SCHWAR??s
June 14 - SCHWAR??
June 19 - 2 SCHWAR??s
June 20 - 3 SCHWAR??s
June 23 - SCHWAR??
June 24 - 2 SCHWAR??s
June 25 - SCHWAR??
June 28 - SCHWAR??@kschwarb12 // #NATITUDE pic.twitter.com/3YUdqqSvwJ

— Washington Nationals (@Nationals) June 28, 2021