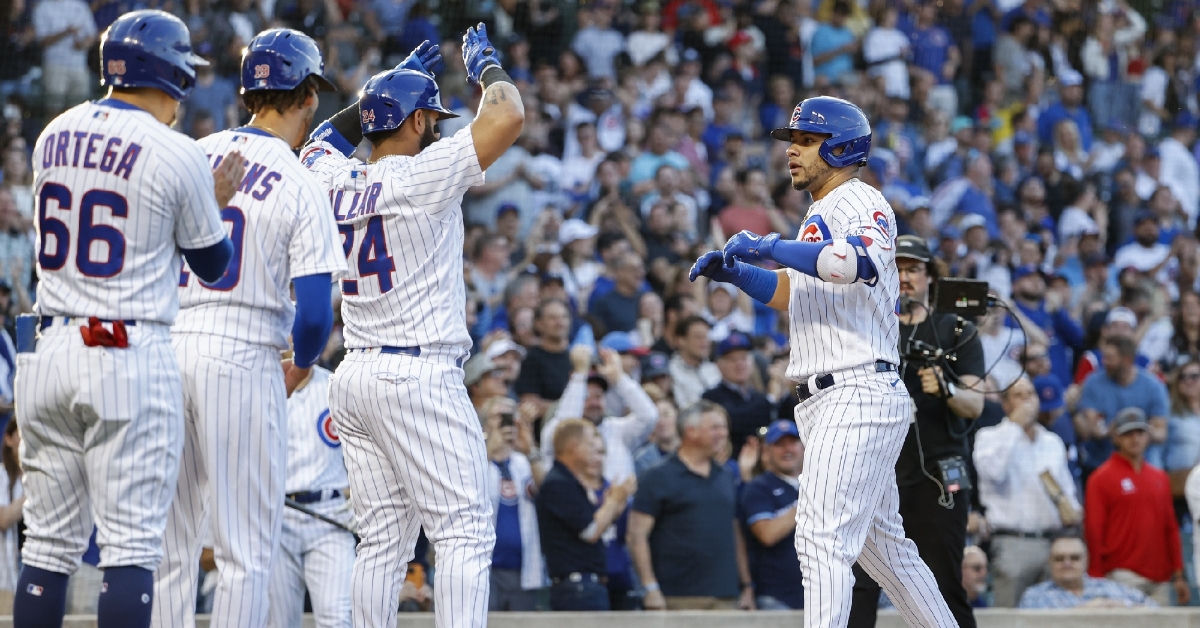 | | |
| --- | --- |
| Commentary: Not extending Willson Contreras would be detrimental to Cubs rebuild | |
---
| | | |
| --- | --- | --- |
| Friday, May 20, 2022, 5:25 PM | | |
Willson Contreras is off to a phenomenal start to this 2022 season. He has been by far the league's best catcher in 2022 and is slashing a near career-best .254/.388/.482 for an OPS of .870, which leads all catchers in the big leagues by over .100 points.
Not to mention, Contreras has paced the Cubs lineup with 13 extra-base hits and 14 RBIs. That would be impressive for any hitter, but for a player who also plays the league's hardest position: catcher. And as a catcher, Contreras is tasked with managing a pitching staff that has been a revolving door as of late because of COVID and injuries. He has displayed phenomenal leadership on both sides of the game, both offensively and defensively, in 2022.
Let's talk about just how impressive that is. Contreras is the league's most productive year in his contract year, all while awaiting an arbitration case hearing (more on that later). The Cubs have had plenty of players in their contract year as of late, and we saw the pressure get to guys like Anthony Rizzo and Javier Baez last year with their free agencies upcoming. That's why Contreras, playing a more taxing position, being as successful as he has been is so impressive to see.
Plus, Monday night marked Contreras hitting 100 career home runs. Contreras is just the third catcher in Cubs history to reach that milestone and did so in impressive fashion: a first-inning grand slam as a leadoff hitter. Contreras was fired up around the bases and especially proud of his accomplishments with the Cubs.
"The grand slam was an amazing moment for me and the team and the fans," Contreras said. "It was just great. I was trying to enjoy the moment, every little second of it. I'm really proud of what I'm doing."
The Venezuelan-born catcher thought about his father and his family when he notched his 100th career bomb.
"The road is not easy," Contreras said. "It's one of those days that made me think of my childhood, where I came from, and it makes me proud."
It often goes undocumented because Contreras debuted during the Cubs' epic 2016 season, but Contreras is by far the organization's longest-tenured player. Contreras is now 29 years old, turning 30 this season, but signed as a 17-year-old back in 2008-2009. What he has done in this organization to grow into the player and the leader he is has been jaw-dropping to see.
Not to mention Contreras has an arbitration hearing coming. He petitioned to be paid 10.25 million in 2022, but the Cubs want to pay him 9 million for this season — and that hearing is set for June.
Plus, there is a trade deadline looming. Contreras has heard his name centered in trade rumors for the past couple of years, and with no inked extension, it appears very likely that Contreras could be the heart of trade talks as the trade deadline approaches. Contreras watched over 10 of his teammates get dealt at that deadline last year, and while he has commented on how nice it feels to be wanted, he has also expressed nothing but love for the Cubs and playing in Chicago.
There's a lot of pressure that comes with these dates and deadlines on the schedule, but Contreras has been able to find peace — and has continued to mash the baseball, set a great example for the team, and produce at all levels.
The Cubs certainly have some nice pieces that could be a part of the next great Cubs team, and Contreras is an all-star caliber catcher who certainly fits that mold. Not extending Willson Contreras, especially after how last season unfolded with some of the organization's most storied players, could be awful for the fans and potentially detrimental to the team's rebuild and future.
EXTEND THE HEART & SOUL OF THE CHICAGO CUBS NOW pic.twitter.com/3pGYcZpI6R

— Cubs Zone ™? (@CubsZone) May 20, 2022