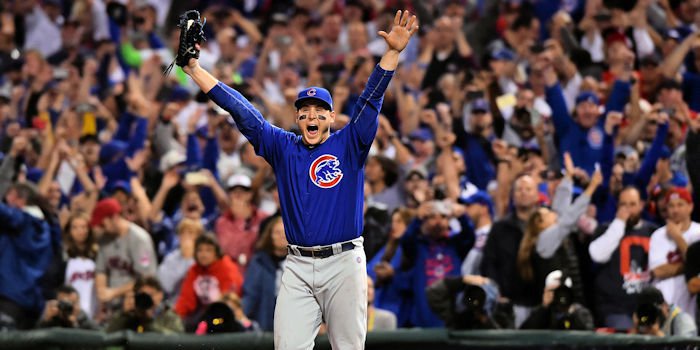 | | |
| --- | --- |
| Commentary: Remember to enjoy the ride as a Cubs fan | |
---
| | | |
| --- | --- | --- |
| Friday, April 29, 2022, 1:37 PM | | |
"There is a slow roller towards Bryant, the throw to Rizzo is in time, and The Chicago Cubs win the World Series!!!" Every Cub fan knows where they were when Pat Hughes said those famous words around 11:45 Central time on November 2, 2016. It was something many of us dreamed about and thought we would never see-The Chicago Cubs winning the World Series.
Growing up a Cubs fan takes many different avenues; some of us fell in love with them because of WGN as they were always on, and some of us had the love passed down from generations. For me, it was my Grandfather and Uncle. My grandfather lived 8 miles from Wrigley Field, and even though we lived in Wyoming, we would always make a trip out to Chicago every summer, and he always took me to Cubs games. I remember racing home from school, always trying to see if I could catch the last few innings on WGN, and when the game was over, asking my mom if I could call Grandpa and see if they won.
My favorite memory has to be the first Cubs game I attended on July 23, 1988. We started getting WGN that year, and I watched every game I could. Andre Dawson became my favorite player. On that summer day, my Uncle drove in from Iowa and took my brother, cousin, and me down to Wrigley Field to get autographs before the game. I was able to get Dawson's autograph before the game, and he hit a home run and made the game-winning catch in the Cubs' win over the Padres that day. It's a memory I cherish still, and I'll forever be indebted to my uncle, who I hope to take the Field of Dreams game this year as he lives an hour and a half from the Field of Dreams field.
So, as the Cubs traded away most of the core of the 2016 World Series champion last summer, which I thought was the right move, I thought the pitching was not good enough to compete with Dodgers and get back to the World Series, and they had maxed out what they could get out of the core of Kris Bryant, Anthony Rizzo, and Javier Baez. I was not upset as I kept on telling myself all I ever asked for was one World Series Championship for my beloved Cubs in my lifetime.
We, Cubs fans, don't have to stress about every game. If they win, great. If they lose, yeah, we still have 2016. I was so glad they at least won one World Series for my grandfather, who passed away right before the 2019 season. The memories we made watching games together at Wrigley Field or in his living room are priceless. Back before we had iPhones and I had a night job, I would call him occasionally to get scores, they would be losing 2-1 in the third inning, and he would say, "Oh, they look bad. They're not going to win." So I asked my mom why Grandpa was so negative, and she would say well, he is old, and I said well, watching after watching the Cubs for 70 years, I would be the same way. I was so glad I watched Game 4 of the World Series with him in his living room, a place where we watched so many Cubs games together.
So as the Cubs are rebuilding and won't contend for a title this year, remember to enjoy the ride, and hopefully, we can watch the next great Cubs team. In 2012, I lived in a small town of 3,000 people with not much to do. I bought the MLB package so I could watch the Cubs, even though they lost over 100 games that year, I was okay because of the pure joy of watching the Cubs. I'll say this again: I would be fine if I could spend 81 days at Wrigley Field, and they lost every game. There is nothing better than going to Wrigley, eating a hot dog, and having a cold beverage.
So, please continue to support the Cubs. As my uncle used to say, maybe you'll see a World Series win in your lifetime. I'm glad I, along with him and my grandpa, all saw a World Series win. Make memories with your friends and family, and remember, if the Cubs lose, yeah, we still have 2016.
What's your favorite Wrigley Field tradition?#ItsDifferentHere https://t.co/BiD3w4rxR4 pic.twitter.com/24gLhEoy6t

— Chicago Cubs (@Cubs) April 28, 2022