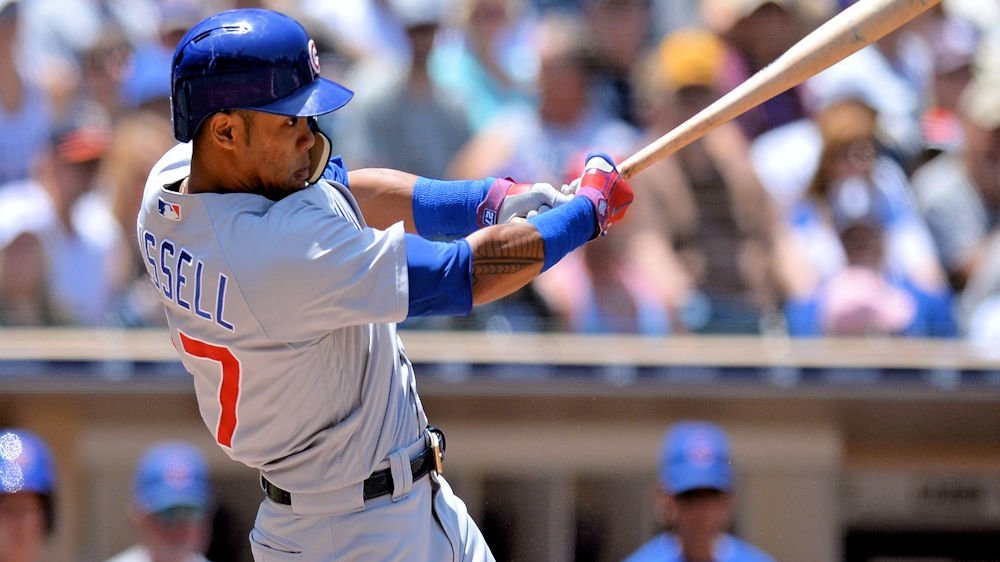 | | |
| --- | --- |
| Commentary: Should Addison Russell get a second chance with Cubs? | |
---
| | | |
| --- | --- | --- |
| Monday, November 23, 2020, 9:05 AM | | |
First impressions often tell a lot about a baseball player as that is the time for them to make the biggest impact on their team. Over the past six seasons, the Cubs have had tons of great first impressions, but most of them turned sour after that.
Baseball is a sport about giving second chances as often the Cubs stuck with their players through thick and thin or made moves to acquire someone for a change of scenery. Sometimes they pan out, and sometimes they don't. That is all part of the game and what makes baseball such an intriguing sport to watch.
However, when does a second chance become too many. We have seen players get a second chance after using PED's and a few years later get busted again. Inexplicitly they somehow get a third chance. You also have players who have dealt with personal issues such as depression, domestic violence, and other things outside the game that not only affected their play but prevented them from getting another chance at greatness.
The Cubs had one of those players two years ago in Addison Russell, who fell into the world of domestic violence before his career with the Cubs ended abruptly. Like most players, Russell was given a second chance at playing, but it wasn't stateside as he signed a 500K contract with the Kiwoom Heroes of the KBO.
As expected, Russell struggled during his season in the KBO, which is expected when he barely saw playing time across the previous calendar year. He did continue to shine defensively, but even in a league where offensive numbers are easy to come by, Russell struggled to get much done. Across 65 games this season, Russell managed to hit .254, which would have been a career-high had he been in the bigs.
His two homers was a bit of a concern after averaging 14 homers a season, but his 31 RBIs would be equivalent to 78 in a full 162 game season, so he was producing in that regard. One thing that did stand out this season as opposed to his MLB career was his eye at the plate taking 22 walks and 37 strikeouts. Russell has never been a guy to walk much, but his strikeout numbers were always concerning, so to see those that low was a pleasant surprise for him.
Russell is a free agent this offseason and may very well decide to stay in the KBO for another season. However, now that he got that season under his belt, he may be looking to stateside again, even if it means a minimal deal type of contract. That would still be more money than what he earned last season, which is a win for Russell and a win for a franchise who wouldn't have to spend a ton and could get a reliable player.
If the MLB is a league about second chances, would the Cubs consider giving Russell a second chance in Chicago? With a new manager in David Ross who played with Russell in 2015 and 16 and a new President running the show, the two sides may decide to put things behind them and start a clean slate. I am not sure fans would give him the benefit of the doubt, but with several roster changes looming, the Cubs may.
We have heard so many rumors regarding the Cubs already, and the offseason hasn't gotten into the full swing of things just yet. Kris Bryant, Kyle Schwarber, and even Javier Baez have all been mentioned as possible trade candidates this season as the Cubs look to not only cut payroll but figure out a way to contend this season in doing so.
Focusing on Baez for a minute is where Russell comes in. Russell came into the league in 2015 a shortstop. Once arriving in Chicago, Russell played 60 games at second base as Starlin Castro was the shortstop. Castro was later benched a few games for an apparent team issue, and that allowed Russell to move to short a position he held for three seasons.
During the 2016 world series run, both Baez and Russell were dynamic, with Baez playing second and Russell playing short. Say what you want about his hitting and .242 average but the Cubs were at their best when those two were up the middle. Once the injuries and personal issues began to consume Russell, he lost his job at shortstop and settled for a platoon role at second, where he eventually lost all playing time.
The Cubs currently need second base depth, which is something Russell has done in the past. However, should Baez get traded, the team will need a starting shortstop and don't have someone like that on the roster. That is where Russell could prove to be valuable. The Cubs could get him cheap and use him as second base depth, for now, should they hang onto Baez.
If the team elects to move on from Baez, Russell would then shift to shortstop, and you solve the issue there. I know many fans are mad the Cubs believed in Russell if they did and feel like he was a bust. That may be the case, but his issues, I think, had a lot to do with that. Should the team and him start fresh and put the past behind them, Russell could be an option for the Cubs. Who knows, maybe he will turn into the player they thought he would be. Better late than never, I guess.

Upgrade Your Account
Unlock premium boards and exclusive features (e.g. ad-free) by upgrading your account today.
Upgrade Now