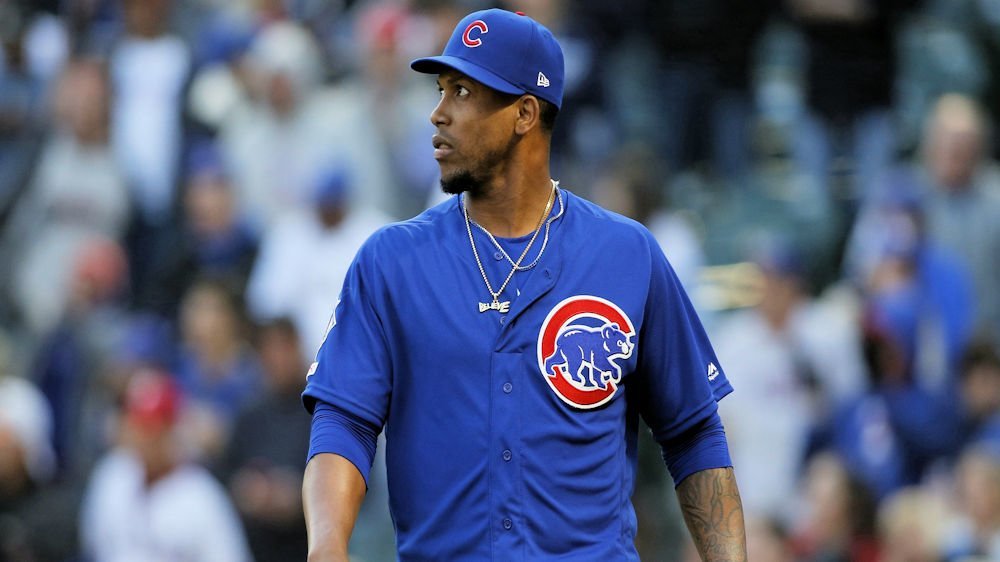 | | |
| --- | --- |
| Commentary: The Cubs offseason continues to go from bad to worse | |
---
| | | |
| --- | --- | --- |
| Sunday, February 2, 2020, 1:43 PM | | |
Can I ask a simple question? What in the hell is going on with the Cubs this winter? This whole offseason is a comedy of errors, and there's no end in sight. The first spring training game is in 20 days, and the entire thing is still an unidentifiable wreck.
Let's go back to November. The Cubs lost Pedro Strop, Steve Cishek, Brandon Kintzler, and Nicholas Castellanos (among others) to free agency in one fell swoop. No, they'd never have been able to retain them all, but you'd think they would've grabbed at least Kintzler or Castellanos. Nope.
Kintzler is now in Miami, playing for a mere $3M – a pittance in baseball terms – and he had every desire in the world to stay in Chicago. Strop called Wrigley Field "his house" and wanted to stay. The Cubs and Strop's camp had been having a dialogue on bringing him back, but that vanished like dust in the wind. Strop is now with Cincinnati. Castellanos had a pending deal with Chicago reportedly, presumably waiting on them to free-up money from within the roster, then the next thing you know, he's with the Reds.
Kris Bryant's grievance gummed up the possibility of signing any free agent help, and probably cost the Cubs chances at both Castellanos and Kintzler.
The grievance has now been resolved (only took four+ years), with the resolution coming after the last top-50 free agent (Castellanos) latched on with Cincinnati.
OK, so now at least the Bryant deal is over, and we know he'll remain under team control for two more seasons. Now what? Well, Theo did promise change, and he said the Cubs would be dealing from the core, yet I see no changes. Why? Because when he said that, he was referring to Bryant (you had to read between the lines) and with just two weeks until baseball starts, no one has stepped up to deal for him.
Theo's asking price is high, and rightfully so, but Epstein is going to have to negotiate a little. Aim high, settle for a happy medium – you know – that sort of thing. The Braves and Nationals were biting at the bait but then aborted the mission because Epstein wouldn't waiver (no pun intended) on what he wanted in return. With just a couple of weeks left until baseball starts again, Bryant is a Cub, and the rumors have suddenly quieted. There was one big splash last week when suddenly rumors about a Nolan Arenado for Bryant trade surface. Arenado would be a great addition, but the whole idea seems like someone's fantasy to me.
The Cubs were also supposed to be working on an extension for Javier Baez, but those far and offers have fallen on deaf ears. The Cubs have reportedly made Bryant offers, but then Scott Boras said he'd be listening to any "reasonable offer," meaning the Cubs are bidding low. The same is reportedly true about Willson Contreras (as per David Kaplan), but Willy and his camp haven't taken the hook either. Next thing you know, Anthony Rizzo pops up, stating that he applauds his teammates for not settling on bad deals. Where is the cohesion here?
All winter, fans were operating under the assumption that the Cubs' mission was to stay under the luxury tax threshold, then the next thing you know, David Kaplan, comes out and says that no such mandate was ever given. Maybe Ricketts meant concerning free agency, but either way, no trades exist, and the core remains intact. These are great players; they just don't seem to play well as a team anymore. Sad.
So, about that luxury tax thing...https://t.co/AHIFcpAZ27

— Cubs Talk (@NBCSCubs) January 30, 2020
Fans expected a debacle when the winter started, but I can't imagine anyone expecting this level of quiet. Oh, speaking of quiet, the Cubs' new Marquee Sports Network remains as mysterious as Theo's plans for Bryant.
Despite what Crane Kenney had to say, popular streaming platforms such as YouTube TV and Hulu remain unsigned in the deal. Comcast, the biggest cable carrier affiliated with the Cubs, is still not in agreement, leaving fans to wonder how they'll view games, not to mention all the extra content that was promised. You can't call Marquee. They don't answer questions on social media, and the Cubs don't know what to tell you, other than "hang in there." I've been looking forward to this all winter – I'm tired of hanging in there.
29 days until launch, which is how many home runs El Mago hit last season ??#February22 | #WatchMarquee pic.twitter.com/9RDwRKVEwQ

— Marquee Sports Network (@WatchMarquee) January 24, 2020
I'm under the understanding that MLB TV will air the Cubs' games, but you'd have to forego all the pregame, postgame and additional content. I can already see it coming. I'm going to go ahead and drop the $130 bucks or so for MLB TV (non-refundable), so I can watch the games, THEN Marquee will get their act together and announce other options. I have no choice but to get programming from somewhere, but I'm going to be furious when this season costs me $300 or so to view.
Dear Cubs and Marquee Sports Network,
Can you guys please get your acts together before Opening Day?
-Signed, an extremely concerned fan