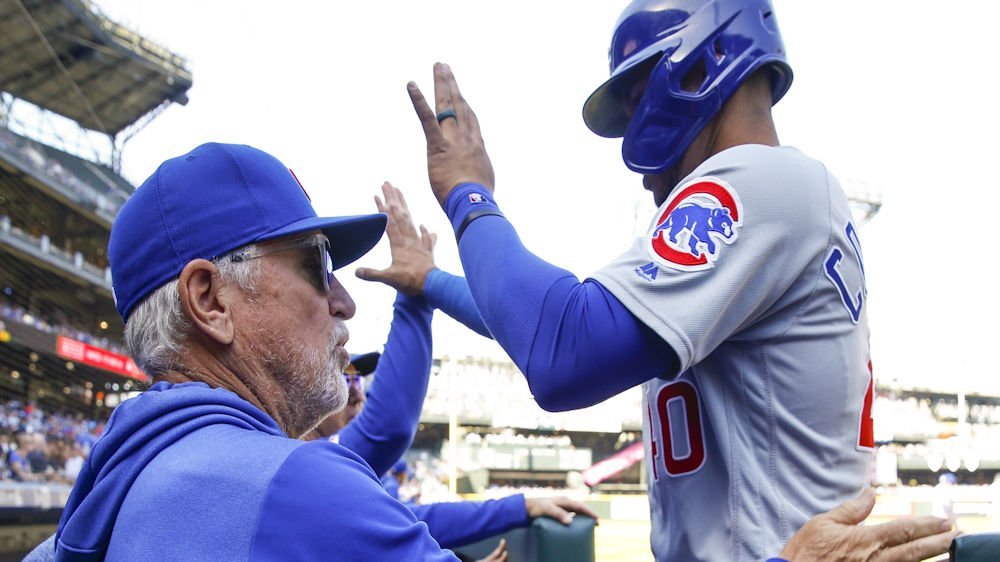 | | |
| --- | --- |
| Commentary: The Cubs, the Crisis and the Cure | |
---
| | | |
| --- | --- | --- |
| Wednesday, July 10, 2019, 2:59 PM | | |
Let's just get it out there: I think the Cubs are in some serious trouble. I've sat back, watched, then re-watched games analyzed the things that are happening (on and off the field), and I've researched, read, and ruminated. This team has potential, so much so, that they should be decisively in first place, by no less than four or five games at this point, but instead, they're hovering there because no other NL Central team has the ability or a deep enough desire to step up.
Not that the NL Central isn't loaded with talent- it absolutely is, but the Cubs know how to win, they've been their before- albeit after a 108-year hiatus, but they don't look hungry- at least not hungry enough. They've struggled, at least some, with almost every team in the division, and 45 of their remaining games are against divisional opponents. Pittsburgh and Cincinnati have made them look silly, they want to swap sweeps with the Cards, and even though they're up in the season series with the Brewers, Milwaukee has manhandled them on occasion.
There seems to be no cohesion on the field, and a disconnect of some sort with management and maybe ownership. This team was built to win, led by a manager with a propensity for winning, but every day, something seems lost in the translation. Clouded by uncertainty and undoubtedly reeling from rumors, Joe Maddon and his team take the field daily, not knowing who'll be drafting the lineups in a week.
I'm not sure what level of liability needs to be placed on Tommy Hottovy and Anthony Iapoce at this point. The bullpen and starters (to a lesser degree) have underperformed, and their lack of being able to move runners in scoring position is just downright depressing. Is it Tommy and Anthony and the way they're instructing? It didn't work with Chili Davis; it didn't work with John Mallee. Jim Hickey didn't help, and Chris Bosio, who did seem to work, was left to find work elsewhere.
I've never argued that coaches have minimal effect on veteran players, but multiple approaches and styles over the last few years have failed to bring the Cubs back to the big dance in late October. After winning the World Series in 2016, Chicago had to settle for making it only as far as the National League Championship series in 2017, then bowed out in a wildcard game last year, after being forced into a sudden-death Game-163, in a division they should have (and could have) won easily.
As I wrote in a commentary the other day, this team has some fans so divided and conflicted as to what's right and wrong anymore, that it's not even funny. Keep Joe, fire Joe. Trade players; resurrect what they have. Tap the farm for talent, trade them away for the established. Every option makes perfect sense and no-sense- all at the same time.
What the Cubs need, is a realistic, five-year plan, but they're so consumed with damage control in the present, that they're unable to look ahead- a blindness that is going to backlash. God love Jon Lester and Cole Hamels, but they're aging, and by the start of next year, each will be 36, though either free-agency or retirement may preclude Hamels for returning. The list of the "free-agents-to-be" over the next few years is shuddering- Kris Bryant, Javier Baez, Anthony Rizzo- to name just a few. They don't want to lose them, but rationality says they can't keep them all. Meanwhile, what was an open and golden window of opportunity is getting ever closer and closer to touching the sill, while the team scrambles to make sense out of what's gone wrong.
There's little doubt that the Cubs need experienced bullpen arms, but at what cost? Young, established, confident, qualified, and most importantly, controllable arms are hard to find, and the Cubs can't afford to leverage the farm on rentals. The argument will undoubtedly rage on about the need for a solid leadoff man, but Chicago has 12 guys who are all capable of fulfilling that role- that is when they play at their full potential.
At this point, there needs to be clarity about which direction they're going with Joe Maddon, as there are really only four choices here: (1) They're going to fire him; (2) He's going to be extended; (3) He'll be leaving at the end of the season without an extension; (4) He'll finish the year, then leaves because he wants to do so.
Theo Epstein is almost obligated at this point to lend some clarity- for both the Cubs and for Maddon's sake. The players deserve to be able to freely voice their opinions in the matter, even if done so anonymously, as this cloud hangs over their heads as well.
They need to rekindle the flame in the furnace, and they need to go out there hungrier than hell in the second half. They need to quit trying to hit for power and batting statistics, and instead, put the ball in play. Forty home runs might get Kris Bryant that Harper-esque free-agent deal that he wants in a couple of years, but it does nothing for the team he belongs to today.
If the Cubs are to be contenders, they'll undoubtedly need to deal for at least one quality reliever, (almost) no matter the cost. Maddon has told his hitters to "relax and go out there and do it," yet the same philosophy never holds true for the pen. Randy Rosario retired two men on three pitches last weekend, but he was lifted for Brad Brach. Stop playing the matchup game- it works maybe 50% of the time, and resources are being expended much too quickly.
With apparent exceptions for days of rest, the Cubs can rely on Brandon Kintzler, Steve Cishek, and Pedro Strop to bridge the gap between the starter and Craig Kimbrel, but a quality closer, even one as brilliant as Kimbrel, does them no good if they can't keep themselves in the game offensively.
Theo says changes are coming, though he remains ambiguous to the point that it appears to be affecting the team. He used similar words over the winter, but to date, only Carl Edwards Jr. and Ian Happ have felt the sting. Transparency is a must if the Cubs are to charge, as they'll need time to acclimate themselves to their new surroundings- whether that means teammates, management, or coaches.
The clock is ticking, the All-Star break is ending, and there are just 72 games left to play. Let's do this.

Tags: Cubs Baseball
,
,
,
Cole Hamels
,
,
Anthony Rizzo
,
Randy Rosario
,
Brandon Kintzler
,
Steve Cishek
,
Pedro Strop
,
,
Joe Maddon
,
John Mallee
,
Chris Bosio
,
Theo Epstein
,
Chili Davis
,
Jim Hickey
,
Tommy Hottovy
,
Anthony Iapoce