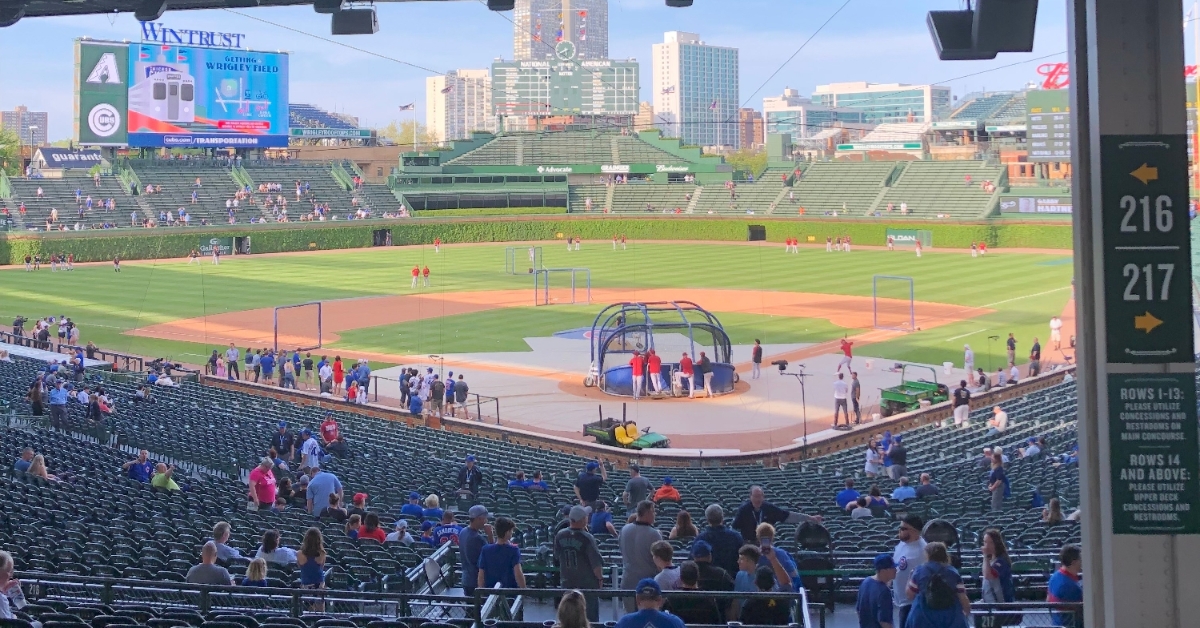 | | |
| --- | --- |
| Commentary: Wrigley Field no matter what is a special place | |
---
Everyone has their favorite place in the world; everyone has that place they can go to and be happy. For me, there is no better place to be than Wrigley Field. I was able to go to Wrigley Field this week for a couple of games this week, and even at 42, I still feel like an 8-year-old kid when I went there for the first time in 1988.
I attended two-night games (both Cub losses); I always prefer to go in the day. My uncle always said it is a different crowd at night, and for a while, I didn't understand what he meant by that. Now, I see what he is talking about. The fans always seem more into the game at night than day games, where sometimes it looks like the fans are just there to have a good time.
Many people have memories of Wrigley Field, most a special game they went to with friends or family or when they had their first adult beverage there. Some go there for a pick me up, like me when my high school prom date broke up with me or when my college love was getting married to someone else. Wrigley Field has the power to make us happy and forget what is wrong with the world for those three or four hours. Some of the perks about it have changed, though.
As a little kid, I remember begging my parents to take me down early to get autographs before the game, watching the players pull into the parking lot with their fancy cars, and lining up around the fence, begging for them to sign. I'll never forget getting Greg Maddux's autograph before a game. Now, the players pull into the lot and are escorted by security across the street without even noticing the fans. Also, before you could get into the game two hours before the game started, line up around the Cubs dugout and yell out to the players to sign after they finished batting practice. It was such a thrill for me when Ryne Sandberg came and signed one day.
With all the netting along the Cubs dugout, it is almost impossible to get autographs before the game.
However, one thing that hasn't changed is the good old smell of a Chicago hot dog. As soon as you enter the concourse, you can smell the dogs cooking. Grabbing one of those, along with a drink, is heaven. I also like how the Cubs have Home Run Inn pizza back. I was able to grab a couple of those too, and it was fantastic! Some fans would like more choices, but hot dogs, pizza, nachos (which I had a couple of times), hamburgers, cheeseburgers, and good Italian sausage are all available at Wrigley Field.
One thing also that has changed is the area around Wrigley Field; ever since the Ricketts family took over, it has been way more commercialized than before, which can be good or bad, depending on your view.
There are way more places to shop and get together as Gallagher way is there now, and I spent some time with Illinois fans at the Budweiser Brickhouse before the "Illini Day at Wrigley Field" game on Thursday. You can see the offices, hotels, and other buildings the Ricketts family has taken over, but who doesn't miss the old McDonald's right by Wrigley Field, with the old players' pictures?
Yes, there is still a McDonald's there, but it is not the same, and I'm sure every Cub fan visited the old McDonald's once before or after a Cubs game. However, the bar scene is still the best and always will be the best in baseball. Heading to Murphy's or the Cubbie Bear before or after the game is still the best way to get up for a Cub game or unwind. I make sure to take all my friends who come with me to those places and tell them their history, and I can see why they have been voted some of the best sports bars in America. Harry Caray's down Sheffield isn't too bad either.
Also, you have to love how the fans are at every game and supportive. I've watched many games on TV this year of first-place teams, and the stands are half-filled. Seeing the Cubs draw over 30,000 for both games and watching how the fans were cheering and supportive to the very end for a team that is nine games under .500 makes Wrigley Field special. As I tell many friends, you haven't watched a real baseball game live until you watch a game at Wrigley Field, and I'm hoping to take some of my friends there soon for games. Just to tell them, you know, Babe Ruth once played here.
So, if you get a chance again, go to Wrigley Field, take in the history, take in the memories like I have with my Grandpa, Grandma, Mom, Dad, Uncle, brother, cousins, and hopefully for me soon, my nephews.
As I was riding the bus to the game, and it was getting closer, then it appeared, I told myself, life is good. I'm at my favorite place in the world-Wrigley Field.