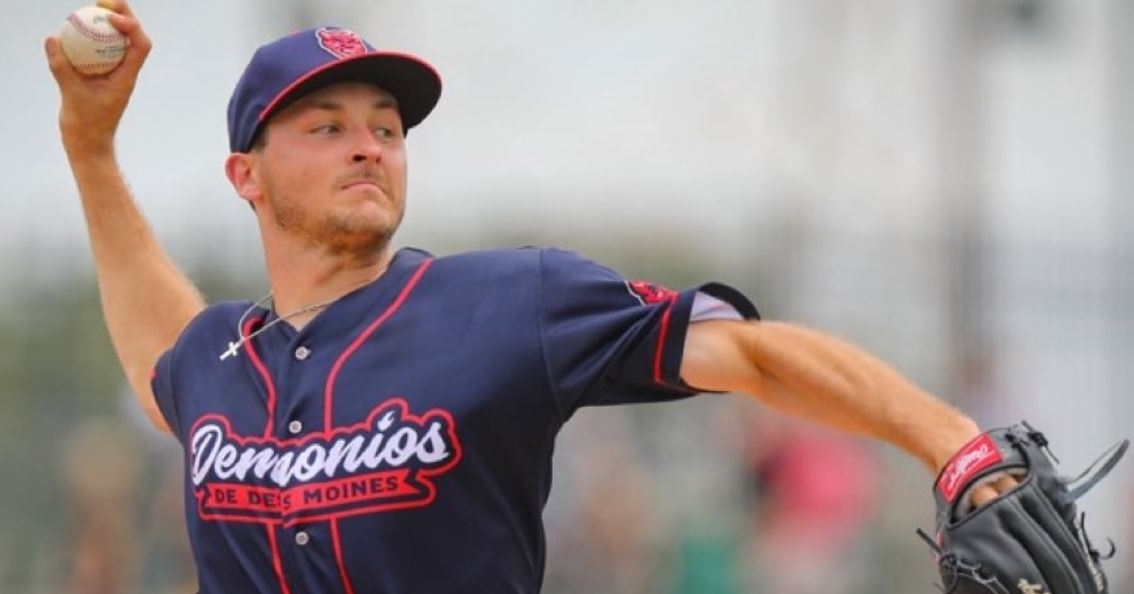 | | |
| --- | --- |
| Commentary: Cubs are flipping the script with pitching | |
---
For the second time in a decade, the Cubs are rebuilding. A full tear down featuring emotional departures from fan favorites and a stockpile of prospects at the minor leagues. However, this time around, it looks a bit different.
As many remember, from 2013-2014, the Cubs had a highly ranked farm system with many highly touted prospects stacking up the farm system. However, most of them were hitters. Kris Bryant, Javier Baez, Addison Russell, Kyle Schwarber, Albert Almora Jr., Gleyber Torres, Jorge Soler, Daniel Vogelbach, and Eloy Jimenez were all position players in the same farm system at the same time, and the list goes on and on. That list has All-Star games, Rookie of the Years, MVPs, World Series rings, even World Series MVPs — so it's safe to say that the Cubs invested in some good hitters, and many of them developed well into their MLB careers.
However, despite the World Series championship in 2016, one glaring weakness of the Cubs as an organization was pitching. The Cubs failed to develop pitching at a minor league level, and as a result, had to throw tons of money at players like John Lackey, Jason Hammel, Yu Darvish, Cole Hamels, Tyler Chatwood, Brandon Morrow, or Craig Kimbrel to keep their pitching staff afloat. In addition, the Cubs traded Starlin Castro, Jorge Soler, Gleyber Torres, Daniel Vogelbach, Eloy Jimenez, and others in exchange for pitching as well during that competitive cycle.
Any way you slice it, lack of pitching was a prominent feature and massive issue of the Cubs during their last competitive cycle. This time around, as the Cubs approach another period of what they hope is sustained success, there is much more depth to report.
For starters, the Cubs have not one, but two homegrown starters in their rotation currently that appear to be mainstays for the Cubs rotation in the future: Justin Steele and Keegan Thompson. Both are under 30 years old and have been impressive in 2022. Steele has been the MLB's best pitcher since the all-star break, according to the numbers, and Thompson has displayed consistency all season long.
Plus, the Cubs have gotten solid debuts and rookie performances from Caleb Killian, Hayden Wesneski, and Javier Assad in their limited experience this season.
And if you delve deeper into the MLB pipeline — a well-respected prospect ranking system — the Cubs have 15 pitchers in their top 30 prospects. In addition to Wesneski and Killian, recent draft picks Cade Horton, Jordan Wicks, and Jackson Ferris join acquired talents like Ben Brown and Daniel Palencia and others in the Cubs prospect rankings with estimated times of arrival of 2023-2025.
Plus, that list does not even include Brailyn Marquez and Adbert Alzolay, who have been sidelined with injuries for most of 2022 — but have ranked as high as the top-5 in the Cubs system while healthy.
Point is that the Cubs are loaded with pitching in the farm system — and that depth is exciting as the Cubs build toward the future.
And unlike the last time around, it is not lopsided. The Cubs have young players like Nico Hoerner, Nick Madrigal, Christopher Morel, and Nelson Velasquez making an impact at the major league level and enjoying breakout campaigns — as well as highly respected position-playing prospects Pete Crow-Armstrong, Brennen Davis, Kevin Alcantara, Christian Hernandez, Alexander Canario, Owen Cassie, Miguel Amaya, Ed Howard and more waiting in the wings.
While it's impossible to expect all of these players to pan out, the Cubs should get big league production from a lot of these prospects — and you can never have enough pitching, which the Cubs learned the hard way during their last competitive window. However, prospects panning out, especially on the mound, will give the Cubs a lot of financial flexibility to supplement the big league team, instead of throwing money at pitching problems like they have been all too familiar with.

Tags: Cubs Baseball
,
Kris Bryant
,
Addison Russell
,
Kyle Schwarber
,
Albert Almora
,
Jorge Soler
,
John Lackey
,
Jason Hammel
,
Yu Darvish
,
Cole Hamels
,
Tyler Chatwood
,
Brandon Morrow
,
Craig Kimbrel
,
Justin Steele
,
Keegan Thompson
,
Hayden Wesneski
,
Javier Assad
,
Jordan Wicks
,
Daniel Palencia
,
Brailyn Marquez
,
Adbert Alzolay
,
Nico Hoerner
,
Nick Madrigal
,
Christopher Morel
,
Brennen Davis
,
Kevin Alcantara
,
Alexander Canario
,
Miguel Amaya