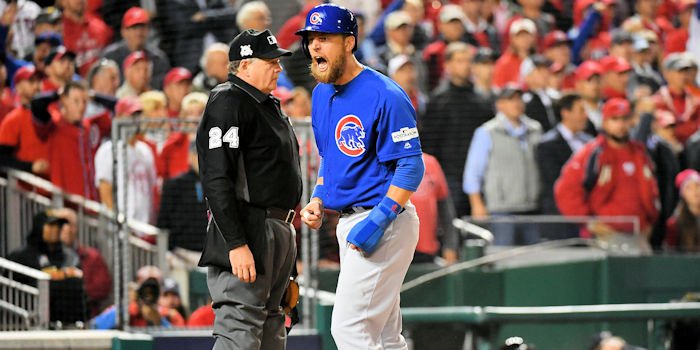 | | |
| --- | --- |
| Commentary: I will wait for you | |
---
With Houston now out, and the Red Sox advancing to the World Series, the 2018 postseason is growing shorter by the day. The Dodgers can advance as early as tonight with a win in Milwaukee.
In the best case scenario, there's a maximum of nine games left in 2018, a worst-case scenario means the season is officially over in just another five games. Where did the time go?
If I wasn't already bummed out about the Cubs early exit from the playoff stage, Ben Zobrist's short video and letter to the fans had me all but ready for Prozac.
"I will wait for you" was Zobrist's short and simple, five-word message to the game of baseball and the fans. It was nothing short of depressing to see Big Ben swinging his bat in front of the TV that was showing a Brewers-Dodgers game, imagining that he was the one taking the pitch. I guess if nothing else, Ben put it into perspective for me; he's pretty bummed out as well.
While any guy on the team could have made a similar video, I don't think the message could have been delivered nearly as powerfully, by anyone other than Zobrist. Maybe it's because Zo is going to be thirty-eight by the time next season rolls around, and his days, at least as a player, may be starting to become numbered. Whatever the reason, the message was received loud and clear.
I'm pretty well divided at this point between wanting the postseason to go the distance (for the sake of prolonging baseball for 2018) and wanting it to end at the earliest possible date, which would now be October 27th (World Series, Game 4 date), as the free agency wars start just days after the final game of the year.
While there has been some trading going on already, the Cubs have remained idle thus far, with their only player transaction for October being the recall of Oscar De La Cruz (RHP) from the Tennessee Smokies, which occurred on October third. Obviously, they have also fired Chili Davis and subsequently replaced him with Anthony Iapoce, but all remains still otherwise.
The Cubs went through the July trading session relatively quietly, despite scoring names like Jesse Chavez, Daniel Murphy, and Cole Hamels, leaving me to wonder if Theo goes into full blitzkrieg mode over this offseason.
What the Cubs' need is only measured by what they feel they don't need. I've been through the names and my predictions before, but I really don't see Addison Russell or Ian Happ staying, and they're going to lose a few free agents as well, presumably Daniel Murphy, Justin Wilson, and Jaime Garcia. I'm hoping that they'll somehow hold onto Murphy and Garcia, and keeping Anthony Bass would be nice as well, but going after Harper or Machado (if they still have any interest in him) is going to cost some big bucks. Say hello to the luxury tax.
There's no secret that Theo dropped the ball last season by signing Yu Darvish and Tyler Chatwood, and those signings are going to haunt the Cubs and the Rickett's checkbooks for a while.
While there may still be some hope for Darvish, Chatwood is a total loss. He can't be optioned to the minors, so trading him or designating him for assignment are about the only two options. The Cubs need that roster spot opened up for a guy who can pitch, so Theo is going to have to work some magic of his own. I think the best course of action is probably going to be to eat a large chunk of Chatwood's salary, then dump him off cheaply.
There seems to be a lot to do, and while the Cubs have better than five months to figure it all out, I'd sure like to see things starting to happen sooner rather than later. In the meantime, to the Cubs, MLB and most importantly, Ben Zobrist, I will wait for you.