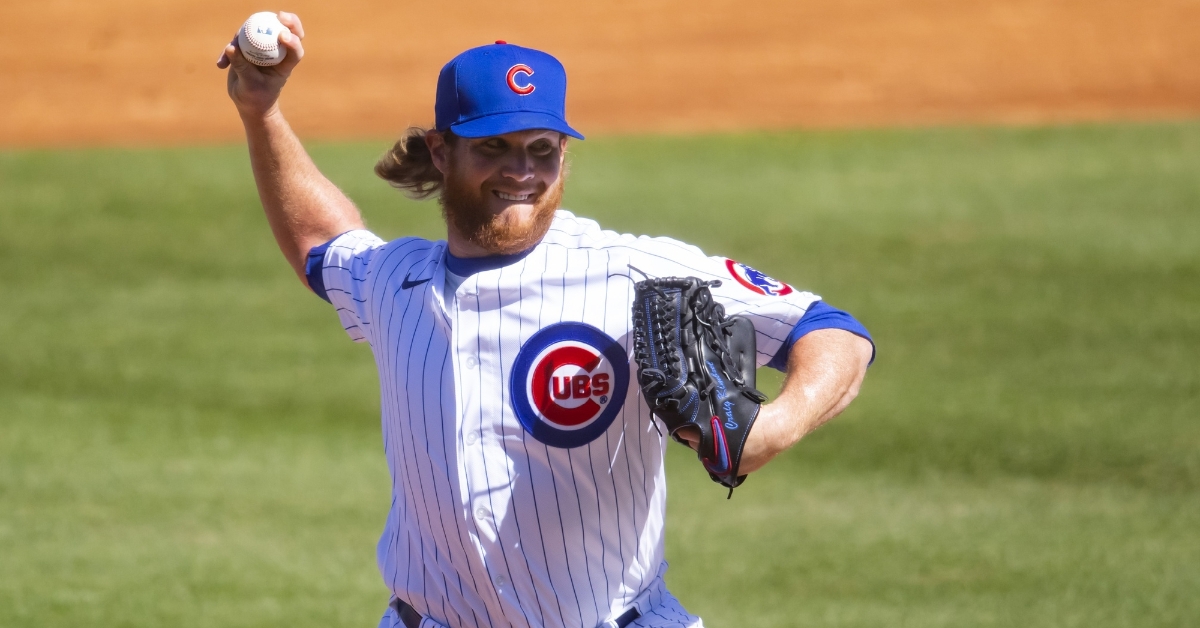 | | |
| --- | --- |
| Craig Kimbrel will be X-factor for Cubs in 2021 | |
---
| | | |
| --- | --- | --- |
| Monday, April 5, 2021, 10:45 AM | | |
Craig Kimbrel has struck out five of six batters he has faced this season.
Kimbrel's two outings have been encouraging for both the organization and Cubs fans, especially since he had an ERA over 12 in seven Spring Training appearances.
The Cubs are hoping to get a strong season out of Kimbrel — the active leader in saves who the Cubs signed to a three-year 43 million dollar deal with a team option for a fourth-year back during the 2019 season. Kimbrel was bad once he arrived in 2019 and was even worse early in 2020. However, late in the season, he found something that clicked and that blossomed into allowing just two runs over his last 14 appearances in 2020.
Kimbrel is a massive X-Factor for the 2021 Cubs though. For starters, Kimbrel enters the season as the closer for David Ross' ball club — a position that the Cubs lack depth in, and Kimbrel lacks success in as of late.
"Craig is in a good place right now," manager David Ross said. "He is throwing strikes and getting good carry on his pitches. The ball is being thrown above the barrel, and you see a lot of foul balls. That tells me his ball is being thrown in the right place, and he is getting his secondary pitch over. Those are keys for him."
Craig Kimbrel. Selling it with the Insta-K Strut. ?? pic.twitter.com/5EDLkHctpG

— Rob Friedman (@PitchingNinja) April 4, 2021
This Cubs bullpen features many unfamiliar names, and with unfamiliar names, of course, comes limited experience, especially in high-leverage situations. However, Kimbrel — who has pitched in the World Series — is being counted on to be an anchor for this bullpen, something he has failed in since arriving in Chicago in 2019 aside from the last month of the season in 2020.
But at the end of the day, Kimbrel has been a wildly successful closer. He is getting paid like a closer too, so it's time for him to be one — something he didn't get the chance to in 2020.
Now, he has the closer job with no player chomping at the bit at it — or truly no player with major league closing experience for Ross to be uber-confident in taking the mound for a save situation. But Ross believes in Kimbrel and needs him to step up — especially since the Cubs have struggled in high leverage situations over the past few years.
The Cubs bullpen, and the pitching staff as a whole, do have some major question marks and unknowns to answer about the makeup of the unit in general. For example, where does Alec Mills, who threw a no-hitter last season, fall into the rotation or bullpen? Aside from closer, all the roles have yet to really be decided or settled. But two things seem for certain; the closer job belongs to Craig Kimbrel. The other thing, a reliable, steady, good Craig Kimbrel pitched over the weekend, and that Kimbrel would have a massive impact on the Cubs' pitching staff in 2021.
Good.

Vibes.

Only. pic.twitter.com/JyEkX1BGAr

— Corey Freedman (@CFCubsRelated) April 4, 2021
Otherwise, a strong season from Kimbrel could make him a valuable trade asset as well as he enters a potential walk year of his contract.
Regardless, as Kimbrel pumped a fastball in around 96 miles per hour and balanced that with a working breaking pitch — the Cubs caught a glimpse of what they paid for back in 2019 and are hoping to see much more of that in 2021.
Such a cool photo of Craig Kimbrel from @sgreenphoto1 (@ sgreenphoto on Instagram). pic.twitter.com/M6I6lpxgLR

— Cubs Insider (@realcubsinsider) April 5, 2021