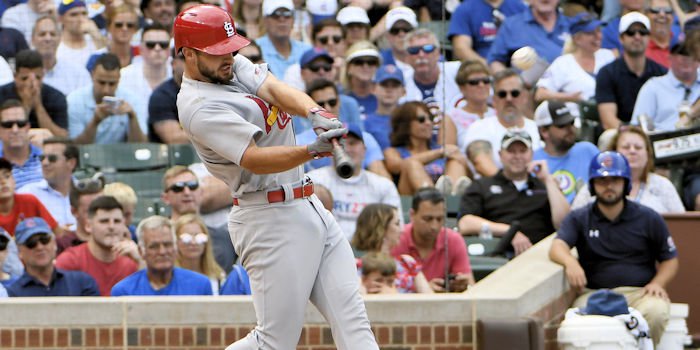 | | |
| --- | --- |
| Cubs blasted by Cardinals with horrendous 8th inning | |
---
CHICAGO – After the brief period of winning ball games, the Cubs have returned to their old ways, but with a twist. Instead of the starters putting the Cubs in a bind early, it was the bullpen who imploded in the eighth inning allowing a whopping nine runs to bury themselves 11-4. The nine runs in the 8th before recording an out is the first time for the Cardinals since June 2015 against the Blue Jays according to ESPN Stats and Info.
Jake Arrieta (9-7, 4.11 ERA) pitched a pretty good game giving up only two runs on five hits while walking none and striking out six. He would end up losing out on a decision because of his bullpen, but his stuff worked well into the seventh inning when he was relieved of duty. Arrieta has been relying more on his sinker and curveball with a good mix of changeups to help him miss more bats.
The Cubs offense looked very similar to what they were in Atlanta and Baltimore except that they were finding more gloves. Carlos Martinez gave up a home run to Willson Contreras in the bottom of the first inning, but was able to keep the ball in the park thereafter. Of the ten balls that were hit over 100 miles per hour before the eighth inning, the Cubs hit nine of them. It just so happened that the Cardinal outfielders were in the right place at the right time.
By the eighth inning, the Cubs were leading 3-2 and had a chance at seven in a row. Carl Edwards Jr. promptly loaded the bases and gave way to Hector Rondon to did nothing to stymie the Cardinal offense whatsoever. By the time Justin Grimm came into the ballgame, the Cubs had lost. Grimm managed to induce some weak contact, but it found a hole. Anthony Rizzo helped turn a double play to end the Cardinals' run of consecutive men on base at 11.
The Cubs will go again tomorrow pitting Jon Lester (6-6, 4.07 ERA) against Adam Wainwright (11-5, 5.08 ERA). Despite such a high ERA, Wainwright will be looking for his 12th win of the year. First pitch is scheduled at 3:05 PM CDT.