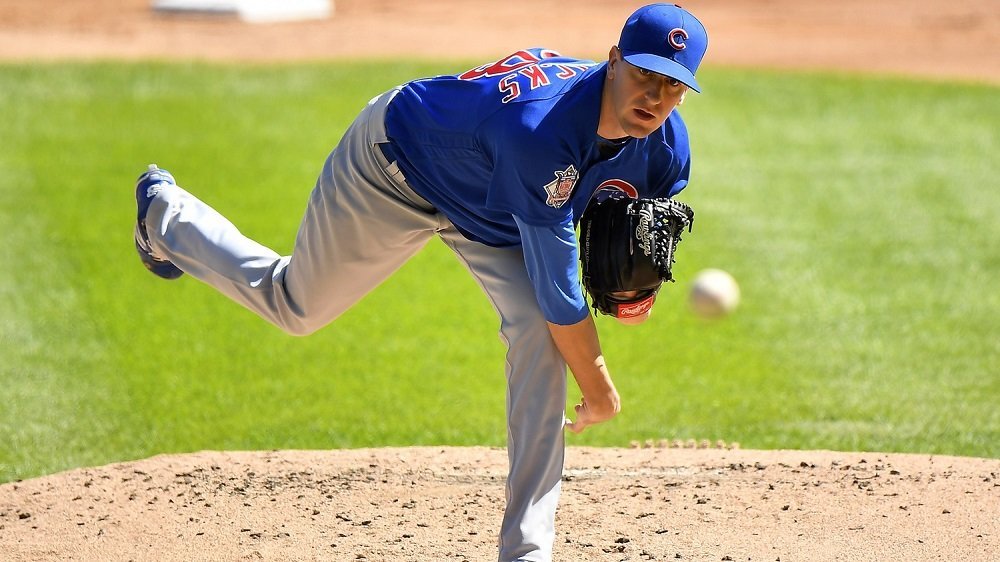 | | |
| --- | --- |
| Cubs blow early lead and fall to Brew Crew | |
---
| | | |
| --- | --- | --- |
| Sunday, March 10, 2019, 6:21 PM | | |
In the third and final time that the Cubs would face the Brewers this spring, Joe Maddon would send Kyle Hendricks (0-0, 4.15 ERA) to the mound to square off against Milwaukee righty, Corbin Burns (0-0, 8.44 ERA).
Five runs in two innings wouldn't be enough, as the Cubs' pitching gave in and the offense caved, allowing the Brewers to slip by them, winning by a final of 7-5.
T1: (MIL: RHP- Burns) After two quick outs to start (Albert Almora, Jr. pop-out, Ian Happ groundout), David Bote would squeeze a single past short and into left, then advance to second on a wild pitch. Willson Contreras would double to left, scoring Bote, to give the Cubs an early 1-0 lead. The inning would end when Contreras attempted to steal third.
B1: Kyle Hendricks would give up a leadoff single (Cain), but he'd bounce right back, striking out Grandal. Ryan Braun (looking as cocky as ever) would be Hendricks' next victim (pop-out to second), then Kyle would end it by fanning Aguilar (looking) on three pitches. Cubs lead 1-0.
T2: (MIL: RHP- Burns) The Cubs would go down in order on a flyout (Cristhian Adames) a groundout (Phillip Evans) and a strikeout (Ryan Court)
B2: Hendricks would give up a leadoff double (Spangenberg), but Contreras would gun him down while trying to steal third. Orlando Arcia would groundout, followed by Hendricks' third strikeout of the game (Gamel) to end the frame. Cubs lead 1-0.
What leadoff double? pic.twitter.com/fDophB1K5b

— Chicago Cubs (@Cubs) March 10, 2019
T3: (MIL: RHP- Burns) Johnny Field would start the Cubs half of the third started with a single to center, followed by Trent Giambrone's pop-out to right for the first out. Almora's single to center would advance Field to third, then Happ's weak grounder to short would be bobbled, loading the bases with one-away (Error: O. Arcia). Bote would fan, but Burns would bean Contreras in the shoulder, scoring Field. Adames' towering fly to right almost cleared the wall, but despite staying in the park, Gamel lost it in the sun, resulting in a 3-RBI triple. The inning would end on a flyout by Evans, but not before the Cubs were up 5-0.
B3: Hendricks reemerged, quickly retiring Saladino on a flyout, followed by a strikeout (Hiura). Cain would go 2-2 with a single to right; then the Brewers would get on the board with Grandal's double to right. Adames would rob Braun of a single on a diving play to end the inning. Cubs up 5-1.
T4: (MIL: RHP- Burns) The Cubs would go down fast, and in order, on a flyout (Court), a strikeout (Field) and a foul-out to Grandal (Giambrone).
B4: The Professor would start the frame by giving up a leadoff single (Aguilar), followed by a walk (Spangenberg) before Joe Maddon would replace him with righty, Dakota Mekkes (Hendricks' Pitch Count: 56), Dakota Mekkes. Just two pitches in, Mekkes would give up a three-run homer to Arcia, bringing the Brewers to within one. Mekkes would next walk Gamel, prompting a mound-visit by Tommy Hottovy. Mekkes would finish off the inning without further harm on a pair of groundballs (Saladino, Cain) and a flyout (Hiura). Cubs lead 5-4.
#Brewers win 7-5 over the Cubs! The biggest hit was this one off the bat of Orlando Arcia. #CactusCrew pic.twitter.com/sjq7227X6N

— Milwaukee Brewers (@Brewers) March 10, 2019
T5: (MIL: LHP- Claudio) The Cubs failed to add to their lead, going down 1-2-3. Almora (groundout), Happ (strikeout), Bote (flyout).
B5: Newcomer, Brad Brach (RHP), would get off to a rough start, plunking Grandal on the first pitch he dealt, but Contreras would throw him out at second after recovering from a ball that skipped off his shin-guard. After giving up a triple (Ray), Brach would issue a walk (Aguilar), but the inning would end scoreless when Spangenberg lined into a 4-3 double-play (Happ, Court). Cubs lead 5-4.
T6: (MIL: RHP- Barnes) The Cubs would go down for the third straight inning on a strikeout (Contreras) a pop-out (Adames) and a groundout (Evans)
B6: Brian Duensing took the mound, retiring Arcia on a groundout, but back-to-back home runs (Gamel, Saladino) would put the Brewers ahead. Duensing would get Hiura by groundout and Stoles by strikeout to end the frame, but not before the Brewers would lead 6-5.
T7: (MIL: RHP-Petricka) The Cubs would rack up two quick outs on pair of groundouts (Court, Field), but Giambrone would walk, and Almora would reach on an error by third-baseman, Lucas Erceg, but Happ would fly out to end the inning, with Cubs still trailing.
B7: Brandon Kintzler would get the first man he faced (Nottingham) on a flyout, but an error by Cubs' second baseman Zack Short would allow Ray to reach base. After retiring Orf on a flyout, Henry would double, scoring another run. Hager would groundout to end the inning. Cubs down 7-5.
T8: (MIL: RHP- Smith) David Bote would get the Cubs started with a walk, but pinch-runner, Chesny Young would replace him. Cubs' catching prospect, Miguel Amaya, would fly out to center, and Nico Hoerner would fly out to center, ending his incredible on-base streak. Jared Young would keep it alive for the Cubs with a two-out walk, but the inning would end without a run on Yasiel Balaguert's tapper back to the mound.
B8: Right-hander, Junichi Tazawa would take the mound in the eighth, retiring the first two men he faced (Erceg, Lutz) on a pair of groundouts, but Maddon would elect to replace him with righty, Dillon Maples. Maples would issue back-to-back walks (Gosewisch, Stokes) before ending the inning n a strikeout (Nottingham).
T9: (MIL: RHP- Jackson) Still trailing 7-5, and running out of chances, Zach Borenstein would groundout to lead off the ninth, followed by PJ Higgins strikeout. Down to their last out, Wynton Bernard singled to center, but it wouldn't be enough, as the game would end on Zach Short's flyout to right, by a final score of 7-5 in favor of Milwaukee.
The Cubs have their first off-day of the spring tomorrow but will return on Tuesday to Host the Reds at Sloan Park. (Pitchers TBD) Game time 2:05 PM Central.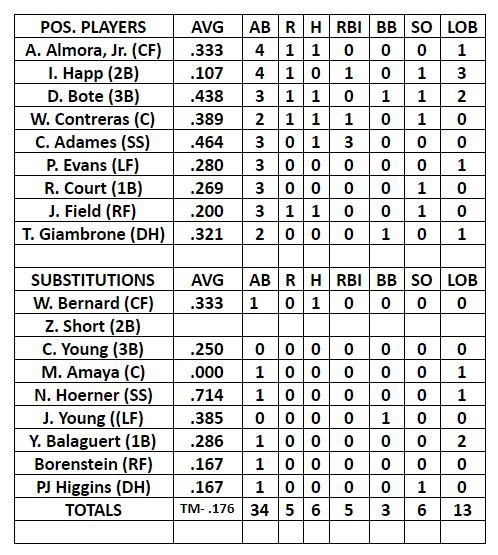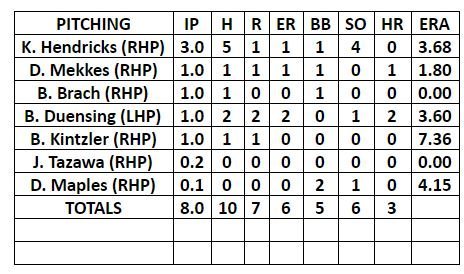 Final: Brewers 7, Cubs 5. #SpringTraining pic.twitter.com/MOr7ZAYLOT

— Chicago Cubs (@Cubs) March 10, 2019