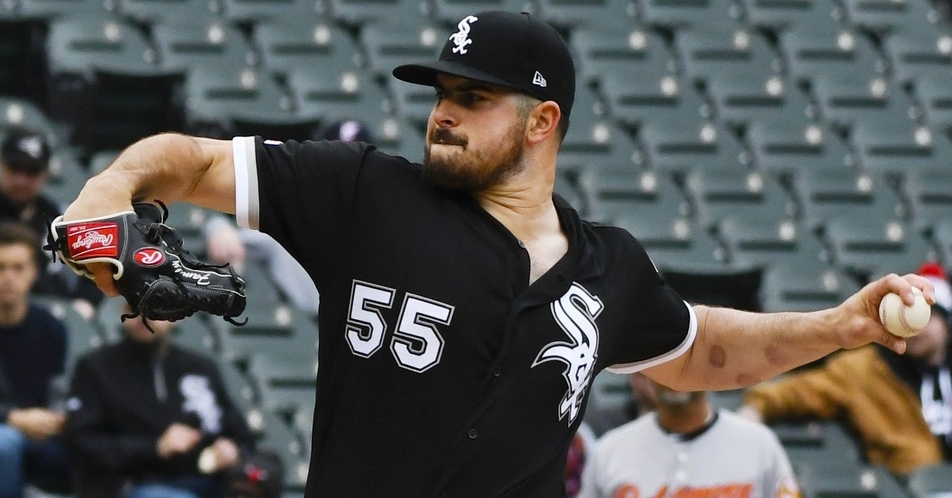 | | |
| --- | --- |
| Cubs could take a look at lefty Carlos Rodon | |
---
The Chicago White Sox will be good not only this season but for a long time. As things sit right now, I would peg them as the favorites in the AL to play in the World Series. When you look at the roster they have put together and a rotation of Lucas Giolitto, Dallas Kuechel, Lance Lynn, Michael Kopech, and Dane Dunning, how can you not like their chances?
However, some pitchers like Gio Gonzalez, Reynaldo Lopez, and Carlos Rodon have been starters with that team in the past. They may be on the way out this season. The one pitcher who could be looking for a change of scenery is Rodon, who could be a cost-effective left-handed option for the Cubs.
With Jon Lester officially off to the Nationals, there will be no reunion for him and the Cubs. That still leaves the Cubs with not only a spot open in the rotation but a spot that could desperately be occupied by a lefty. Rodon is the type of pitcher that the Cubs could look to sign as he may need a change of scenery to get back on track.
Rodon is the perfect fit for the Cubs for a variety of reasons.
The former No. 3 pick in the 2014 MLB draft was taken one selection ahead of Kyle Schwarber and quickly found a home with the White Sox rotation. As much as fans loved Schwarber, there talk surrounding Rodon's camp that said had he been on the board at No. 4; the Cubs would have chosen him over Schwarber.
Rodon was always viewed as a top of the rotation lefty that the White Sox could pair with Jose Quintana. There were still glimpses of greatness that he showed, but the constant injury bug never allowed him to reach the potential the White Sox expected him to. Injuries are part of the game, but when you are a starting pitcher and continue to get injured seemingly every season, it concerns teams.
Despite that, Rodon is a former first-round pick with loads of talent. Injury history aside, he is certainly worth looking at on a flyer deal, something the Cubs continue to do. Rodon is just 28 years old, and if healthy, his best years could still be ahead of him. The keyword is healthy, and should he prove that he is healthy, Rodon would be an instant boost for the Cubs rotation.
If you want to talk about flyer deals, why not sign him to a one-million-dollar minor league deal with an invite to spring training. Tie that contract to bonuses where he gets an additional million dollars if he makes the opening day roster and a certain amount of starts.
Essentially that could end up being a decent salary for him if he can stay healthy.
Arbitration figures have him around 4.5 million. There is no way he gets that with his injury history, so getting him at one million would be a bargain. If you tie in those incentive-based earnings, the deal could work out in Rodon's favor, where he ultimately could improve his projected figure. Baseball has not decided if they will be doing a 25 or 26 man roster yet, but Rodon would be someone to battle for the final roster spot.
Bringing him in for a flyer deal doesn't hurt the Cubs at all. If he comes to camp and is not healthy, the team can either release him or talk him into going down to Iowa for a bit. Should he prove he is healthy, then the Cubs added a middle of the rotation arm for next to nothing. Rodon still has the first-round talent, in my opinion, just not ace level talent anymore.
When you watch Rodon pitch, there is a lot of potential in that arm. Since coming into the league in 2015, Rodon has managed to go 29-33 with a 4.14 ERA. He has pitched in 97 games (92 starts) during that time, so he is not even averaging 20 starts a season.
When he has managed to make 20 starts, which has happened three times, he has been somewhat successful. During those seasons, he has gone 24-24 with an ERA in the 3.90 range. Not ace material by any means, but certainly a perfect middle to back of the rotation fit as a low-cost high-reward flyer deal.
Rodon even ranked in the top 15 in strikeouts with 168 during the 2016 season.
Rodon was someone the Cubs wanted to have back in the day. With a chance to get him again, why not give him an opportunity for a bare minimum minor league deal.

Upgrade Your Account
Unlock premium boards and exclusive features (e.g. ad-free) by upgrading your account today.
Upgrade Now