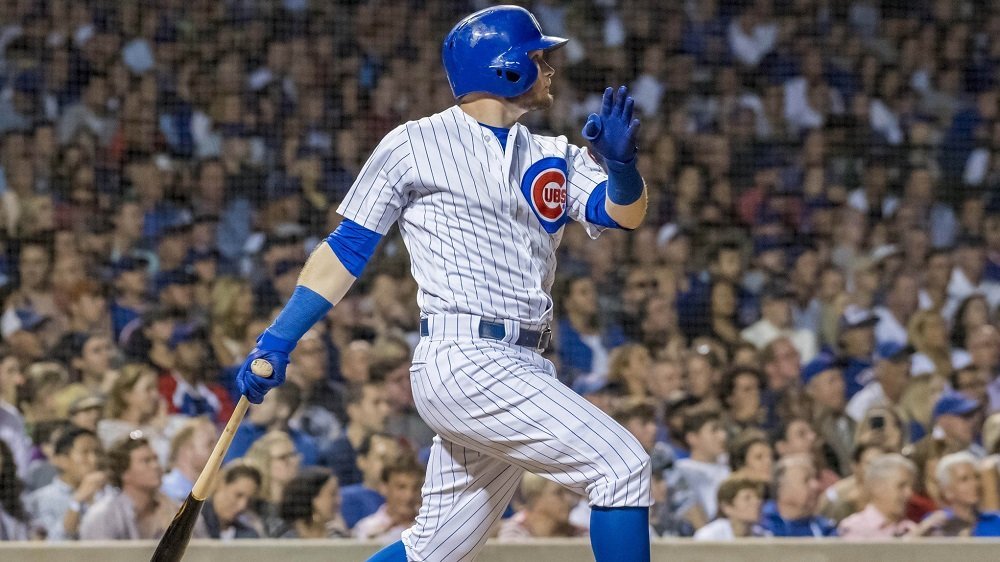 | | |
| --- | --- |
| Cubs fall to Rockies, Happ demoted to Triple-A, Tazawa released, latest MLB Notes | |
---
| | | |
| --- | --- | --- |
| Sunday, March 24, 2019, 11:35 AM | | |
Upcoming Cubs games (CDT): Today: 2:10 PM: Cubs @ Padres. Mike Montgomery vs TBD). Televised: Cubs.com, WGN, and MLB TV, with a Padres broadcast on Padres.com and FSSD. Monday, March 25, 8:05 PM: Red Sox @ Cubs (Pitchers TBD). Televised: Cubs.com, NBCSCH, ESPN+, MLB TV, RedSox.Com.
Cubs' Opening Day: 4 days. March 28 @ Rangers; (Lester vs. Minor). Game time: 3:05 PM Central. (WGN, MLB.TV).
Cubs' Home Opener: 15 Days. April 8 vs. Pirates: Game time: 1:20 PM Central. (ABC-7, MLB.TV)
Saturday's Game Recap: After splitting the squad, then splitting a pair of games on Friday (W vs. Rangers, L vs. Indians), the Cubs regrouped (literally) to take on the Rockies last night in Peoria, Az. The Rockies would pound away at the Cubs pitching, scoring a total of 11 runs. For the Cubs, Javy Baez contributed with a homer and 3 RBI, and rookie, Cristian Donahue, added a late-inning blast of his own, but it wasn't nearly enough, as the Cubs fell 11-3.

Ian Happ: Via a unanimous decision by the Cubs brass, Ian Happ has been sent to Triple-A Iowa. Happ had a dismal spring, batting only .135 (7 for 52) with just three doubles and 7 RBI. He struck out 14 times this spring (26.93%), and over the 2017 and 2018 seasons, Happ racked up enough strikeouts to own the worst two strikeout percentages in Cubs history (min. 400 PA). "We knew that it'd be a difficult conversation but having difficult conversations should never dissuade you from making what you perceive to be the right decisions," Maddon said.
Cubs make more cuts: Cutting the spring roster to just 33 men (20 pitchers), the Cubs made the following moves on Saturday: Assigned to minor league camp: RHPs Dillon Maples and Alec Mills, infielder, Cristhian Adames, outfielder, Johnny Field and assigned to Triple-A Iowa: Outfielder Ian Happ and catcher Taylor Davis.
Junichi Tazawa: The Cubs seem to be doing some inexplicable things lately, and yesterday they did another one, by releasing veteran right-handed reliever, Junichi Tazawa. Through 5.2 innings of work this spring, Tazawa posted a 0.00 ERA, allowing only two hits, while striking out 9 (no walks, runs, earned runs, no beaned natters, and no wild-pitches).
Daniel Descalso: Working on rehabbing his sore shoulder, Daniel Descalso went to a minor league squad yesterday so that he starts cramming in at-bats to get prepared for Opening Day.
Kyle Schwarber: Last summer, Bam-Bam hit a ball in batting practice that, after bouncing through a doorway, managed to land in the concession area, smashing the glass that shielded the food from customers. Well, he's at it again. This time, Schwarber's foul ball took out the windshield on the car rented by 670 The Score's Bruce Levine. Schwarb's and Bruce have come up with an idea though; they're thinking about auctioning-off the shattered windshield to raise money for charity. When Levine approached Kyle with the concept, Schwarber said, "I have broken a few. It would be pretty cool to turn it around for charity and have someone else get one"
My rental car at Sloan courtesy of Schwarber BP pic.twitter.com/vfEObw8Eff

— Bruce Levine (@MLBBruceLevine) March 22, 2019
Jed Hoyer: ESPN's Jesse Rogers got a chance to see baseball through the eyes of Jed Hoyer during a preseason game recently. As they spoke about the things Hoyer monitored, Jed Hoyer said, "In season, I'm looking at how well we're pitching to the scouting report and the rest of our advance preparation, and how much we play towards that. But in spring training, for example, Hendricks' performance today, I'll forget by the time I get home."
Jason Hammel: Former Cubs' starting pitcher Jason Hammel has announced his retirement. Over 13 major league seasons, Hammel posted a 96-114 (.457) record, while pitching to a 4.62 career ERA with 1,428 strikeouts. As a Cub (2014-2016), Hammel was 33-22 (.600) in 78 starts, with an ERA of 3.59, striking out 420 of the 1,831 batters that he faced (22.9%).
Cub Birthdays: Celebrating yesterday were ex-Cubs Joel Peralta (43), Mike Remlinger (53), Pat Bourque (72), and posthumously, Johnny Moore (117), Cy Slapnická (133), and George "Peaches" Graham (142).
Saturday's MLB Scoreboard: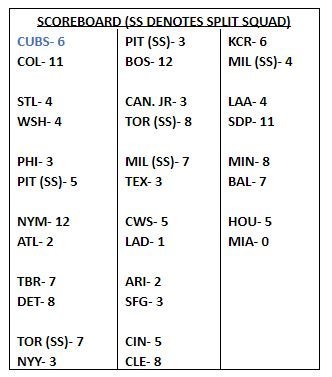 REMAINING SPRING SCHEDULE:
Things are getting weird here: MLB teams playing their own MiLB affiliates, Cactus League Teams vs. Grapefruit League teams, but hey- it only means the pre-season is about to come to an abrupt stop.
SUNDAY (ET): 12:10 PM: WSH (SS) @ NYM. 1:05 PM: TOR @ DET, NYY @ MIN, MIA @ STL, BAL (SS) @ PHI, WSH (SS) @ HOU, PIT @ BAL (SS). 2:05 PM: TEX (SS) @ SOUNDS. 3:05 PM: COL @ CIN, KCR @ TEX (SS), CLE @ CWS. 3:10 PM: CUBS @ SDP, MIL @ ARI. 4:05 PM: TBR @ ATL, SFG @ OAK. 8:07 PM: LAD @ LAA.
MONDAY (EST): 1:05 PM: RED WINGS @ MIN. @NYM @ BAL, TIGERS FUTURES @ DET, TBR @ PHI. 3:05 PM: COL @ ISOTOPES. 5:05 PM: NYY @ WSH. 7:05 PM: KCR @ STORM CHASERS, MIL @ TOR. 7:20 PM: CIN @ ATL. 8:00 PM: STL @ REDBIRDS, CLE @ TEX, PIT @ HOU. 9:05 PM: BOS @ CUBS. 9:40 PM: CWS @ ARI, OAK @ SFG. 10:07 PM: LAD @ LAA, SDP @ SEA.
TUESDAY (EST): 12:35 PM: DET @ TBR. 1:10 PM: CIN @ ATL. 2:05 PM: COL @ MIN, CLE @ TEX, PIT @ HOU. 3:05 PM: BOS @ CUBS. 3:40 PM: CWS @ ARI. 4:10 PM: SDP @ SEA. 7:05 PM: MIL @ TOR. 9:45 PM: OAK @ SFG. 10:10 PM: LAA @ LAD.
WEDNESDAY: NO GAMES SCHEDULED.
THURSDAY: MLB OPENING DAY.
News from around MLB:
Jacob deGrom: The Mets' ace says he's getting less and less optimistic about a possible extension.
Astros: The Astros have reached an agreement with Justin Verlander on a two-year, $66M contract extension.
Braves: The Braves have signed outfielder Matt Joyce after he was released by earlier yesterday by the Giants.
Brewers: Milwaukee will be down two critical late-inning relievers to start the season; Jeremy Jeffress and Corey Knebel. Jeffress is having shoulder issues, while Knebel has suffered a partial UCL tear in his elbow. This isn't a new injury for Knebel, he'd had it for years, but the extent of the new damage is unknown at this point.
Giants: SF has announced that Nick Vincent (reliever), Yangervis Solarte (infielder) and Gerardo Parr (outfielder) will be on the Opening Day Roster.
Mets: Reports say that catcher, Devin Mesoraco does not want to report to Triple-A Syracuse and has asked the Mets for his release. The team is considering whether or not to grant it to him. For now, he's in minor league camp. If the Mets do not grant Mesoraco his release, he is prepared to retire. He hopes that the Mets allow him his release, giving him a chance to hook on with another organization. The Mets have also made the following cuts from camp: Rajai Davis, Adeiny Hechavarria, Carlos Gomez, Ryan O'Roarke and Hector Santiago have all been re-assigned to minor league camp.
Pirates: Pittsburgh has added lefty Francisco Liriano and OF Melky Cabrera to their Opening Day roster.
Reds: After suffering a groin strain on Friday, Reds 2B, Scooter Gennett, has been placed on the IL for 8-12 weeks.

Upgrade Your Account
Unlock premium boards and exclusive features (e.g. ad-free) by upgrading your account today.
Upgrade Now