| | |
| --- | --- |
| Cubs future target: Ben Joyce can hit 103.5 MPH on radar gun | |
---
| | | |
| --- | --- | --- |
| Saturday, February 26, 2022, 9:32 AM | | |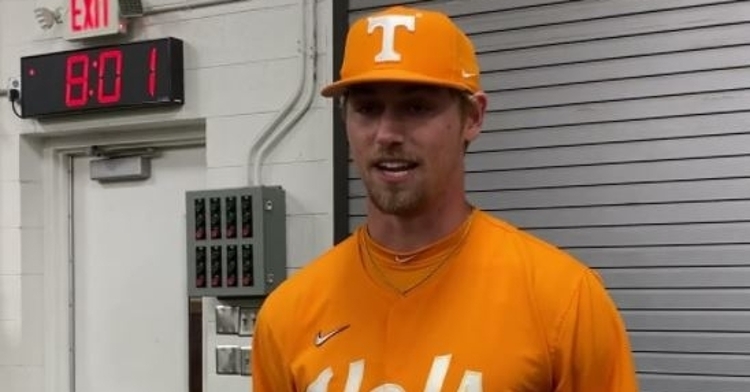 Here is some fun baseball news to talk about, NCAA right-hander Ben Joyce not only touched triple digits in a recent outing but maxed out at 103. Why is that significant? Those are the numbers that many pitchers can't reach, and it is something to note.
As a scout, you have a difficult job when it comes to scouting players and seeing what they can do. However, having a college arm that can touch triple digits makes your job that much easier. With the Cubs set to pick in the top 10 for the first time in nearly a decade, keep an eye on Joyce as a potential option as he could be a fast riser this season.
Joyce is well known at the NCAA level, but has never been viewed as a first-round talent, let alone a top 10 pick. However, you can't coach velocity, and if you can touch triple digits consistently, that alone will help your draft status. Looking at the MLB landscape, 98 MPH average on your heater is considered elite. Not only does Joyce hit that, but he averaged between 101-103 in his last outing, adding sick movement to his pitches. Talk about a nightmare of an at-bat for a hitter.
To make things worse for hitters and better for teams inquiring on him, Joyce adds a 90 MPH change-up that looks like 77 when you consider the velocity of his heater. Much like many hurlers in the game today, Joyce is a Tommy John survivor having surgery in 2020. This isn't the old days anymore and having TJ is like a torn ACL in the NFL, where it is becoming a common injury.
Before the injury, Joyce was garnering plenty of behind-the-scenes since landing on campus, but don't let that fool you. He has a long way to go to be considered an elite MLB prospect, but you have to like what you have seen in his development as a player. Despite the rapid improvement and development that has people drooling, his head coach has told people that Joyce hasn't done much to change his approach.
If that is indeed the case, the hype on this kid is about to reach an all-time high. If Joyce is considered a first-round talent or even a top 10 talent, you would think he is one of the best starters in the game. Although that could be the case in the future, Joyce is solely a relief prospect at this point, but that may not be all that bad. Given that the Cubs don't have a closer lined up for the future, this could be a route if Joyce wants to remain a reliever.
We have seen the Cubs take a similar approach to this a few years ago when the Cubs drafted Burl Carraway in the second round. Although he has been inconsistent in the minors, Carraway is a relief pitcher with a late-inning guy written all over him. Joyce could follow a similar trend, and he may be further along than Carraway was when he was drafted.
The Cubs haven't had a ton of velocity on their staff for the better part of five years, but that has been changing in recent seasons. Brailyn Marquez touched triple digits in 2019, while 2020 fourth-round pick Luke Little has been seen maxing out at 105 MPH. Clearly, the Cubs are making a point to add more velocity to the organization, and Joyce would be a lovely addition as he would be the first righty to hit those numbers.
While most teams think he is destined to be a long-term closer, some teams believe he could be a starter and are hoping he falls in the draft because of that reason. He may have first-round stuff with high velocity and three good pitches, but can he give a team outings of more than 50 pitches. If he can show that he is equally as effective when you start to reach 70 pitches, you can then say something about his outlook as a starter. Until that happens, teams will covet him as a closer and may kill to land him.
There haven't been many situations where a player came from basically off the radar to a potential top 10 pick, and here we are. Velocity always trumps
potential as you can't teach velocity. You either have it or don't, and this kid has it. Having him as a starting option would be huge, but you want to maximize what you can get out of the heater when you throw that hard.
He needs to work in short spurts for that to happen, which is why a bullpen role makes the most sense, at least for this stage in his career. Touching 103 in February is nuts, so it will be interesting to see how much more velocity he adds as the season goes on.