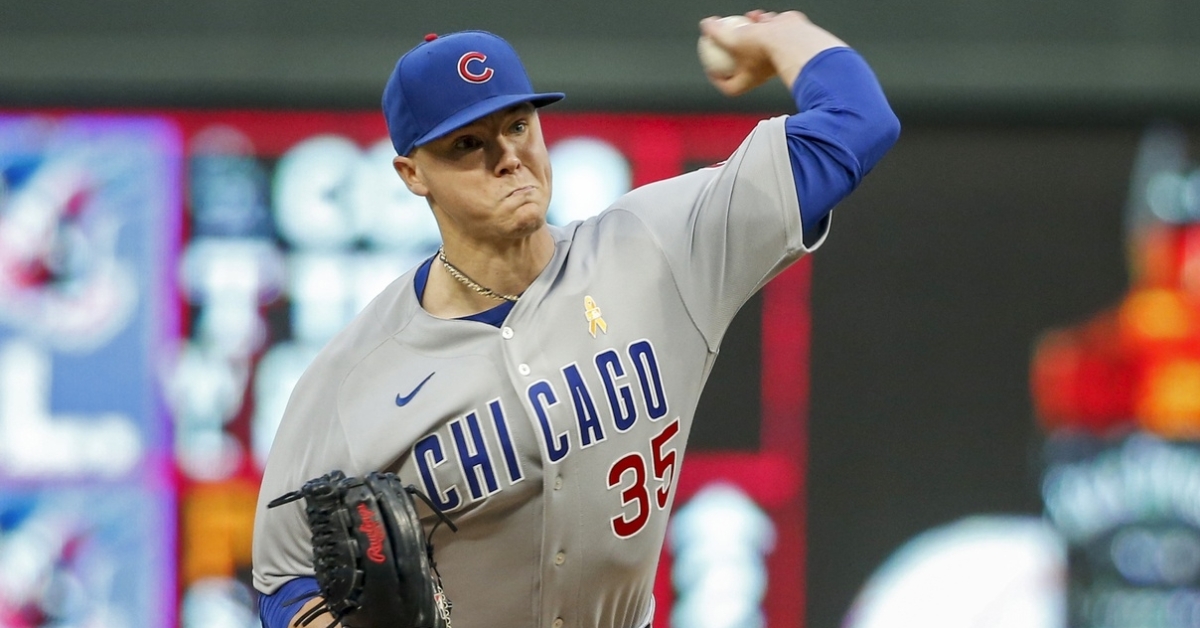 | | |
| --- | --- |
| Cubs get a glimpse of the future in shutout of Twins | |
---
| | | |
| --- | --- | --- |
| Thursday, September 2, 2021, 9:30 AM | | |
MINNEAPOLIS – It may have taken six years for the Cubs to return to Minnesota, but now that the Chicago Cubs (59-75) did, they may not want to leave. After topping the Minnesota Twins (58-75) 3-1 on Tuesday, pitching once again set the tone as they blanked the Twins 3-0 to earn a mini-two game sweep.
Not only was pitching strong, but the Cubs got to witness a brief glimpse of what the future could look like in terms of starting pitching. Making his fourth start with the Cubs was Justin Steele, who was still searching for his first win as a starter. Steele has been consistent during his time in the rotation, but hasn't been able to get through four innings as a starter.
Despite pitching into a couple of early jams again, Steele found a way to pitch out of those jams getting through five innings for the first time to help secure his first win as a starter. Fresh off the IL, Adbert Alzolay was called on in relief as David Ross plans to keep him in the pen to monitor his innings the rest of the way.
While it is unclear how many innings Ross wants to keep Alzolay under, the young right-hander pitched as good as he has at any point this season, getting through four innings of relief to secure the first four-inning save since Mike Montgomery in 2017. Not only that, but Alzolay had impressive command throwing 40 pitches over those four innings with 30 strikes. He allowed just one hit to go with five punchouts and could be a weapon as the season progresses.
For the Twins, they too got a glimpse of what their future could look like with Joe Ryan making his MLB debut. Fresh off pitching for team USA in the 2021 Olympics, Ryan made his first start with the Twins after putting up great numbers for AAA Saint Paul. Through two innings, Ryan looked strong as he held the Cubs hitters in check over that time.
It was in the third when the Cubs hitters were starting to time him up, grabbing all three runs off him in that frame. After Alfonso Rivas walked to lead off the inning, Andrew Romine picked up a one-out double, putting runners at second and third and one down. With two down in the inning, Frank the Tank Schwindel unloaded once again for his second homer in as many days giving the Cubs a 3-0 lead. Ian Happ added a single a pitches later as those were the lone three hits Ryan allowed in his outing.
Typically, you wouldn't think three runs would be enough, especially when looking at how rough things went for this team in August. On this night, however, three runs were more than enough as Steele and Alzolay combined to allow just two hits in the game as they did what they needed to do to win.
Steele for the win
The plan since early July was to move Steele from the bullpen back to the starting rotation, which the Cubs did. After pitching very well in relief early in the season, Steele was sent back to Iowa to rehab a hamstring injury and get stretched out to become a starter.
In his six starts with Iowa, Steele was consistently giving the Cubs four or five innings and allowing two runs or less as he was showing why he was a top 15 prospect at one point. Since getting promoted back to the majors, Steele has continued to show promise in the rotation, although he has struggled with keeping the ball in the yard and pitch counts. He did a much better job of that on Wednesday, and the result was his first major league win as a starter.
Steele will be in the Cubs plans next season as a starter, so he needs to make as many starts as possible this year. There is a lot to like about him in this rotation, and he will be a nice middle-of-the-rotation piece next year.
LHP Justin Steele
5 IP, 1 H, 0 R, 3 BB, 3 K. ??????@J_Steele21
?? @WatchMarquee pic.twitter.com/wkP6OLdtzl

— Cubs Prospects MiLB (@MilbCubs) September 2, 2021
Should Alzolay stay in the pen?
Much like Steele, Alzolay was supposed to be a critical piece to the rotation not only this season but for years to come. Granted, he did show flashes of greatness several times in 2021; his record and ERA show otherwise as this has been a disappointing year for him.
Add in the injury history that he continues to have along with an innings limit right now, and fans are getting restless with the process of him as a starter. After watching him throw last night in relief, I am convinced that the Cubs should scrap him as a starter and use him as a weapon out of the pen.
Not only did he look great last night, but going back to last season when he was pitching in relief and Alzolay was dominating hitters across the board. His command was outstanding, pitch count was low, and he mowed through the Twins lineup across four innings.
.@adbert29's career numbers in relief:

• 5 Games
• 14.0 IP
• 20 K
• 1.93 ERA

He recorded the first @Cubs 4-inning save since Mike Montgomery in 2017. pic.twitter.com/HZwAwdWgCv

— Marquee Sports Network (@WatchMarquee) September 2, 2021
Ideally, the Cubs would love him to be a starter next season, but at this point, I don't know if he should be. He has the stuff to be a front of the rotation guy, but the injury history will always be an issue. Because of that, I think his future might be as a high-leverage reliever, and the Cubs can play around with that right now.
Congratulations to Justin Steele on his first MLB win as a starter & Congratulations to Adbert Alzolay on his first MLB career save! ????

Both only gave up one hit the entire game ????

(??: @robinson28ch) pic.twitter.com/p2idX11Xpd

— Cubs Zone ™? (@CubsZone) September 2, 2021
Now that we are in September, rosters can expand, which they did last night with the addition of Alzolay and Dillon Maples. However, unlike years past where there was no limit, the Cubs roster stands at 28, meaning they are the maximum number of players allowed.
That will pose an interesting question regarding Contreras as he continues to rehab from his knee injury. You would like to think that by this weekend or early next week at the latest that he will be back catching for this team and off the IL. While I agree that it will happen, other roster moves will have to be made to bring him up.
With Austin Romine and Robinson Chirinos sharing the catching duties right now, the Cubs could carry three catchers give Romine's ability to play first. However, with Schwindel and now Rivas over at first, what would be the point of that. I find it very unlikely that either Romine or Chirinos gets let go at this point of the season, meaning the Cubs will have three catchers on the roster.
Essentially, that will allow Ross to mix and match later in the game as he can use one as a pinch hitter and still have one on the bench if needed.
Looking at the roster right now, Trevor Megill would be my choice to head back to Iowa when Contreras comes up. He has struggled all season with both command and keeping the ball in the yard, and lately, the Cubs pen has started to come together once again.
If it isn't Megill, Andrew Romine and Sergio Alcantara could be on the way out, but the Cubs need infield depth with Nico Hoerner and David Bote out. This would not be an issue had this been the old September call-up roster rule, but now that there is a 28-player limit Ross, and the Cubs have some sorting out to do.
BOOM! Willson Contreras goes deep to give us a 2-1 lead. This solo shot is your @GreatClips Clip of the Game. pic.twitter.com/lLnh9EO1ZR

— Iowa Cubs (@IowaCubs) September 1, 2021

Tags: Cubs Baseball
,
Justin Steele
,
Adbert Alzolay
,
David Ross
,
Mike Montgomery
,
Alfonso Rivas
,
Ian Happ
,
Willson Contreras
,
Dillon Maples
,
Austin Romine
,
Trevor Megill
,
,
David Bote