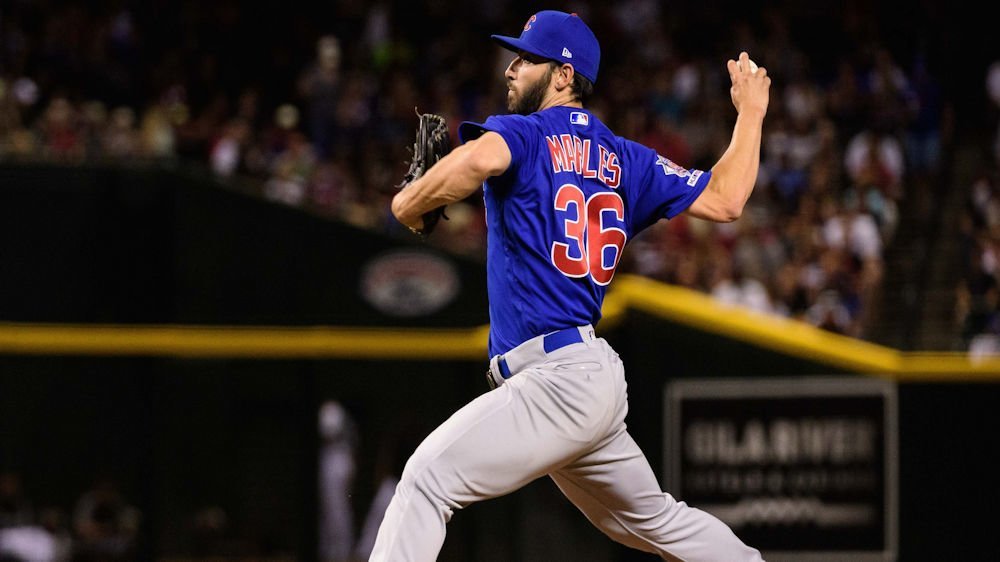 | | |
| --- | --- |
| Cubs have two relievers that could be a great 1-2 combo | |
---
| | | |
| --- | --- | --- |
| Wednesday, March 11, 2020, 2:42 PM | | |
As Spring Training takes over the eyes and ears of baseball fans everywhere, this time of the year lets teams and fans get a glimpse of a few types of players. The most intriguing of those are the players fighting for major league roster spots, especially in the bullpen. The Chicago Cubs have two relievers that fit that description in Dillon Maples and Brad Wiek.
Maples has spread 22.1 MLB innings across three seasons with the Cubs to the tune of a 5.74 ERA. While his MLB numbers are less than adequate, his last three minor league seasons are why a lot is expected from the 28-year-old.

Before 2017, Maples struggled to keep his ERA below 4.00 and was considering leaving baseball for good. After sticking with the Cubs organization and working with Cubs mental skills coach, Darnell McDonald, Maples put together a stellar 2017 campaign where he rocketed through the minor leagues. Maples learned how to better mentally and physically prepare for games, and the results indeed show.
The biggest difference for Maples was the strikeouts.
In 2017, Cubs General Manager Jed Hoyer said, "He had his ups and downs, but his confidence was great this year, and he really started trusting his breaking ball. He has a special ability to spin the ball — both curveball and slider — and just really trusting those pitches, I think, is the biggest difference."
Sources: Dillon Maples fine-tuned his wicked slider at Hogwarts pic.twitter.com/c3yyfADpuD

— Cubs Talk (@NBCSCubs) June 28, 2018
That ability to spin the baseball has produced some genuinely nasty pitches, especially his slider. With a ton of talent, Maples could be a high leverage reliever who can rack up a ton of strikeouts. FanGraphs ZiPS projections are favorable to him as the site has him finishing the year with a 107 ERA+ and a 35.5% strikeout rate.
What will hold Maples back is the number of walks he is likely to give up. Amazing spin and strikeout ability come at a cost for inexperienced pitchers, and it'll always be walks. The same FanGraphs projections have him finishing the year with an 8.9 BB/9 and a 4.02 ERA. If Maples can wrangle in the walks, his strikeout ability will be scary for opposing teams.
In a similar situation to Maples, Brad Wieck is fighting for a bullpen spot himself. Another 28-year-old reliever, Wieck, has a little more MLB experience than Maples, spreading a 4.97 ERA across 41.2 innings since 2018. The excellent news for Wieck is that he looked like a competent reliever when with the Cubs.
After hurling a 6.57 ERA in 24.2 innings with the San Diego Padres, Wieck was traded for Carl Edwards Jr. at the 2019 trade deadline. Since then, Wieck has a 3.60 ERA in 10.0 innings. Despite the small sample size, Wieck has a lot of minor league success.

Similar to Maples, Wieck is excellent at striking batters out. The big difference between the two is Wieck has consistently controlled his walks, only having a BB/9 above 3.7 once in the last five minor league seasons. Not only are his numbers in the minors good, but it also helps that this is all coming from a left-handed reliever, something the Cubs have been looking for since Aroldis Chapman left in 2017.
The FanGraphs ZiPS projections also like the former Padre, having him finishing the year with a better ERA than Maples. FanGraphs projects Wieck to finish the year with a 3.64 ERA over 54.3 innings, a 119 ERA+, and a 35.4% strikeout rate.
Looks like Brad Wieck fooled Seager a little... pic.twitter.com/cXh4gE8CCc

— Jordan Bastian (@MLBastian) September 2, 2019
While Wieck has produced in the minors and is expected to produce this season, his medical history has held him back. Last Spring Training, Wieck was recovering from testicular cancer, and this Spring Training, he is recovering from a heart procedure from February 2020. These shouldn't slow him down too much, but it is something to keep an eye on
Wieck is slated to be in the Cubs bullpen in 2020 as the more controlled left-handed counterpart to Maples. If both of them can hit their stride in Spring Training, the Cubs could have two intriguing bullpen arms that can rack up strikeouts come Opening Day.