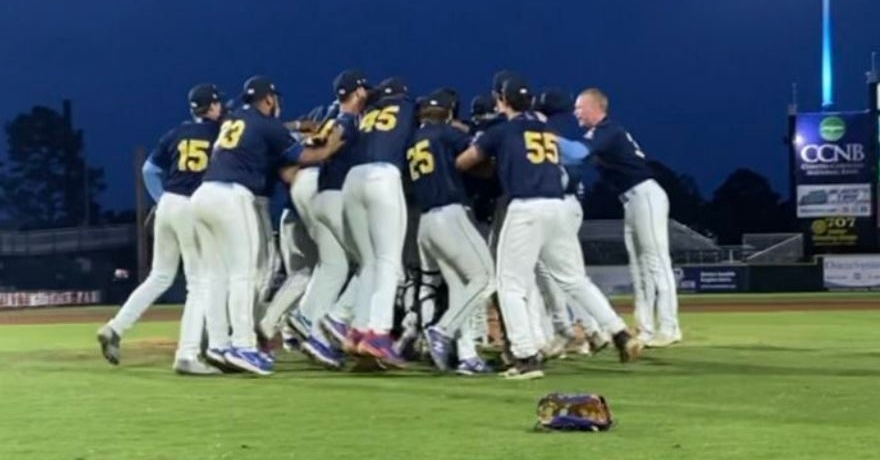 | | |
| --- | --- |
| Cubs Minor League News: Combined no-hitter for Pelicans, Canario and Washer homer, more | |
---
It was not a good night on the farm last night as the Cubs organization saw 1-3 results. However, the lone win was a monumental one, and it belonged to none other than Myrtle Beach, who continued their torrid start.
Not only do they have the best record in the Cubs system, but they have one of the best records in Low-A. Cap that off with the team's second no-hitter in 10 months, and minor league baseball in South Carolina has been fun this season.
INDIANAPOLIS INDIANS 3 - IOWA CUBS 1
Adrian Sampson pitched well enough to win for the second straight start, but didn't have the run support to back him. Across five innings, Sampson allowed three runs on two hits, with only one of those runs being earned. He is now 0-3 on the season but has a 3.66 ERA.
However, wins are tough to come by when you have an offense that manages just three hits off Indianapolis pitching to go with 13 strikeouts. The lone earned run Sampson allowed came in the first inning when Ji-Hwan Bae homered for the third time in this series to make things 1-0. Later, one inning saw the Cubs gift the Indians a run as a costly throwing error made things 2-0. Little did anyone know that error would represent the winning run.
Looking for some offense in their own right, Dixon Machado put the Cubs on the board in the third using an RBI groundout to pick up that run. Unfortunately for Iowa, that would be all the offense for them as Bligh Madris picked up an RBI double in the fourth to cap off the scoring in a 3-1 Indianapolis win. Ilderamo Vargas, Brennen Davis, and Nelson Maldonado picked up the hits for Iowa.
Final from Principal Park. pic.twitter.com/FG0gwZTfVl

— Iowa Cubs (@IowaCubs) May 1, 2022
CHATTANOOGA LOOKOUTS 6 - TENNESSEE SMOKIES 1
For the most part, Tennessee had a series to forget as Chattanooga handled them most of the week. Sunday was just a microcosm of how things went as the Smokies were beaten in every facet. Manuel Espinoza got the start and wasn't given enough support despite pitching well through four innings. He gave way to Dalton Stambaugh, who looked great in three innings before Graham Lawson got hammered late.
Things didn't start that bad for Tennessee as they grabbed the 1-0 lead in the third courtesy of the Harrison Wenson solo shot. At the time, no one expected that to be the lone run for the Smokies, but that was the case as it was all Chattanooga. In the bottom of third, Espinoza served up the game-winning homer to Matt McClain before the sixth inning solo shot by Isiah Gillham made things 3-1 after six.
It wasn't until the eighth inning that the Lookouts began to pull away, using the TJ Hopkins double to extend the lead to 4-1 ahead of the second homer for McClain to bust things open 6-1. Chattanooga would win by that score as the Smokies went down quietly in the ninth. Andy Weber joined Wenson in the hit category, but Levi Jordan and his two hits led the offense.
Final score brought to you by @CravenWingsKnox pic.twitter.com/UeoLfC1bhe

— Tennessee Smokies (@smokiesbaseball) May 1, 2022
QUAD CITIES RIVER BANDITS 11 - SOUTH BEND CUBS 7
Despite pushing across six runs in one inning, the Cubs offense was otherwise stagnant as they scored just one run across the other eight innings. When you have a pitching staff that allows five runs in one inning and three in another, it doesn't bode well as the Cubs drop the series to Quad Cities.
After making several significant strides in his previous outings, Jordan Wicks was not at his best and was roughed up in a big way. Despite striking out six across three innings, Wicks allowed five runs on just four hits in his worst outing of the season. He turned things over to Bailey Horn and Jeremiah Estrada the next two innings before the recently promoted Riley Martin took over in the sixth.
After dominating Low-A, Martin was in for a rude awakening as he surrendered six runs across the game's final three innings to take the loss. The offense was at a premium early until the third inning, when 11 runs were scored. Six of those runs came from the Cubs as they jumped out to a 6-0 lead.
Fabian Pertuz put South Bend on the board with an RBI double before coming home on the Alexander Canario three-run shot to make things 4-0. Jake Washer would add a two-run shot later in that inning as the Cubs busted the game wide open at that point.
With a boatload of run support, it was time for Wicks to dig in, but unfortunately for him, the River Bandits offense had other plans. The bases-loaded double from Herard Gonzalez helped set the tone as Quad Cities cut the deficit in half 6-3. Another double from Burle Dixon followed suit as the River Bandits pulled within 6-5 at that point.
Still with a one-run lead and heading into the seventh, South Bend called on Martin as they were hoping his season long string of success would carry over to High A. Unfortunately for him, RBI singles from Luca Tresh and Dixon gave the River Bandits the 8-6 lead with Dixon delivering the game-winning knock.
Washer did his best to keep things close with an RBI single in the top of the eighth inning, but Quad Cities managed to push three more runs home in the eighth to secure the 11-7 victory. Both Canario and Washer collected multiple hits and drove in three runs to lead the offense. Everyone in the lineup had at least one hit.
Tough one to finish out the series.

Heading home, we'll see you at @FourWindsField on Tuesday! pic.twitter.com/MHuMbESF6F

— South Bend Cubs (@SBCubs) May 1, 2022
MYRTLE BEACH PELICANS 8 - COLUMBIA FIREFLIES 0
The only thing left from handling the Cubs minor league system a winless night was Myrtle Beach, who gave the system a win in style. Not only did they use a six-run inning to bust things open, but it was the pitching that set the tone.
Walker Powell started things off, giving the Pelicans five hitless innings to go with six punchouts before handing things off to Adam Laskey and Jake Reindl. Across those final four innings, Laskey and Reindl matched Powell finishing off the second no-hitter in 10 months for the Pelicans, who also struck out 11 and walked just one.
Columbia made things tough on themselves early in the second inning as an errant pickoff throw led to an error that put Myrtle Beach on top for good 1-0. In the fourth inning, the Pelicans busted things wide open, leaving everything on the table.
Liam Spence started that big inning off with an RBI groundout before a three-run shot by Juan Mora made things 5-0, and then a two-run shot by Kevin Alcantara extended the lead to 7-0. It was the first homer of the year for Mora and Alcantara as they are starting to heat up offensively.
The Pelicans capped off the scoring in the fifth inning when Pete Crow-Armstrong added an RBI groundout to make things 8-0. The final four innings were all about the pitching for the Pelicans as they capped off another no-hitter and pushed their record to 15-6 on the season. Yeison Santana, Alcantara, and Crow-Armstrong had two hits in the game, as Crow-Armstrong is now hitting .382.
Monday vibes are very high.

Pretty cool way to cap off the homestand last night, thanks to y'all who joined us! pic.twitter.com/r1utvfl8IX

— Myrtle Beach Pelicans (@Pelicanbaseball) May 2, 2022
THAT'S A NO-NO!@wpowell35 , @ajlaskey , and @jreindl24 combine for the third nine-inning no-hitter in franchise history. Ethan Hearn was tonight's catcher.#MBPelicans pic.twitter.com/8XzqVvwnvP

— Myrtle Beach Pelicans (@Pelicanbaseball) May 2, 2022

Upgrade Your Account
Unlock premium boards and exclusive features (e.g. ad-free) by upgrading your account today.
Upgrade Now