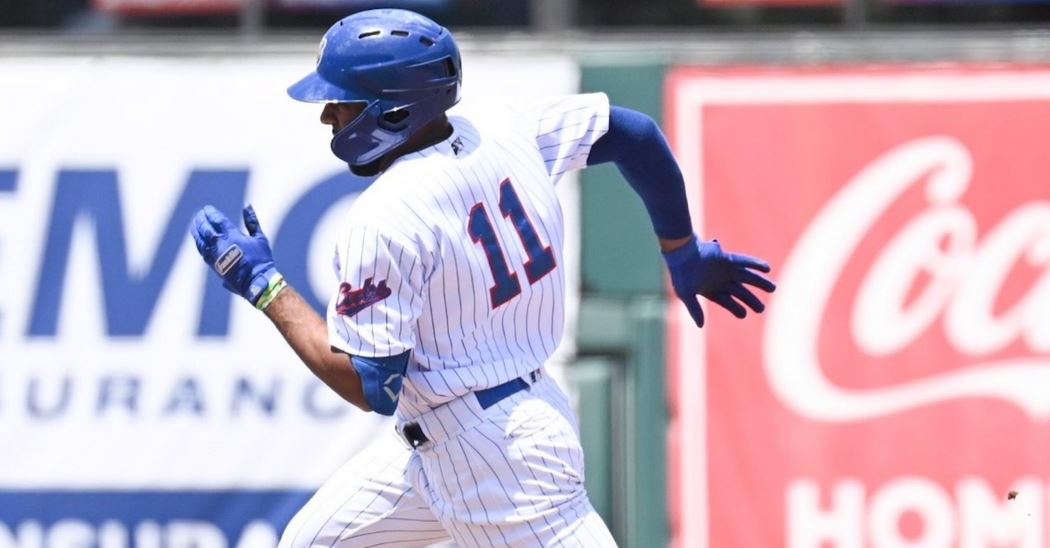 | | |
| --- | --- |
| Cubs Minor League Daily: Crook with three hits, PCA and Pinango both homer, more | |
---
| | | |
| --- | --- | --- |
| Monday, June 6, 2022, 1:02 PM | | |
This week was not an easy week for the Cubs organization as Minor League wins were tough to come by. They did see plenty of players make their big-league debuts or have moved up in the system, so fans are starting to see new-look rosters earlier than expected. Regardless, a 2-2 record to end the week is decent, and now they can focus on a new week of competition.
SAINT PAUL SAINTS 16 - IOWA CUBS 7
This was not a series the Iowa Cubs were hoping for and one they don't want to endure again. If you look at the duration of this series, Saint Paul averaged nearly 10 runs per game, with 16 more coming on Sunday. 10 of those 16 runs came after the fifth inning as Iowa struggled against the Saints.
Matt Dermody lasted just two innings and gave up five earned runs as his rough stretch of starts continued. Adrian Sampson and Cayne Ueckert were lit up for four earned runs in relief in an all-around rough day. As if homers by Spencer Steer and Tim Beckham were not bad enough in the first inning, a two-run shot from Caleb Hamilton in the second put the Saints up 4-0.
That lead grew to 5-0 before the Dixon Machado double brought things to 5-2 ahead of a Nelson Maldonado RBI to make things 5-3 after two. Already with a huge game under his belt, Steer added to it with his second homer of the day as the Saints held a 6-3 lead in the fourth.
The Cubs continued to battle back as an error mixed with a Narciso Crook single brought the Cubs within 6-5 through five innings. That was as close as the Cubs would get as the Saints offense started to heat up in a big way late. Homers from Hamilton and Alex Kirilloff extended the lead to 9-5 in the sixth before Hamilton added an RBI hit to make things 10-6 in the seventh.
Saint Paul then added six more runs across the next two innings to take a 16-6 lead before Nelson Velazquez capped off the scoring with a ninth-inning solo shot in the loss. Crook led the way with three hits while Maldonado added two.
Final from Principal Park. pic.twitter.com/s9xz1CzAyP

— Iowa Cubs (@IowaCubs) June 5, 2022
TENNESSEE SMOKIES 3 - BIRMINGHAM BARONS 2 (12 innings)
The Barons made the Smokies work in this series, but it ended on a positive note. Led by Javier Assad, who gave the Smokies four scoreless innings, it was a battle of pitching with Sean Burke giving the Barons 5 1/3 scoreless innings.
Both sides were kept scoreless through seven innings and managed to score five total runs, with the Smokies walking things off in the 12th. It may have taken eight innings, but once Evan Skoug gave the Barons the lead with a solo homer, you had to think that was going to be the difference.
Thankfully for Jake Slaughter and the offense, he had other ideas as his RBI groundout brought things back to even and helped push the game into extras. In the 11th, Birmingham struck first as Jose Rodriguez ripped an RBI triple to make things 2-1.
Slaughter continued to provide all the Smokies offense in the bottom of the 11th, using a sacrifice fly to bring things back to even and kept the game going. It was in the bottom of the 12th when Tennessee was able to walk things off as Christian Donahue delivered the game-winning knock in the 3-2 win.
Christian Donahue walks it off for your Smokies in 12 innings!
You got to love it! pic.twitter.com/BVAZzVmS8c

— Tennessee Smokies (@smokiesbaseball) June 5, 2022
DAYTON DRAGONS 8 - SOUTH BEND CUBS 3
On the strength of a five-run inning, which proved to be the difference, Dayton ended a rough series for the Cubs with an 8-3 win. Jordan Wicks suffered the loss in this one allowing five runs in three innings, with all five runs coming in one inning. That was more than enough for Dayton as James Proctor went six innings and allowed just two runs in the win.
Pete Crow-Armstrong had his first coming-out party since arriving in South Bend, and it started with a first-inning RBI single to put the Cubs up 1-0. That score held until the third, when Dayton brought home five runs, all of them being charged to Wicks. J.V. Martinez provided the go-ahead runs with an RBI single before Nick Quintana extended the lead to 3-1 with an RBI single of his own.
Alex McGarry and Rece Hinds capped off the massive five-run inning with a pair of RBI doubles as the Dragons soared in front 5-1. Despite trailing on the scoreboard, you had to give the Cubs some credit for battling back as Crow-Armstrong connected for his first homer in the second.
PCA to CF.

Third-ranked @Cubs prospect Pete Crow-Armstrong went dead center off the batter's eye for his first High-A homer with the @SBCubs. pic.twitter.com/FcrtmDYt4C

— MLB Pipeline (@MLBPipeline) June 5, 2022
While Yohendrick Pinango added a solo shot in the seventh to make things 5-3.
HOME RUN COUNTER: Heading into this week's series against Cedar Rapids, the #SBCubs have crushed 5??0?? @hoosierlottery home runs on the season.

Many of them have been courtesy of this guy, with some pretty sweet bat flips. ?? pic.twitter.com/F86fOGAqzb

— South Bend Cubs (@SBCubs) June 6, 2022
That would be all South Bend would get the rest of the way as a wild pitch in the seventh made things 6-3, followed by an eighth-inning triple by Garrett Wolforth to cap off the scoring in the 8-3 Dragons win. Crow-Armstrong and Pinango collected two hits in the loss and drove in all three runs.
Back home for 6 games starting Tuesday at 7:05. pic.twitter.com/T3HNZxUqvJ

— South Bend Cubs (@SBCubs) June 5, 2022
MYRTLE BEACH PELICANS 12 - DELMARVA SHOREBIRDS 2
On the strength of two big innings, the Pelicans managed to take down the Shorebirds to end their series on a positive note. This came on the heels of a 9-8 suspended game loss earlier, so it was good to have something to cheer about.
Luis Devers continues to do his thing on the mound as he got the start and gave Myrtle Beach five strong innings to earn the win. John Oquendo took over for the final two innings to secure the win.
Devers worked out of a first-inning jam by inducing a huge double play, but a run did score to put the Pelicans in an early 1-0 hole. It didn't take long for Myrtle Beach to respond as Ezequiel Pagan tied things up with a second-inning RBI triple and then trotted home on the Reggie Preciado single to give the Pelicans a 2-1 lead.
One inning after taking the lead, the Pelicans saw themselves in a tie game yet again as Isaac De Leon registered a sacrifice fly to bring things back to even 2-2. With the score still tied in the fifth, the Pelicans erupted for 10 runs across the next two innings to bust the game wide open, with six coming in the fifth.
Bases loaded walks to BJ Murray Jr, and Jacob Wetzel gave the birds a 4-2 lead before a passed ball made things 5-2. Add in a Pagan single making things 7-2 mixed with an error, and the Pelicans were rolling 8-2. The next inning saw four more runs come across to score, with James Triantos ending a long RBI less streak with an RBI triple before another bases-loaded walk made things 10-2.
Pagan capped off the scoring and his big day with a two-run shot as the Pelicans get back on the winning side of things, 12-2. Pagan not only led the way with three hits, but brought home five RBIs in a massive game. Triantos added a pair of hits as those were the lone players with multiple hits in the win.
NOTRE DAME FIGHTING IRISH 2 - TEXAS TECH RED RAIDERS 1
Behind a strong pitching performance from ace John Michael Bertrand, the Fighting Irish capped off a perfect 3-0 regional round of play and advanced to the Super Regionals with a 2-1 win.
Bertrand benefitted from a lengthy rain delay on Friday as it allowed for him to return and pitch on Sunday. In doing so, the left-hander gave the Irish 7 2/3 innings of one-run ball, allowing nine hits and striking out seven. With Bertrand doing his thing on the mound, Ryan Cole provided the Irish with all the offense they would need as he delivered an RBI single in the third and an infield RBI hit in the fourth.
Texas Tech got their lone run in the eighth inning off the Jace Jung single, but it wasn't enough as the Irish finished things up to secure the Regional win. Next on the docket for the Irish is a trip to Knoxville, Tennessee, where the No. 1 ranked Tennessee Volunteers are waiting for a best of three and a spot in the College World Series on the line.