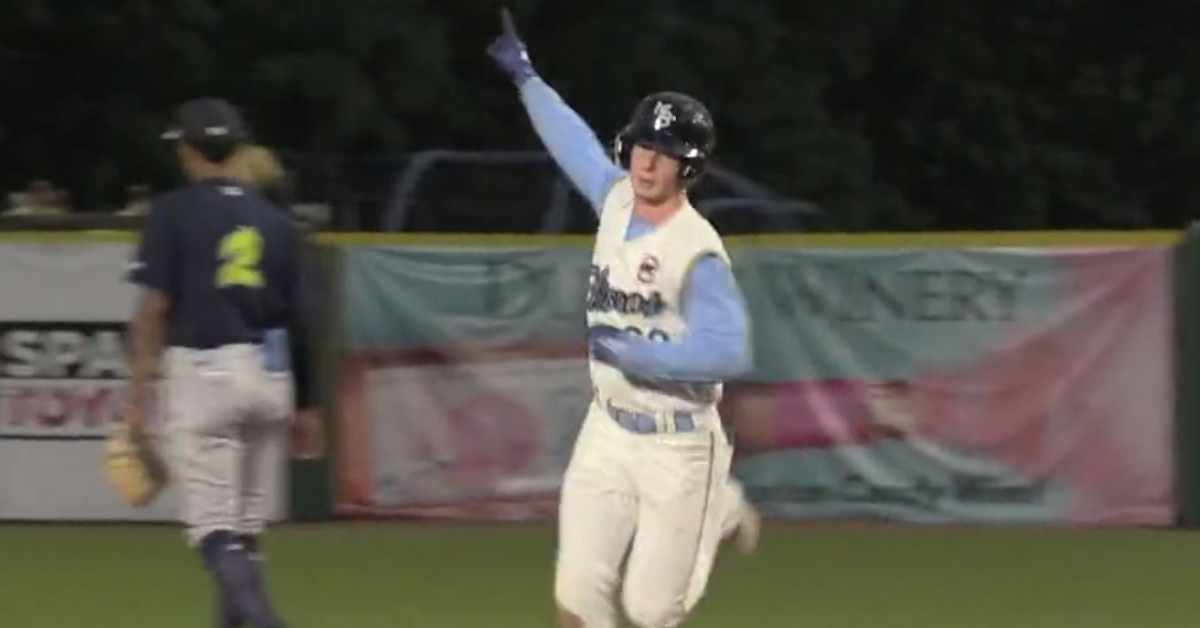 | | |
| --- | --- |
| Cubs Minor League News: Crow-Armstrong belts third homer, Ball homers again, more | |
---
Winning was hard to come by Friday night, with the Chicago Cubs setting the tone for what would be a long night on the diamond. For the first time in over a week, the Cubs minor League System finished with a losing record going 1-3 on the evening.
Myrtle Beach was the lone exception as they continued their torrid start, but everyone else came away with a loss. Record aside, there are still tons of great performances happening daily, which has to be encouraging for everyone.
INDIANAPOLIS INDIANS 8 - IOWA CUBS 1
It was a long night for Iowa as they needed nine innings to score their lone run. Matt Dermody made a start and deserved better luck going 4 2/3 innings and allowing just two runs. The rest of the Cubs pen had up and down moments as Iowa dug themselves too big of a hole to get out of.
First and third one out? @ThatOutfielder says "no problem" ?? pic.twitter.com/hWUcVTvn3S

— Iowa Cubs (@IowaCubs) April 30, 2022
With Dermody on the mound, the Indians took a 2-0 lead through five, with Mason Martin picking up the RBI single in the third and Ji-Hwan Bae delivering the game-winning solo homer in the fifth. One inning later saw the Indians bust things wide open as a pair of wild pitches helped set the tone in a four-run inning for the 6-0 lead.
Bae added an RBI double in the ninth to put the Indians in front 8-0, but thankfully Esteban Quiroz would end the shutout by adding another RBI single to his name. Quiroz was one of three Cubs to record multiple hits joining P.J. Higgins and Dixon Machado, who led the way with three.
Final from Principal Park. pic.twitter.com/y8kec5ExG0

— Iowa Cubs (@IowaCubs) April 30, 2022
CHATTANOOGA LOOKOUTS 9 - TENNESSEE SMOKIES 8 (10 innings)
It was a very exciting night for fans in Chattanooga, with both teams putting on an offensive show. Unfortunately, the Smokies came up short as the Lookouts walked them off in the 10th inning.
A large portion of the Chattanooga damage came in the middle innings as Peyton Remy struggled to get much of anything done. That came after Riley Thompson delivered three scoreless frames as his strong season continues.
A pair of first-inning runs backed Thompson as Bryce Ball went deep for the second time in as many games for the 2-0 lead.
This is a sweet one by Bryce Ball pic.twitter.com/q6Ar4pfcfN

— Todd ?????? (@CubsCentral08) April 29, 2022
Following Francisco Urbaez's single in the fourth to put Chattanooga on the board, TJ Hopkins changed the game with one swing as his three-run shot gave the Lookouts a 4-2 lead before adding two more runs off an error.
Looking to get back to their offensive ways, Tennessee received an RBI double from Chase Strumpf to make things 6-3 in the sixth before Levi Jordan brought home two more with a single. Hopkins added another RBI to his name in the sixth, but it was in the ninth when most of the drama unfolded.
Trailing 7-5 and down to their last at-bats, the Smokies started to make things interesting as Christopher Morel cashed in with a huge single to tie things up 7-7. Later that inning, the Smokies benefitted from a wild pitch, and just like that, you had an 8-7 game.
Bryan Hudson was looking to close things out as he has been excellent this season. Not only was Hudson's command off, walking a pair of batters, but he then went on to allow the Matt Lloyd single, which tied things and sent the game into extras. In that extra frame, Chattanooga would need just three pitches as Urbaez took an 0-2 pitch and did what he needed to as his single lifted the Lookouts to a 9-8 victory.
Ball, Jordan, and Strumpf had multi-hit games to pace the offense, with Morel, Ball, and Jordan leading the way with two RBIs. Bryce Windham and Darius Hill were the only two starters without a hit.
That's back-to-back nights with a Bryce Ball, @bryceball_05, home run, but the Smokies fall to Chattanooga. pic.twitter.com/9FtkVVPwIZ

— Tennessee Smokies (@smokiesbaseball) April 30, 2022
QUAD CITIES RIVER BANDITS 4 - SOUTH BEND CUBS 3
The team struggling the most right now happens to be South Bend, as they sit at 8-11 following this loss. However, no one is panicking as this team has very similar vibes to 2019, which ended in a championship win.
For South Bend to reach that level again, their starting staff will carry them, and Daniel Palencia is a big part of that. Acquired in the Andrew Chafin deal last season, Palencia has struggled to open up the season allowing three runs in 3 1/3 inning before handing things off to Manuel Espinoza.
Fortunately for him, Anderson Paulino was equally as bad as he allowed three runs in four innings before his pen shut down South Bend. Palencia didn't make it easy on himself in the first inning as he uncorked a wild pitch to give Quad Cities their first run before the Peyton Wilson single made it 2-0.
South Bend responded with two runs across the next two frames, with Owen Caissie picking up an RBI double in the second and Fabian Pertuz adding a homer in the third.
Fabian Pertuz has a sweet swing! pic.twitter.com/oLPNDVy5bT

— TheBullpen?? (@RealCubsAnalyst) April 30, 2022
The Diego Hernandez single was mixed in between as Quad Cities still maintained a 3-2 lead after three.
South Bend managed to draw even in the top of the fifth as Pablo Aliendo came through with one of his biggest hits of the season. Unfortunately for South Bend, a costly balk in the bottom half of the inning brought home the winning run as they fell by that 4-3 score.
Tough one ?? pic.twitter.com/uYiAIXEa7n

— South Bend Cubs (@SBCubs) April 30, 2022
MYRTLE BEACH PELICANS 8 - COLUMBIA FIREFLIES 1
If you want to watch an organization that knows how to win and has fun doing it, then head down to Myrtle Beach. Led by a pitching staff that allowed just five hits and four errors committed by Columbia, the Pelicans made quick work and cruised to an easy win.
Porter Hodge has arguably been the best and most consistent pitcher for Myrtle Beach thus far as he continued to do his thing on the mound. Hodge now has a 1.56 ERA following his five scoreless frames and is 2-0 on the season.
I love a frozen rope for strike three and K number 3 pic.twitter.com/36iKaISRoE

— Todd ?????? (@CubsCentral08) April 29, 2022
Luis Rodriguez has been equally as good in relief, throwing three more scoreless frames with five strikeouts as his ERA is now 0.84.
Although Hodge's counter Ryland Kaufman allowed six runs, his defense did him no favors as he was charged with only three earned runs. Myrtle Beach pushed across six runs from innings two through four, with two coming in each frame.
A throwing error in the second led to the game's first run before the Ethan Hearn sacrifice fly made things 2-0. Later, one inning saw James Triantos and Peter Matt pick up singles as the Pelicans doubled their lead to 4-0. That lead grew to 7-0 in the fifth, with Pete Crow-Armstrong belting a two-run shot in the fourth and Yeison Santana adding an RBI single in the fifth.
Swung on, GONE. pic.twitter.com/jKv2yj2OPb

— Myrtle Beach Pelicans (@Pelicanbaseball) April 30, 2022
BJ Murray Jr capped off the scoring for Myrtle Beach in the seventh with the game well in hand, picking up an RBI single to extend the lead to 8-0. Columbia finally got on the board in the ninth off the Guillermo Quintana single, but that was it in what was an 8-1 win. Juan Mora led the way with three hits and was one of four Pelicans with multiple hits. He was joined by Crow-Armstrong, Triantos, and Santana.
Friday night winners! #MBPelicans pic.twitter.com/hSGNTo6obE

— Myrtle Beach Pelicans (@Pelicanbaseball) April 30, 2022

Upgrade Your Account
Unlock premium boards and exclusive features (e.g. ad-free) by upgrading your account today.
Upgrade Now