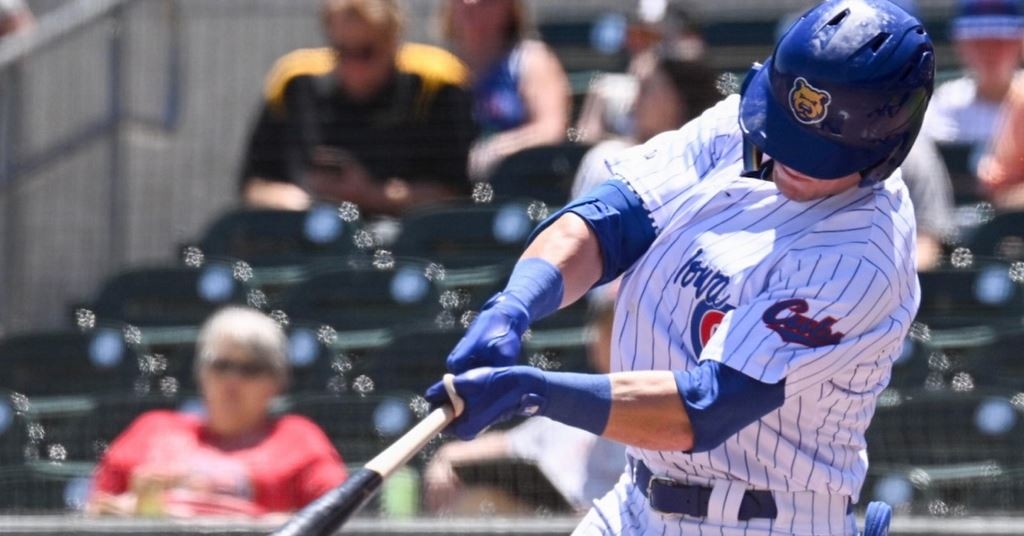 | | |
| --- | --- |
| Cubs Minor League Daily: Deichmann homers again, Mervis and Crook with dingers, more | |
---
| | | |
| --- | --- | --- |
| Sunday, June 5, 2022, 12:00 PM | | |
On Saturday, wins continued to be a struggle for the Cubs Minor League system as they limped to a 1-3 record. On the bright side, Iowa found a way to win the lone game as they have had a rough go of things this week, while the rest of the organization couldn't get it done.
IOWA CUBS 9 - SAINT PAUL SAINTS 5
It took long enough, but Iowa finally found a way to beat the Saints, who have taken it to them this series. It does help when you put together a six-run first inning as the Cubs managed to grab the early lead and cruise to the win.
Even with the big lead, Luke Farrell was unable to grab the win as he lasted just 4 1/3 innings, allowing four runs in the process. Sean Newcomb was credited with the win as he tossed the next 1 2/3 innings and looked good compared to his previous outings on the mound.
Getting back to that massive first inning, you had a passed ball give Iowa the 1-0 lead before the recently promoted Levi Jordan doubled that lead with an RBI single. The long ball then showed up big, with Greg Deichmann delivering a three-run shot and Narcisco Crook connecting for a solo shot.
448 feet later it is actually 6-0 in the first inning ?? https://t.co/heKsomsnDo pic.twitter.com/pXwIfkF9xY

— Iowa Cubs (@IowaCubs) June 4, 2022
This was the fourth straight game that Deichmann homered as he has gotten on a recent power surge.
Four straight games with a home run ?
5-0 lead in the first inning ? pic.twitter.com/IJQEeptus6

— Iowa Cubs (@IowaCubs) June 4, 2022
Down, but not out, Saint Paul started to battle back as they cut the deficit in half in the third inning with Spencer Steer picking up a two-run shot ahead of the Tim Beckham single. Beckham would add an RBI double in the fifth to make things 6-4 before Alex Kirilloff pulled the Saints to within 6-5 with his solo shot in the seventh.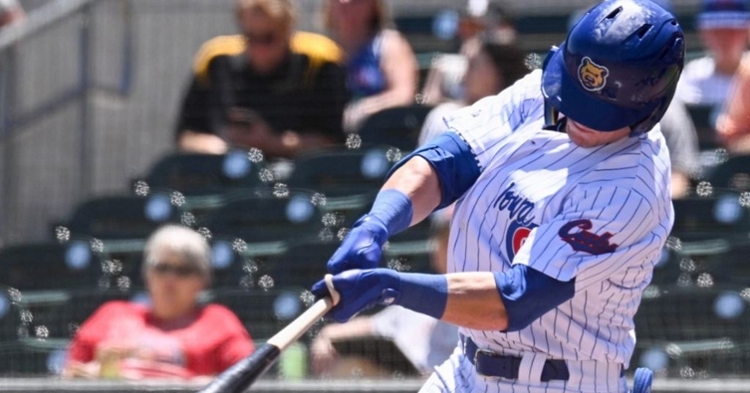 That was as close as things would get as Iowa closed out the game with three unanswered runs as John Hicks added a late-game homer to go with a Trent Giambrone single in the 9-5 victory over Saint Paul.
Back in the win column! ?? pic.twitter.com/SxJDNGCGYR

— Iowa Cubs (@IowaCubs) June 5, 2022
BIRMINGHAM BARONS 7 - TENNESSEE SMOKIES 6
Despite putting together a five-run inning, the Smokies dug a hole they couldn't get out of and fell to the Barons on Saturday. Peyton Remy had another rough start allowing all seven runs with six earned in just 3 1/3 innings as his rough stretch continued. Credit Bryan King and Danis Correa out of the pen as they allowed just three hits in the final 5 2/3 to give Tennessee a shot at coming back.
It was the Yoelqui Cespedes show in the early going as his sacrifice fly in the first put Birmingham up 1-0 before adding a bases-loaded double in the third to make things 4-0. In the fourth, a solo shot from D.J. Burt and a two-run shot from Lenin Sosa had the Smokies down 7-0, with things looking extremely bleak.
In the bottom of the fourth, the Tennessee offense started to mount a comeback, with Matt Mervis starting things off with his sixth homer.
The Smokies are on the board with a Matt Mervis home run in the bottom of the 4th! @mmervis12 #Cubs #SmokiesBaseball pic.twitter.com/iB8ts9sQjG

— Tennessee Smokies (@smokiesbaseball) June 5, 2022
That was just the beginning as a five-run fifth followed that inning up and brought the Smokies within 7-6.
HE SLAUGHTER-ED THAT ONE! #Cubs #SmokiesBaseball pic.twitter.com/hDglmstmK9

— Tennessee Smokies (@smokiesbaseball) June 5, 2022
Yonathan Perlaza started things off with a single, which a Mervis sacrifice fly followed.
Mervis picks up his second RBI of the night with a sac fly in the bottom of the 5th! @mmervis12 pic.twitter.com/SYiz2jwzu2

— Tennessee Smokies (@smokiesbaseball) June 5, 2022
The big blow in that inning came off the bat of recently promoted Jake Slaughter as his bases-loaded double made things 7-6, but Tennessee would fall by that score.
Smokies look to get the win tomorrow in the series closer against the Barons. See you tomorrow for Wrestling Day! pic.twitter.com/OLqgqZeHW6

— Tennessee Smokies (@smokiesbaseball) June 5, 2022
DAYTON DRAGONS 6 - SOUTH BEND CUBS 2
Needing a win in the worst way, South Bend continues to have a tough go of things against Dayton as a three-run frame helped do them in. Daniel Palencia took his first loss of the season, allowing five runs (four earned) in just 3 1/3 innings of work despite his seven strikeout effort.
Riley Martin stepped up in relief, striking out seven across 3 2/3 innings before Didier Vargas finished things off. Even with the Cubs pen putting together a strong showing when Christian Roa puts together five innings of one-run ball, it makes it hard to generate any offensive rhythm.
Pete Crow-Armstrong helped the Cubs take a 1-0 lead in the first by reaching on an error, but that lead was short-lived, with Elly De La Cruz tying things up with a homer in the bottom of the first. That homer opened the flood gates for Dayton as they scored six-unearned runs.
A Nick Quintana double in the second put the Dragons in front for good, but their three-run fourth inning is what proved to be the difference. Quintana was part of that with another RBI hit, while Michael Trautwein and Justice Thompson added RBI hits to make things 5-1.
Trautwein added a bases-loaded walk to extend the lead to 6-1 as Yohendrick Pinango capped off the scoring with an RBI groundout in the ninth in a 6-2 loss. The Cubs managed just five hits in the loss, with Jordan Nwogu, Yeison Santana, Crow-Armstrong, Pablo Aliendo, and Fabian Pertuz grabbing hits.
Not our night tonight. Series finale tomorrow at 1:09 ET before we had back to South Bend for another homestand. pic.twitter.com/VIK52BqYof

— South Bend Cubs (@SBCubs) June 5, 2022
DELMARVA SHOREBIRDS 2 - MYRTLE BEACH PELICANS 1
A late-game run proved to be the difference in a rare defeat by the Pelicans. Porter Hodge made the start and, despite lasting just four innings, kept the Pelicans in the game as he allowed just one unearned run off three hits to go with five strikeouts.
Scoreless outings from Frank Scalzo Jr and Adam Laskey followed that up before Luis Rodriguez was hit with his first loss of the season. Even with solid pitching throughout, Dan Hammer set the tone for Delmarva, allowing one run in five innings before watching the bullpen toss four shutout frames.
Hodge saw his lone run surrendered fall in the first inning as a fielder's choice mixed with a costly throwing error gave Delmarva a 1-0 lead. That lead held up for quite a bit with Kevin Made tying things up in the bottom of the fifth with an RBI double. Since returning to the lineup in May, Made has been on a tear and is playing exceptionally well.
It wasn't until the eighth inning that Delmarva pushed across the winning run as Luis Valdez ripped an RBI double to give the Shorebirds the 2-1 win. Made and BJ Murray Jr led the offense with a pair of hits, while Felix Stevens and Kevin Alcantara capped off the six-hit performance.
We'll return with the conclusion of Friday night's game and a 7-inning game following tomorrow night.#MBPelicans pic.twitter.com/XZYxmVeZwa

— Myrtle Beach Pelicans (@Pelicanbaseball) June 5, 2022
BONUS COLLEGE BASEBALL -- NOTRE DAME FIGHTING IRISH 6 - GEORGIA SOUTHERN EAGLES 4
Coming off their impressive win against Texas Tech, the Fighting Irish had a chance to put themselves one win away from Super Regionals. Standing in their way was regional host Georgia Southern, who was coming off an 8-0 win against UNC Greensboro earlier in the day.
With Austin Temple getting the start and giving the Irish 5 2/3 innings of four-run ball with eighth punchouts, the offense picked him up late to put them in a great position to advance. Noah Ledford opened up the scoring with a third-inning homer as the Eagles took a 1-0 lead.
Notre Dame answered by playing long ball themselves in the bottom half of the fourth as Jack Zyska and Jack Brannigan connected for solo shots to make things 2-1. Sixth inning singles by Sam Blancato and Kyler Hultgren put the Eagles in front 4-2 and had the Irish with their backs against the wall.
Challenge accepted with Zach Prajzner tying things up with a sixth-inning homer and then putting the Irish on top for good with a bases-loaded hit by pitch. Jack Penney added a second bases-loaded hit by pitch to put the Irish up 6-4 in the seventh as they won by that score and are one win away from a Super Regional date.