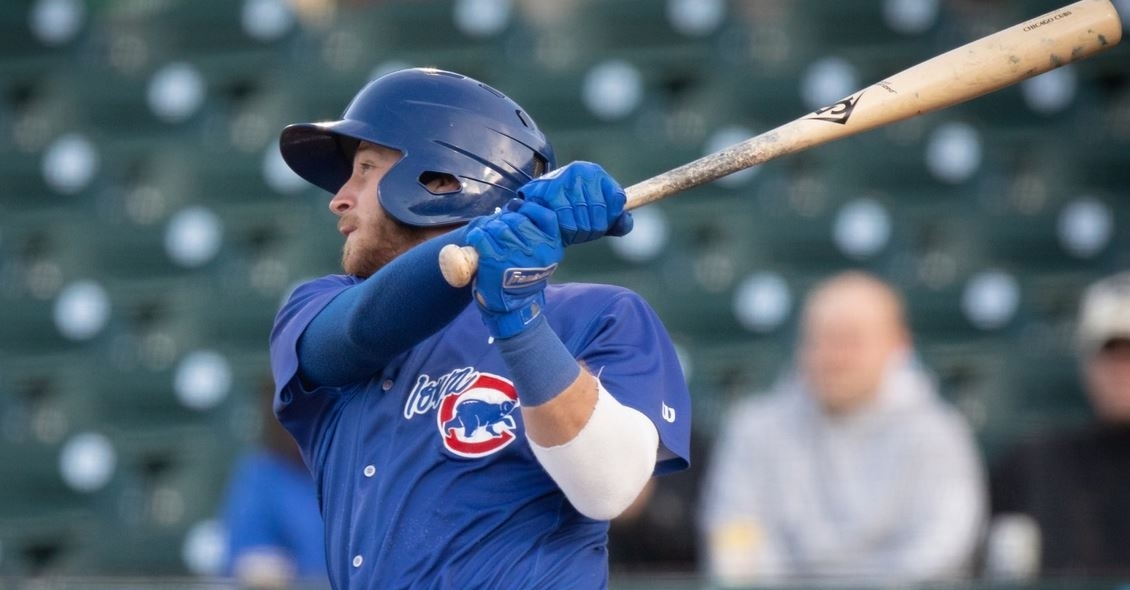 | | |
| --- | --- |
| Cubs Minor League News: Higgins with four hits in I-Cubs win, Wetzel with homer, more | |
---
Although the Cubs may not be winning right now, there has been some winning inside the organization. After a slow start to their minor league season, the Cubs farms system is starting to play much better as the wins have been piling up consistently.
Even with another .500 mark on Friday night, there are still plenty of strong performances to take away from that, which bodes well for the future of this team. The question is when will that future arrive and what happens when it does.
IOWA CUBS 4 - LOUISVILLE BATS 2
While Pittsburgh may have doubled the Cubs at Wrigley on Friday, Iowa did the same thing to Louisville, scoring a couple of late-game runs to claim the victory.
After a strong run in the bullpen to start the season, Matt Swarmer made his first start and continued to deliver. Across five innings, the right hander allowed two runs on five hits with six punchouts as his ERA sits at 1.08 this season.
He opposed Ben Lively, who delivered a near-identical stat line apart from fewer punchouts and one less inning. Both runs Lively allowed came in the first two innings, with Ilderamo Vargas picking up an RBI triple in the first ahead of the P.J. Higgins double in the second for the 2-0 lead.
Looking to battle back in the third, Louisville was finally able to solve Swarmer, with Ronnie Dawson picking up the RBI single. Two innings later saw the Bats tie things up with Lorenzo Cedrola adding an RBI groundout to make things 2-2.
Not about to let things get away from Swarmer and the job he did, it became the Higgins show late as the catcher not only plated the go-ahead run with a double in the sixth, but added a single in the eighth to finish with three RBIs in the 4-2 win.
Back in the win column! pic.twitter.com/HN10gxFRP3

— Iowa Cubs (@IowaCubs) April 23, 2022
ROCKET CITY TRASH PANDAS 8 - TENNESSEE SMOKIES 3
For the most part, Tennessee has played Rocket City much better to open the year, but sit at a 2-2 series split through four games. Unlike the previous games that saw the Smokies put on an offensive clinic, the Tennessee bats were held in check by Chase Silseth, who struck out seven in six innings of work while the pitching was hit hard.
Ryan Jensen got the start in this one and suffered a rough go of things. Across his three innings, Jensen allowed just two hits, but after walking three to go with three punchouts, he was charged with four earned runs. He gave way to a trio of relievers that gave up four additional runs in five innings.
The command played an issue all start for Jensen as he immediately found himself with traffic on the bases. That allowed Preston Palmiero to cash in with an RBI double in the first as ROcket City raced out to the 2-0 lead. Two innings later saw Jensen serve up a homer to Braxton Martinez as he put his team in a 4-0 hole and was finished.
Looking to claw back into the game in the bottom half of the third, Luis Vazquez stayed hot as his RBI single made things 4-1. That score held until the eighth inning when ROcket City busted out for a big inning. On the strength of two homers from Tray Cabbage and Bryce Teodosio, a 4-1 lead was now 7-1 with the Trash Pandas in complete control.
The Smokies tried to rally back in the bottom of the eighth, using a Christopher Morel double and a Nelson Velazquez single to pull within 7-3. Martinez added a ninth-inning single for Rocket City as they closed things out 8-3. Six different players had a hit for Tennessee.
Seven Smokies reached base in tonight's loss to Rocket City. Back at it tomorrow on BIGFOOT Night at the ballpark! pic.twitter.com/DFJoRnEAbB

— Tennessee Smokies (@smokiesbaseball) April 23, 2022
BELOIT SKY CARP 9 - SOUTH BEND CUBS 4
The lone team with a losing record in the system is South Bend, who sits at 5-8. When you look at the pitching staff they have in place, it is baffling to think about, but that is where things sit.
Looking to bounce back from a pair of rough starts was Kohl Franklin, who, although he only went two innings, gave up nothing. He turned things over to Joe Nahas, Brad Deppermann, and Didier Vargas as that trio allowed nine runs in seven innings of work.
Short outing or not, it was a positive start for Franklin as SOuth Bend rewarded him with an early lead. Not only did Ed Howard stay hot with another RBI single to make things 2-0, but Jake Washer added a second-inning single of his own to give South Bend a 3-0 lead.
That lead stood until Nahas entered the game, with Beloit coming back in the fourth inning. Down 3-1 following a Tanner Allen double, Ynmanol Martinez, tied things up with one swing as his two-run shot made things 3-3. One inning later saw Nasim Nunez give Beloit the lead with an RBI single before the Luis Verdugo single tied things up in the sixth.
From the seventh inning on, it was all Beloit as the Sky Carp cashed in for five unanswered runs. Two of those came on the game-winning Cody Morrissette double in the seventh before adding on late. The Cubs tallied eight hits in the loss, with Fabian Pertuz and Howard picking up two.
Final on a Friday.

Hope you can join us tomorrow for a beautiful and warm night of ?? at @FourWindsField! pic.twitter.com/k6GngovpgU

— South Bend Cubs (@SBCubs) April 23, 2022
MYRTLE BEACH PELICANS 5 - DELMARVA SHOREBIRDS 2
Buddy Bailey has his team playing with a ton of confidence as the Pelicans win again 5-2. Richard Gallardo picked up his first win as the righty went five innings, allowing no runs on two hits. Gallardo walked one and struck out five as his ERA fell to 3.55.
Chase Watkins and Tyler Santana came on to relive him, with Santana earning the two-inning save and lowering his ERA to 1.35. As good as Gallardo was, pitching Juan De Los Santos was just as good, keeping the Pelicans off the board through four. It was in the fifth when Myrtle Beach broke through first as Pete Crow-Armstrong cashed in with a single to give the Pelicans a 2-0 lead.
PCA is THAT dude! He brings home two with a single for his sixth and seventh RBIs of the series.

Pelicans 2, Shorebirds 0 entering the bottom of the fifth. pic.twitter.com/oKtCO1J59w

— Myrtle Beach Pelicans (@Pelicanbaseball) April 23, 2022
Following a wild pitch by Watkins in the sixth that brought the Shorebirds within one, Jacob Wetzel put an end to things as his two-run shot was the final nail in the Delmarva coffin.
IN HIS HOME STATE!

Jacob Wetzel hits a two-run homer for his first big fly of the season.

Pelicans 4, Shorebirds 1 in the middle of the seventh. pic.twitter.com/a66krIaMPd

— Myrtle Beach Pelicans (@Pelicanbaseball) April 23, 2022
Wetzel added a sacrifice fly in the ninth inning as the Pelicans took care of business 5-2. Crow-Armstrong, Peter Matt, and Juan Mora paced the offense as they collected six of the team's nine hits. Reggie Preciado added a hit, with Wetzel driving in three runs.
In the spirit of @obvious_shirts :

The Pelicans are good at baseball.

Birds win their third straight. #MBPelicans pic.twitter.com/W7SOg9GG55

— Myrtle Beach Pelicans (@Pelicanbaseball) April 23, 2022