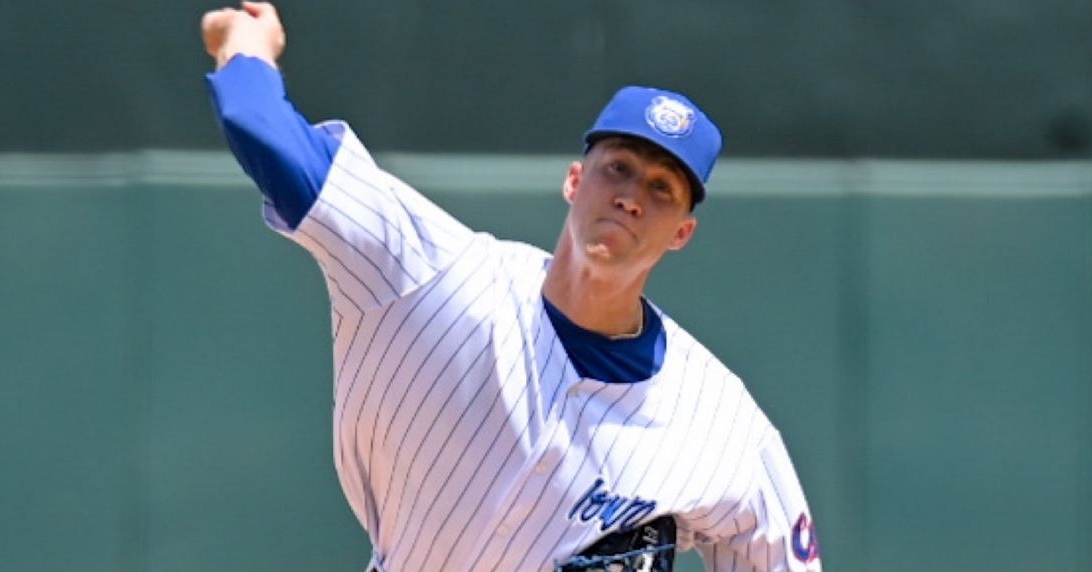 | | |
| --- | --- |
| Cubs Minor League News: Killian impressive, Garcia on fire, Bote rehab, Made homers, more | |
---
You win some, you lose some, and the Cubs organization is winning plenty right now. Coming off arguably their best week overall in their farm system history, things have continued this week for at least the last two days.
After going 1-3 on Tuesday, the Cubs system improved to 3-1 on Wednesday and went even further by going a perfect 4-0 on Thursday. Looking at all four teams and seeing them above .500, you could put their combined winning percentage against anyone other farm system, and the Cubs may have the best right now.
IOWA CUBS 8 - COLUMBUS CLIPPERS 2
There was only one afternoon game on Thursday with Iowa getting the honors, and they set the tone in a big way. Led by top pitching prospect Caleb Killian who had his best outing of the season, Iowa made quick work of the Clippers and stayed red hot.
Killian delivered not only a season-high 5 2/3 innings, but also a season-high eight strikeouts while allowing a pair of unearned runs. His one walk was also a significant sign as his AAA ERA is sitting at 1.31. With a couple of doubleheaders coming in a few weeks, you have to wonder if the Cubs will pull the trigger on him to see what he can do.
Eric Stout and Bryan Hudson relieved Killian as those two combined for eight more strikeouts, with the Cubs tallying 16 strikeouts as a team. The pitching was dominant, but the offense was too, as they connected for a trio of homers in the win.
That didn't take long! David Bote gets his Major League rehab started with a one-out double in the first. pic.twitter.com/bFDAuhQw44

— Iowa Cubs (@IowaCubs) May 19, 2022
The first came from John Hicks in the third inning as he took the 1-0 lead to make it 2-0. Zach Davis added an RBI single later in that inning before the P.J. Higgins double in the fifth had Iowa in front 4-0. Both Clippers runs came in the top of the sixth as a costly throwing error allowed not one, but two runs to score as the Iowa lead was cut in half.
Thankfully they were able to rebound as they ended the game with four unanswered runs to win. Robel Garcia seems to be homering every day and belted his 11th in the sixth.
Is eight home runs in nine games good? Asking for a friend.

Ro-Bombs does it again! pic.twitter.com/nM1kgWstyF

— Iowa Cubs (@IowaCubs) May 19, 2022
Higgins added a seventh-inning sacrifice fly, but Nelson Velazquez delivered the final homer of the day in the eighth as that was his first AAA homer.
Nelson Velazquez gives us some insurance with his first home run at Triple-A! pic.twitter.com/UEXvk8poTm

— Iowa Cubs (@IowaCubs) May 19, 2022
Three home runs ?? second straight win! pic.twitter.com/F94ZUJdNPa

— Iowa Cubs (@IowaCubs) May 19, 2022
TENNESSEE SMOKIES 9 - CHATTANOOGA LOOKOUTS 5
You have to give credit where credit is due, and Chattanooga has been a tough matchup for the Smokies. After dropping the first two games of the series and locked into another tight battle, the Smokies used a six-run fifth inning to take control and win.
After picking up his first win a few weeks ago, Chris Clarke hasn't lost since and improved to 2-0 in AA. He gave the Smokies five innings of a three-run ball and three strikeouts. All those runs allowed came in the second inning as he put his team in an early 3-0 hole.
TJ Hopkins opened the scoring in that frame with an RBI double, but the Quincy McAfee single made things 3-0. The Smokies used their next three at-bats to draw even with Levi Jordan picking up an RBI double and RBI groundout and Yonathan Perlaza going deep for the fifth time to make things 3-3.
The fifth inning is when the Smokies said enough is enough as they erupted for six runs to take a commanding lead. Darius Hill got the party started with an RBI double, but another Alexander Canario two-run shot proved to be the game-winner with the Smokies up 6-3.
Someone is starting to feel it at AA Tennessee. Back to back nights for home runs for one Alexander Canario. This one, he left no doubt. pic.twitter.com/yv8yHV3gG8

— Todd ?????? (@CubsCentral08) May 20, 2022
Freshly promoted, Matt Mervis got in on the fun with an RBI double of his own, followed by another Jordan RBI to go with a Bryce Windham single and a 9-3 lead. The Lookouts were able to get two of those runs back in the sixth as an error led to one run and McAffee drove in the other. Regardless, it wasn't enough as the Smokies got back on the winning side of things.
GO FISH, LOOKOUTS! ??
Yonathan Perlaza and Alexander Canario both homer as the Smokies make it back in the win column. #Cubs #SmokiesBaseball #FlyTheW #GoFish pic.twitter.com/m9DoCClfxz

— Tennessee Smokies (@smokiesbaseball) May 20, 2022
SOUTH BEND CUBS 3 - WISCONSIN TIMBER RATTLERS 2 (10 innings)
Last week, one of the better series was the battle between Charleston and Myrtle Beach that ended tied 3-3. This week the series to watch is in High-A, where South Bend took the 2-1 series lead behind an extra-inning win on Thursday.
Hoping to finally start stretching Jordan Wicks out, the left-hander delivered on Thursday as he gave the Cubs five innings of one-run ball, walking two and punching out a career-high eight. The Cubs needed him to be at his best as Justin Jarvis was just as good through six innings, allowing two runs, but striking out 10.
Wicks was strong from his first pitch to his last, but found himself on the short end of the stick early as Alex Hall put the Rattlers on top 1-0 with a sacrifice fly in the second. After being held scoreless through three, Jake Slaughter said enough of that and went deep for the first time this season to give South Bend a 2-1 lead. Slaughter loves hitting in Wisconsin, as that was his third career homer in their park.
You had a High-A debut following Wicks outing on the mound with Jake Reindl taking the ball. Not only did he give them a pair of scoreless frames, but he added three punchouts to that as the Myrtle Beach talent pool is on the way. Brad Depperman followed him and Hunter Bigge, as a wild pitch from Bigge in the ninth allowed the tying run to score and sent the game into extras.
It took just three pitches for the Cubs to retake the lead, with Cole Roederer delivering a one-out RBI single to put South Bend on top for good 3-2. Bailey Reid took over in the bottom of the 10th and worked around a mini-jam to secure his first save. Each time had five hits as Jake Washer led the way with two for South Bend and Roederer, Slaughter, and Yohendrick Pinango having the rest.
MYRTLE BEACH PELICANS 6 - COLUMBIA FIREFLIES 5
Despite another win to improve to 3-0 in the series, it didn't come easy for the Pelicans as the Fireflies rallied four-five late runs, including four in the eighth, before falling short. Luis Devers was thankful that the rally came short as he deserved to win his start.
Across five innings, Devers allowed just two hits and recorded five strikeouts in what may have been his best showing of the season. Chase Watkins delivered a pair of decent innings, but a terrible outing from Frank Scalzo Jr almost ruined a perfect day.
The Pelicans offense wasted very little time getting going as the suddenly hot Felix Stevens put them in front for good 2-0 with an RBI double in the second. Two innings later saw Reggie Preciado bring the noise as his first homer of the season gave the Pelicans a 3-0 lead.
Home run number one for Preciado!

A solo shot to right puts the Pelicans up 3-0 entering the bottom of the fourth.#MBPelicans pic.twitter.com/CLhnjCi204

— Myrtle Beach Pelicans (@Pelicanbaseball) May 20, 2022
Moving to the fifth, the Myrtle Beach offense was still clicking as they have been all season. Kevin Made doubled home the game's fourth run of the day before the BJ Murray single made things 5-0.
Kevin Made goes deep!

His second home run of the season is a solo shot to make it 6-0 Pelicans in the top of the seventh.#MBPelicans pic.twitter.com/UkAwmfMcFn

— Myrtle Beach Pelicans (@Pelicanbaseball) May 20, 2022
Speaking of Made, he also provided the game-winning hit as his seventh-inning homer proved to be the difference.
Down 6-1 in the eighth after Daniel Vasquez picked up a seventh-inning RBI single, the Fireflies offense began to show signs of life and made Scalzo Jr work for everything. Singles from Guillermo Quintana and Carter Jensen pulled the Fireflies within 6-4 before an Erick Pena sacrifice fly had them within one.
Sheldon Reed took over later in that eighth inning and not only held them there, but went out in the ninth to retire Columbia in order and recorded his fourth save.
Sheldon Reed has been sitting at 97 and gets the save for Myrtle Beach going 1.2 innings with 3 Ks pic.twitter.com/Mc8q8BReyA

— Todd ?????? (@CubsCentral08) May 20, 2022
Reed struck out three in his outing and has yet to allow a run this season. Made was the lone player with multiple hits as Myrtle Beach came away with eight hits in the win.

Tags: Cubs Baseball
,
Bryan Hudson
,
Zach Davis
,
Robel Garcia
,
Nelson Velazquez
,
Levi Jordan
,
Yonathan Perlaza
,
Darius Hill
,
Alexander Canario
,
Hunter Bigge
,
Cole Roederer