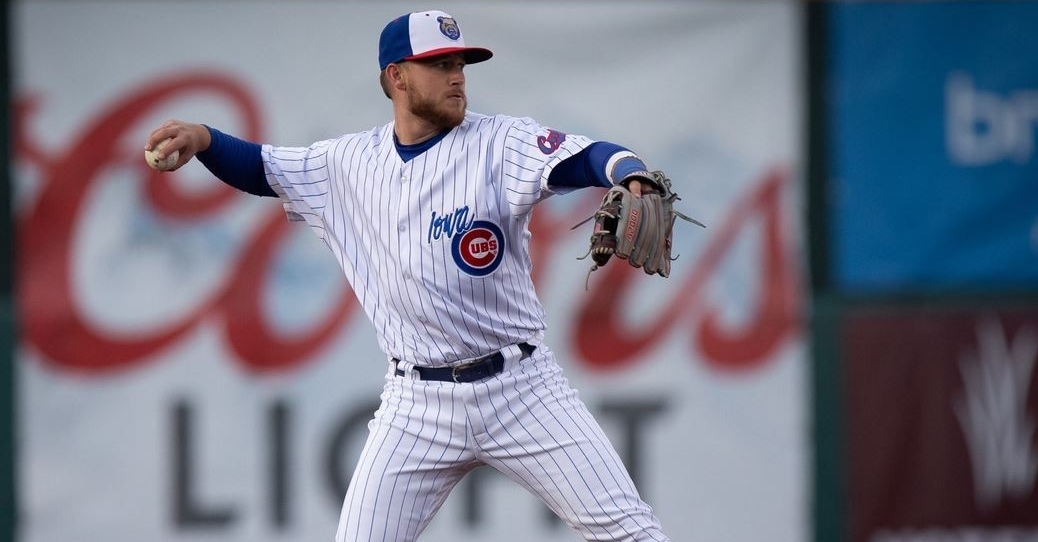 | | |
| --- | --- |
| Cubs Minor League News: PJ Higgins with five hits, Killian impressive, Morel stays hot | |
---
For the second time in as many days, Minor League baseball fans of the Cubs were treated to extra baseball with five games taking place on Sunday. Had it not been for the double-header split between Myrtle Beach and Salem, the organization would have had a second consecutive perfect night which is very hard to do.
Still, posting another 4-1 record for the organization is a good thing, and the wins continue to pile up for an organization that hasn't won many games at the major league level. Fans are also starting to see tons of promotions and demotions, which is something to watch in the months ahead.
IOWA CUBS 10 - SAINT PAUL SAINTS 3
Led by great pitching and a four-run second inning, Iowa raced out to an early lead and didn't look back in a lopsided win. Caleb Killian delivered his best outing of the season, giving the Cubs five shutout innings to pick up his first win of the season. His ERA sits at 1.46, and it will be interesting to see if he remains here all season.
With Killian doing his thing on the mound, the offense wanted to reward him and did so with a massive second inning to take the lead for good. P.J. Higgins got the scoring started with an RBI single before coming home on the Robel Garcia triple to make things 2-0. Garcia came home on a wild pitch to make things 3-0 before the rehabbing Andrelton Simmons capped off the scoring with an RBI single.
Leading 4-0 in the fourth, Ilderamo Vargas kept the party going as his RBI double brought home another run, followed by a wild pitch to make things 6-0. That was more than enough offense on the afternoon as Vargas added a fifth-inning single followed by the Jared Young homer and Greg Deichmann walk in the sixth to push the lead to 9-0.
Jared Young's comeback the past two seasons has been amazing. It is like 2019 never existed pic.twitter.com/3KtBQIY5ug

— Todd ?????? (@CubsCentral08) May 8, 2022
Even with Saint Paul scoring three runs off the Iowa pen, the Cubs built such a massive lead that it didn't matter as Tyler Payne added the final run for Iowa in a 10-3 victory. Higgins had an enormous day at the plate, going 5-5 to raise his average to .377. Vargas, Payne, and Young added three hits, with Simmons picking up one hit in his rehab outing. Nelson Velazquez may have gone 0-4 with four punchouts, but did take two walks in the win.
Heading home on a high note ?? pic.twitter.com/438p8MGirQ

— Iowa Cubs (@IowaCubs) May 8, 2022
TENNESSEE SMOKIES 9 - BIRMINGHAM 4
Sometimes all it takes is two innings, and for the Smokies, that was the case Sunday. Led by a five-run inning and a four-run inning, the Smokies delivered nine runs and held on for the win.
Cam Sanders has been on quite a roll lately and continued to pitch well. Despite not qualifying for the win, Sanders went 4 2/3 innings of work, allowing two runs and striking out six. He gave way to four bullpen pitchers who didn't allow a run until late.
The announcers are oblivious to the brilliance that is Cam Sanders. This is strike three. pic.twitter.com/7DuTK0dhDZ

— Todd ?????? (@CubsCentral08) May 8, 2022
The biggest inning for Tennessee came in the second when the Smokies struck for five runs. Had they stopped there, it would have been enough to win, and that looked like it would happen for the most part. Levi Jordan opened the scoring with a sacrifice fly before the Yonathan Perlaza double made things 2-0. Since stepping in for the promoted Velazquez, Perlaza has done nothing, but hit, which is good for his confidence.
A two-run single from Luis Vazquez extended the lead to 4-0 before Christopher Morel capped off the scoring with an RBI single to make things 5-0. Three innings later saw the Smokies get back on the attack as they wanted to make sure to bury the Barons, so they didn't have a chance.
Singles by Andy Weber and Bryce Windham extended the lead to 7-0 before a bases-loaded hit by a pitch to Perlaza made things 8-0. Add in the Vazquez RBI groundout to cap off the scoring, and the Smokies led 9-0 in the fifth. Birmingham was able to add four runs the rest of the way, with two coming from the Tyler Neslony homer and another one coming off the Lenin Sosa triple. Add in a ninth-inning wild pitch to cap off the scoring, and the Smokies grab another win 9-4.
Morel continues his recent tear, picking up three hits to raise his average to .313. Weber joined him with three hits, while Bryce Ball, Perlaza, and Windham added two hits. Vazquez led the team with three RBIs in the win.
GOT EM! See you back home on Tuesday for the first of 13 games in 13 days! pic.twitter.com/CywLpBhpQ3

— Tennessee Smokies (@smokiesbaseball) May 9, 2022
SOUTH BEND CUBS 2 - PEORIA CHIEFS 0
Led by a pitching staff that allowed just two hits, the South Bend Cubs continued to roll, topping the Chiefs 2-0. Although limited in his outing, DJ Herz continued to pitch well, lowering his ERA to 0.93 after 2 1/3 scoreless innings. He gave way to four pitchers, with Eduarniel Nunuz picking up the win in relief to move to 4-1 this season.
Matching Herz and the South Bend staff was Gordon Graceffo, who delivered his second strong showing of the week. Across six innings, Graceffo allowed just two runs on five hits while striking out eight. His ERA now sits at 1.07. All of the Cubs runs came in the sixth inning when Pablo Aliendo picked up an RBI double and then scored on the Yohendrick Pinango RBI grounder. That was all the offense the Cubs would need in the 2-0 win.
Aliendo led the way with two hits to go with his RBI, with others grabbing one hit in the win. Fabian Pertuz, Pinango, Bradlee Beesley, and Owen Caissie had the rest of the hits as the Cubs improved to 15-12.
S
W
E
E
P?? pic.twitter.com/7LNvVlB8Yc

— SBCubs Fly The WWWWWW (@SBCubs) May 8, 2022
HIGHLIGHTS
Make it back-to-back shutouts and 3 games in a row without allowing an earned run... Cubs win all 6 this week, just wow!

Here's how it all went down in the series finale. pic.twitter.com/1NFA4wjYX4

— SBCubs Fly The WWWWWW (@SBCubs) May 8, 2022
Today's postgame interview after a series sweep!

Nicholas Padilla chatting with our very own @BKingSports after another #SBCubs shutout. pic.twitter.com/wXBeB2UpEX

— SBCubs Fly The WWWWWW (@SBCubs) May 8, 2022
MYRTLE BEACH PELICANS 8 - SALEM RED SOX 3 (game 1)
Sparked by a five-run third inning, the Pelicans continued to roll and picked up the 8-3 win. Luis Devers delivered a positive showing in game one, going five innings and allowing three runs. Devers walked one and struck out seven.
Continuing to rehab at Myrtle Beach, Cole Roederer gave the Pelicans the lead with an RBI single in the first, but the Red Sox had an answer in the bottom half of the inning. Niko Kavadas tied things up with an RBI single before RBI doubles from Blaze Jordan, and Eduardo Lopez made things 3-1. Fortunately for Devers, those would be the only runs he and the team would allow as the offense did their part late.
With the bases loaded in the third, Roederer pulled the Cubs within 3-2 using a sacrifice fly to get that done. Kevin Alcantara and Malcom Quintero followed that up with singles before the Juan Mora double made things 5-3. The Pelicans capped off their five-run frame with a wild pitch as the Pelicans led 6-3.
Later, one inning saw Myrtle Beach continue their offensive attack with James Triantos adding an RBI double before a throwing error led to the game's final run in the 8-3 win. Triantos led the way with three hits, with Quintero and Liam Spence adding two.
Triantos is having himself a day so far. In game one of a doubleheader he is three for three pic.twitter.com/JDpUKs3GhF

— Todd ?????? (@CubsCentral08) May 8, 2022
Roederer may have gone 1-1 with two RBIs, but he also added two walks and looks excellent at the plate.
SALEM RED SOX 5 - MYRTLE BEACH PELICANS 3 (Game 2)
Despite dropping the series finale, it was another winning series for the Pelicans as they are sitting at 19-8 this season. Tyler Schlaffer got the start and allowed two runs in just 2 1/3 innings as he was saddled with the loss. Give his counterpart Tyler Uberstein credit as he battled through five innings, allowing three runs to secure the win.
Schlaffer ran into some first-inning trouble as the top of the Salem order him some fits. Not only did Kavadas come through with an RBI double, but Jordan added an RBI single to make things 2-0. Add in the Lopez homer in the third, and Salem was up 4-0 and looking great.
You never felt the Red Sox were comfortable even with that lead because everyone knows how explosive this Pelicans team is. Alcantara put the Pelicans on the board with an RBI double in the fourth and then scored on the BJ Murray Jr single. Salem was able to extend that lead to 5-2 in the bottom of the fourth off a wild pitch, which was crucial for them.
It didn't matter as Ezequiel Pagan connected for his first homer of the season to cap off the scoring, but the Pelicans still fell 5-3.
?????? https://t.co/4ZGSy0HYiJ

— Ezequiel Pagán (@PaganEzequiel) May 8, 2022

Tags: Cubs Baseball
,
Robel Garcia
,
Andrelton Simmons
,
Jared Young
,
Nelson Velazquez
,
Cam Sanders
,
Levi Jordan
,
Yonathan Perlaza
,
Luis Vazquez
,
Christopher Morel
,
Andy Weber
,
Cole Roederer