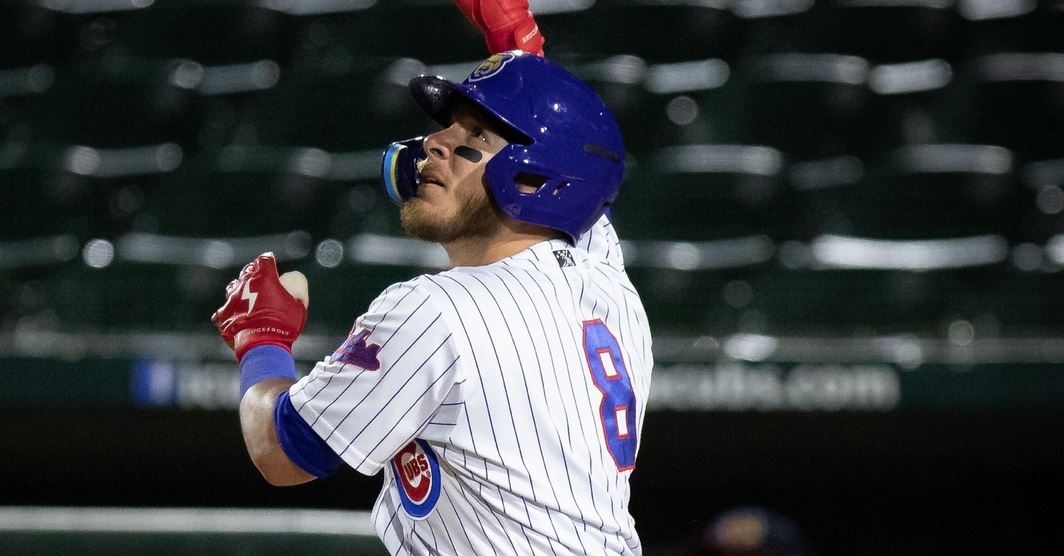 | | |
| --- | --- |
| Cubs Minor League News: Quiroz homers, Fourth dinger for Morel, Triantos with five hits | |
---
Things continue to go very well down on the farm as the Cubs minor league system continues to deliver. Despite losing two games on Wednesday, the Cubs still managed to see the system go 3-2, which was aided by the doubleheader sweep of Myrtle Beach.
That makes six straight days of at least .500 ball for the organization and five consecutive days of posting a winning record. This is the first time in quite a while that the organization emphasizes winning minor league games to coincide with player development. It is refreshing to see, and you can see the players starting to feel that.
IOWA CUBS 3 - INDIANAPOLIS 2
One day after nearly being no-hit, offense was at a premium again, but the Cubs came out on top 3-2. Top pitching prospect Caleb Killian continues to do his thing, allowing one run in four innings to keep his ERA under the 2.00 mark. Although he tends to struggle in the opening inning, it is a long night for hitters once he gets locked in.
Killian gave way to Brandon Hughes, Erich Uelmen, and Eric Stout as those three not only tossed five innings of one-run ball, but have yet to allow an earned run this season. The lone run Killian allowed came in the third inning when Ji-Hwan Bae connected for his first homer giving the Indians a 1-0 lead. Not only was allowing a homer rare for Killian, but to see him behind was equally as rare.
Two innings later saw Iowa take their turn at a long ball, with Esteban Quiroz going deep for the first time to put Iowa in front 2-1.
Down 1-0? Not anymore! Esteban Quiroz gives us the lead with this two-run blast. pic.twitter.com/XWU2UXZRws

— Iowa Cubs (@IowaCubs) April 27, 2022
After a seventh-inning helped set up the game-tying single from Jason Delay, Iowa was able to grab the lead for good and cashed in on a wild pitch to secure the victory.
Back in the win column. pic.twitter.com/Kemds63Nsn

— Iowa Cubs (@IowaCubs) April 27, 2022
CHATTANOOGA LOOKOUTS 6 - TENNESSEE SMOKIES 2
It was a rare off night for the Smokies as they fell to the Lookouts. Cam Sanders got the start and pitched exceptionally well across his five innings, giving up just one run on five hits with six strikeouts. He left with the lead, but the bullpen was unable to hold on to it late.
The Smokies have been on a power surge of late as they belted a pair of solo homers in the first. The first one came from Christopher Morel for his fourth of the season, with the second coming from Nelson Velazquez as he belted his sixth homer in the last seven games and seventh of the season.
Christopher Morel starts off the scoring with a solo HR. Not the best of video feeds in Chattanooga. pic.twitter.com/9grihW9jPX

— Jordan Miller (@Miller_MiLB) April 27, 2022
Nelson Velazquez gets in on the action for back-to-back homers with Morel. pic.twitter.com/tHyE4QjeY5

— Jordan Miller (@Miller_MiLB) April 27, 2022
That hot start was quickly forgotten, as that would be the only offense for Tennessee in this one. Sanders helped the Lookouts pull within 2-1 in the first as a wild pitch gifted them a run. Outside of that, he was impressive, and that 2-1 lead held until the sixth.
Chuckie Robinson connected for the game-winning RBI double in the sixth as he gave the Lookouts a 3-2 lead. Chattanooga began to pull away in the seventh as a costly error mixed with a wild pitch pushed across three more runs for a 6-2 win. The Smokies collected nine hits, with Morel, Bryce Ball, and Andy Weber grabbing two.
Ball, Morel, and Weber each record two hits, but the Smokies fall to the Lookouts 6-2 in Chattanooga. pic.twitter.com/mFrtvTOGt2

— Tennessee Smokies (@smokiesbaseball) April 28, 2022
QUAD CITIES RIVER BANDITS 7 - SOUTH BEND CUBS 5
Despite another good offensive performance, pitching was not South Bend's strong suit as they fell below .500 with the loss. DJ Herz did more than his part on the mound, getting the start and allowing just one run in three innings to lower his ERA to 1.29. It is only a matter of time until he jumps to AA as High A has no answers for him.
Although Herz was on top of his game, Didier Vargas was not, as he was touched up for six earned runs in relief and took the loss. The Cubs got off to a fast start, using a Yohendrick Pinango homer in the first to grab a 2-0 lead before adding a pair in the third. Those runs came on singles from Alexander Canario, and Matt Mervis as the Cubs held a 4-0 lead.
Herz allowed his lone run in his final inning of work when he allowed the Dillan Shrum solo shot. Following that inning and with Vargas on the mound, Tyler Tolbert pulled the River Bandits within 4-3 with an RBI triple. Vargas continued to struggle in the fifth, allowing a Juan Carlos Negret sacrifice fly to tie things up before a Shrum double put the River Bandits in front for good.
South Bend managed to get one of those runs back on the Ed Howard RBI groundout in the eighth, but could not strike for more, falling by that score. South Bend had an easy night when it came to hits, recording 14 as Canario and Mervis had three. Pinango joined them with a multi-hit effort, as did Luis Verdugo and Bradlee Beesley.
Tough finish tonight in Davenport

Back to it tomorrow at 7:30! pic.twitter.com/Cxqw8kT7Hn

— South Bend Cubs (@SBCubs) April 28, 2022
MYRTLE BEACH PELICANS 5 - COLUMBIA FIREFLIES 4 (game 1)
One of the hottest teams in all of Minor League baseball is the Myrtle Beach Pelicans, as they took game one of their doubleheader. Tyler Schlaffer got the start, and although not at his best across four innings, he did enough to keep his team alive before the offense finished things off.
Schlaffer didn't get off to the greatest of starts as he allowed a Guillermo Quintana homer in the first to put his team in an early 2-0 hole. After getting a run back in the bottom half of that inning, Myrtle Beach pushed across three second-inning runs, with the first two coming on a Juan Mora sacrifice fly before James Triantos singled to make things 4-2.
Schlaffer was given little help in his final inning of work as a costly error allowed the Fireflies third run to score and set things up for the game-tying sacrifice fly from Erick Pena. Triantos continued to build off his already good game and capped off the scoring with a single in the bottom of the fourth to lift the Pelicans to the 5-4 win.
Make that seven straight!

Doubleheader sweep. #MBPelicans pic.twitter.com/1tchsx8Hzo

— Myrtle Beach Pelicans (@Pelicanbaseball) April 28, 2022
MYRTLE BEACH PELICANS 3 - COLUMBIA FIREFLIES 1 (Game 2):
Led by strong pitching and timely hitting, the Pelicans pushed their record to 12-5 and completed the doubleheader sweep. Luke Little got the start and made by far his best start of the season, giving the Pelicans three perfect frames to go with six punchouts.
Already with two RBIs in game one, Triantos continued his monster day as his single put the Pelicans in front for good 1-0.
I think we know who hitter of the day is. He started off the day at .222. Five hits later he's hitting .283. That'll do. pic.twitter.com/gFwpZbR1Tf

— Todd ?????? (@CubsCentral08) April 28, 2022
Kevin Alcantara added a sacrifice fly later in the inning to extend the lead to 2-0, which was more than enough. Hoping to make some noise with Little out of the game, Columbia started to rally in the fourth and used an Omar Hernandez double to pull within 2-1.
Fortunately for Myrtle Beach, that would be as close as they would get, with Alcantara adding a second RBI with his sixth-inning single to cap off the 3-1 win. Triantos led the way with two hits and four total hits on the day to go with his three RBIs.
We think this was #SCTop10 worthy...

Jacob Wetzel with an incredible diving catch to end the game!#MBPelicans pic.twitter.com/I0NFFjZRGb

— Myrtle Beach Pelicans (@Pelicanbaseball) April 28, 2022