| | |
| --- | --- |
| Cubs Minor League Daily: Velazquez smacks two homers in win, Pels score 17 runs, more | |
---
| | | |
| --- | --- | --- |
| Thursday, April 21, 2022, 12:00 PM | | |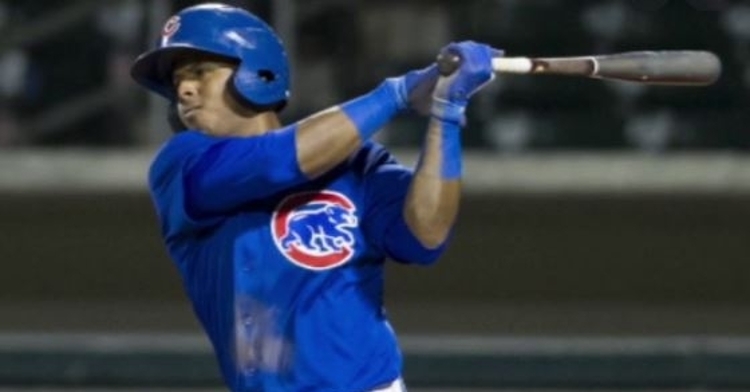 While the MLB Cubs may not have given the fans much to cheer about on Wednesday, the rest of the Minor League system did more than make up for that with a near-perfect night. Had it not been for the Iowa loss at Louisville, it would have been a perfect night as there were plenty of exciting moments to go around.
For the first time in a while, the offense stole the show as the pitching was not a strength on the night.
LOUISVILLE BATS 3 - IOWA CUBS 2
For the most part, things have been going very well for the Cubs as they have looked like a vastly improved team. Despite a tough one-run loss on Wednesday, Iowa still had plenty of great moments to go around.
After a rough first start to the season, Adrian Sampson has done an excellent job bouncing back and continued that last night. He gave Iowa five strong innings allowing one run on five hits before handing things off to Locke St. John and the pen. Unfortunately for Sampson, Graham Ashcraft was equally as good despite only four innings.
Like the MLB squad, Iowa has done a great job when it comes to scoring first, with Alfonso Rivas giving them a 1-0 lead in the third with a single. The Bats responded in the bottom half of that inning with an RBI ground out as that score held until the seventh.
On in relief of St. John was Ben Leeper as his rough start to the season continues. He allowed the go-ahead double to Michael De Leon, but he then allowed the game-winning hit to Trey Amburgey to put the Bats in front 3-1. Iowa was able to get one of those runs back on a P.J. Higgins RBI groundout, but that was it as they fell 3-2.
Final from Louisville Slugger Field. pic.twitter.com/XslXmEpx3g

— Iowa Cubs (@IowaCubs) April 20, 2022
TENNESSEE SMOKIES 10 - ROCKET CITY TRASH PANDAS 7
Sparked by a six-run eighth inning, the Smokies finally stopped the Trash Pandas as they came from behind to win 10-7. Outside of Manuel Espinoza, who gave the Cubs four innings of two-run ball and Burl Carraway, pitching was not good, but the offense did more than enough to make up for it.
Tennessee wasted no time getting the offense going as Nelson Velazquez unloaded for his second homer of the season to make things 2-0. Two innings later, the Trash Pandas tied things up as they used a wild pitch and the Livan Soto single to pull even. If one homer wasn't good enough, why not make it two with Velazquez going deep in the third to put the Smokies back in front 4-2.
After Braxton Martinez pulled Rocket City within 4-3 with an RBI double in the sixth, the Tennessee bullpen had a rough go of things in the seventh, allowing four runs to fall behind 7-4. The first of those runs came on the Zach Humphreys homer while a Soto double, Martinez walk, and a wild pitch were mixed in.
Still trailing in the eighth, the Smokies offense was just getting started as they came out firing for the six-run inning. Already with a massive day in hand, Velazquez came through with an RBI single to pull the Smokies within 7-5. A Nelson Maldonado singled, and Bryce Windham walk later, and things were tied 7-7.
Tennessee wasn't ready to quit yet as Luis Vazquez delivered the game-winning knock with an RBI single to put the Smokies in front 9-7. Darius Hill would cap off the scoring with a single of his own before Carraway came in to knock down the save. Not only was Velazquez leading the way with five RBIs, but he went a perfect 4-4 at the plate. Hill added three hits from the leadoff spot and raised his average to .395.
The Smokies blaze back to win with 6 runs in the bottom of the 8th! Nelson Velazquez goes 4-4 with 2HR and 5RBI. #CubTogether #SmokiesBaseball @The_Goat1222 pic.twitter.com/N9EGx4PWxy

— Tennessee Smokies (@smokiesbaseball) April 21, 2022
The Smokies blaze back to win with 6 runs in the bottom of the 8th! Nelson Velazquez goes 4-4 with 2HR and 5RBI. #CubTogether #SmokiesBaseball @The_Goat1222 pic.twitter.com/N9EGx4PWxy

— Tennessee Smokies (@smokiesbaseball) April 21, 2022
SOUTH BEND CUBS 7 - BELOIT SKY CARP 5
On the strength of a pair of three-run innings, South Bend overcame some rough pitching to prevail 7-5. 2021 first-round pick Jordan Wicks was on the mound and allowed four runs, three earned in 3 2/3 innings of work. Wicks gave way to Dalton Stambaugh and Jeremiah Estrada as that duo allowed just one run in 5 1/3 innings of work to go with six punchouts.
Wicks saw his outing get off on the wrong foot allowing a first-inning homer to Bennett Hostetler for an early 2-0 hole. Ed Howard did his best to pull South Bend Closer with an RBI single in the second, but the Dalvy Rosario single in the third extended the lead to 4-1.
In the bottom of the third, the Cubs cashed in on their first three-run frame, with Alexander Canario unloading for his first homer to tie things up 4-4. With Cubs pen now setting the tone, it took five innings for the next run to come home, with Rosario delivering again to make things 5-4.
Hoping to respond for a second time, Matt Mervis tied things up with an RBI single in the bottom of the eighth ahead of another Howard RBI knock to give the Cubs the lead. Luis Verdugo picked up an RBI groundout later in the inning to cap off the scoring as Estraded took care of things in the ninth to secure the win.
Yohendrick Pinango continues to hit, adding three more to his total and raising his average to .333. Mervis and Howard added two hits, with Canario adding to his team-best nine RBIs.
COMEBACK CUBS!#FlyTheW pic.twitter.com/mVGGUOfMJJ

— South Bend Cubs (@SBCubs) April 21, 2022
MYRTLE BEACH PELICANS 17 - DELMARVA SHOREBIRDS 3
If you like offense, this was the game for you as the Pelicans used a 10-run inning to bust things wide open. With Tyler Schlaffer doing his thing on the mound allowing just one run on one hit through four innings with six punchouts, it was up to the offense to back him up.
Scoring runs were not an issue for Myrtle Beach, with Yeison Santana giving the Pelicans the lead for good in the second with an RBI double and stealing home on a double steal. Kevin Alcantara added to that lead with an RBI groundout in the third before adding an RBI single in the fourth mixed with a Liam Spence fielder's choice to make things 6-0 before the Darell Hernaiz homer made things 6-1.
With a comfortable lead in hand, the Pelicans were taking no prisoners and erupted for 10 runs in the sixth. What started with a bases-loaded walk to Jacob Wetzel was followed by an error extending the lead to 8-1. A Peter Matt and Miguel Fabrizio bases-loaded double made things 12-1, and a Spence sacrifice fly followed that. The Pelicans capped off that inning with Pete Crow-Armstrong going deep for the second time in as many days to push the lead to 16-1.
This INNING for @Pelicanbaseball ??

10 runs.
6 hits.
2 walks.
13 batters. pic.twitter.com/JD2pYnOGjV

— Minor League Baseball (@MiLB) April 21, 2022
Hernaiz added a second homer to his line to cap off a big day, but it was nowhere near enough with the Pelicans rolling 17-3. Myrtle Beach pounded out 15 hits, with Santana leading the way with four. James Triantos added three from the No. 8 spot, with Crow-Armstrong and Matt picking up multi-hit days.
Our most runs in EIGHT years.

Tonight was a good one. #MBPelicans pic.twitter.com/ZezKssbTtV

— Myrtle Beach Pelicans (@Pelicanbaseball) April 21, 2022