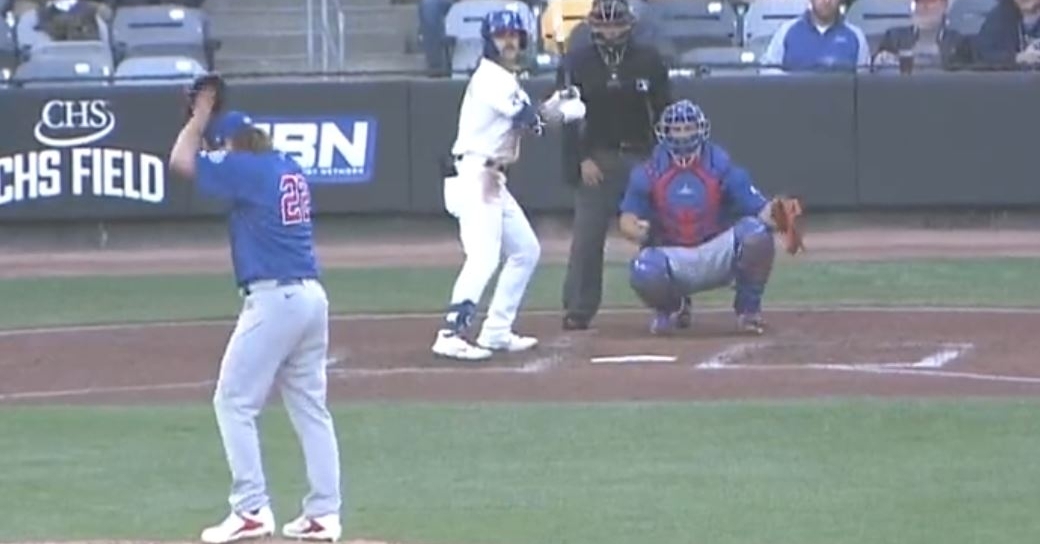 | | |
| --- | --- |
| Cubs Minor League News: Wade Miley impressive in rehab start, Made homers, PCA on fire | |
---
Although the Chicago Cubs had an off day on Thursday, there was still plenty of baseball to witness and watch as three of the four minor league teams were in action. There would have been four, but a rainout between Peoria and South Bend put an end to that as the system was hoping to continue their strong play.
What was looking like a promising start to the evening turned sour quickly as the Cubs went just 1-2 on the night. Of course, the best team in the league won their game in Myrtle Beach, but the rest of the teams suffered defeats.
SAINT PAUL SAINTS 6 - IOWA CUBS 3
Say what you want about the results in this one, but this game was far more important than results. This game could have significant implications next as Wade Miley made his season debut in a rehab start.
Miley has been dealing with elbow soreness since the beginning of spring, but you wouldn't have guessed that based on his start. Miley gave Iowa four shutout innings allowing just two hits and punching out three. He handed things off to Matt Swarmer, who was solid yet again, but the rest of the pen was not allowing six runs in their final two innings of work.
With Miley doing his thing on the mound, it was up to the offense to reward him for his work. Although it took three innings, the Cubs managed to grab the lead first, with Narciso Crook bringing home a run off a double play. That was just the beginning as Iowa pushed two more runs across the next two innings, with Greg Deichmann picking up an RBI groundout in the fourth and Dixon Machado adding an RBI double in the fifth.
Wade Miley is your @EMCInsurance Player of the Game, he struck out three batters over four scoreless frames tonight. pic.twitter.com/26AZrhEbru

— Iowa Cubs (@IowaCubs) May 6, 2022
That would be all the offense for Iowa, but it looked like enough at the time. With Eric Stout on to pitch the seventh, Mark Contreras got the party started with a leadoff triple before coming home on the Jermaine Palacios groundout. Jose Godoy added an RBI single later in the inning to pull within 3-2, but Saint Paul did most of their damage in the eighth.
Not only did Curtis Terry tie things up with an RBI double, but Elliot Soto delivered the knockout blow and cleared the bases for an RBI triple to give the Saints the 6-3 lead. They would win by that score as Iowa couldn't rally in the ninth. Ilderamo Vargas and Nelson Maldonado led the way with two hits.
Six late runs from the Saints gives them a 6-3 win in game three. pic.twitter.com/jnRavSpqGo

— Iowa Cubs (@IowaCubs) May 6, 2022
BIRMINGHAM BARONS 15 - TENNESSEE SMOKIES 6
I think it is safe to say the Barons were done with losing as they mashed the Smokies on Thursday. Riley Thompson got the start and delivered his worst outing of the season as he was charged with seven first-inning runs and didn't record an out. Peyton Remy replaced him and, despite going 4 2/3, was charged with six earned runs as the pitching was not good.
Command was an issue all start long for Thompson as he walked four batters in the first, with two of them coming with the bases loaded. Add in RBI singles from Taylor Neslony and Craig Dedelow, and the RBI triple from Neslony saw the Barons grab an 8-0 lead after one.
Alex Destino connected for a solo shot in the second, but the Smokies would not go away that easily. Sparked by a Nelson Velazquez bases-loaded walk and an RBI single from Bryce Ball, the Smokies pushed across three runs in the third to make things 9-3. Add in a passed ball in the fifth, and the comeback attempt was on with Tennessee down 9-4.
From that moment on, it was all Birmingham as a three-run shot from Lenin Sosa made things 12-4 before Neslony connected for a solo shot. One inning later, the same story as JJ Muno added an RBI double to go with the Sosa single as Birmingham held a convincing 15-4 lead. Give Tennessee a little credit as they never gave up using an eighth-inning homer from Levi Jordan and a ninth-inning single from Andy Weber to end the game 15-6. Ball was one of four players with multiple hits as he was joined by Weber, Bryce Windham, and Yonathan Perlaza, who connected for two off the bench.
PEORIA CHIEFS at SOUTH BEND (Postponed, Makeup May 7)
Tonight's game between the #SBCubs and @peoriachiefs has been postponed due to inclement weather.
The game will be rescheduled as part of a doubleheader on 5/7. First pitch of game 1 at 2:35 PM. gates open at 1:30 PM.
DETAILS ?? https://t.co/xds9f5tS6Y pic.twitter.com/COJZgUhLFe

— South Bend Cubs (@SBCubs) May 5, 2022
MYRTLE BEACH PELICANS 2 - SALEM RED SOX 1
I don't know what you can say about this Pelicans team anymore. One day they win 24-6; the next, their pitching sets the tone. Regardless, this team is 17-7 for a reason and may have the best team in Low-A.
Talk about a pitcher's duel. Taking the ball was Richard Gallardo as he opposed Angel Bastardo. Bastardo gave Salem five shutout innings and struck out three to finish on the wrong side of a no-decision. On the other hand, Gallardo went six innings and allowed just one run on six hits. He walked a pair and struck out five while lowering his ERA to 2.25 and moving to 2-0.
Ironically, the run he allowed came in the first inning when Eduardo Lopez took him deep for the solo shot to give Salem a 1-0 lead. No one thought that score would hold up, but when it was still 1-0 and heading into the sixth, you had to think there was a chance. That is when Kevin Made came through in a big way.
This has been a week of returns, with Cole Roederer returning from Tommy John on Tuesday and Made making his third appearance of the season. While Roederer has done nothing but hit since coming back, Made delivered the huge blow as his two-run shot gave the Pelicans a 2-1 lead and put Gallardo in line for the win.
MADE HOMER!

Kevin Made's first home run of the season is a two run blast to give the Pelicans a 2-1 lead in the top of the sixth. #MBPelicans pic.twitter.com/3EmAAyyFbH

— Myrtle Beach Pelicans (@Pelicanbaseball) May 6, 2022
That 2-1 score held until the ninth, but it proved to be the game-winner as Sheldon Reed over came bases-loaded one-out situation by inducing a game-ending double play to earn his third save. Made was one of three Pelicans with two hits, joining Pete Crow-Armstrong and Peter Matt.
PCA goes into the record books

With a pair of singles tonight, Pete Crow-Armstrong has improved his multi-hit game streak to six consecutive.

He's now tied for second in Pelicans history and holds the longest streak since Jared Bolden's eight-straight multi-hit games in 2011. pic.twitter.com/pDekJGQX4M

— Myrtle Beach Pelicans (@Pelicanbaseball) May 6, 2022
Kevin Alcantara and BJ Murray Jr. had the final two hits in the win.
Birds hang on!

With the bases loaded, Salem grounds into a game-ending double play in the ninth. The 12th win in our last 14 games.#MBPelicans pic.twitter.com/5kUCfKjTZq

— Myrtle Beach Pelicans (@Pelicanbaseball) May 6, 2022

Tags: Cubs Baseball
,
Wade Miley
,
Dixon Machado
,
Nelson Maldonado
,
Peyton Remy
,
Nelson Velazquez
,
Levi Jordan
,
Andy Weber
,
Yonathan Perlaza
,
Richard Gallardo
,
Cole Roederer