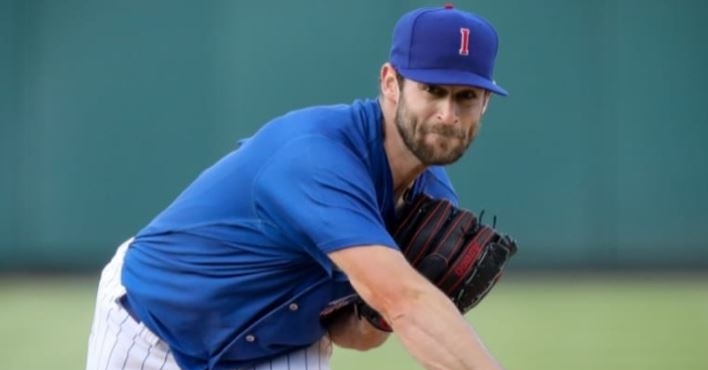 | | |
| --- | --- |
| Cubs Minor League News: Abbott impressive in I-Cubs win, Brennen Davis homers again, more | |
---
| | | |
| --- | --- | --- |
| Thursday, September 23, 2021, 12:00 PM | | |
Wednesday will be a quiet day from here on out as the Iowa Cubs will be the lone team in the organization with a game. That will also be the case on Sunday as DSL will continue to follow their Wednesday and Sunday format and use those as the team's off days.
For Iowa, their season was extended 10 games giving them two additional five-game series this year. The first of those series began on Wednesday where the Cubs hit the road for the final time this season to take on the Saint Paul Saints. This is a team that the Cubs have struggled with this season, but for once, they were able to play well enough to win, topping the Saints 4-1.
After struggling most of the season, Cory Abbott is starting to look like the 2019 organizational pitcher of the year and one who could be pitching his way into a big-league start before the season is over. You would never guess that based on his 5.91 ERA, but across his last five starts, his ERA is under 2.5, and Abbott is starting to figure things out.
His strong run continued Wednesday as he gave the Cubs 5 2/3 innings of work, allowing just one run on three hits to go with five strikeouts. Abbott has sacrificed some of his strikeouts in recent outings to pitch much better as he now moves to 5-6 on the season with the win. Ethan Roberts followed him and was the first out of the pen, giving the Cubs a pair of scoreless innings with three strikeouts.
Stud Left-hander Scott Kobos continued his fantastic season this year, tossing just 1/3 of an inning. Still, in 23 innings of work this season, the lefty has posted a 0.29 ERA with 12 walks and 29 Strikeouts across four levels of minor league baseball this season. Jason Adam was the final arm called on out of the pen as he struck out a pair of Saints hitters in the ninth to secure the save.
From an offensive side of things, the Cubs wasted no time getting started in the first, with Ian Miller using a leadoff walk to get on base before advancing to third on the Brennen Davis single.
Davis has now hit safely in all seven of the AAA games he has played in and continues to show why he is a top 10 prospect in all of baseball.
The very next pitch that followed that single saw Miller hustle home as a wild pitch put the Cubs in front 1-0, and they never let go of that lead. Following that run in the first, the Cubs offense was at it again in the second, looking to put the Saints in an even bigger hole. Andrew Romine did his part starting things off with a single before the Erick Castillo walk had a pair of runners on with no outs.
Following the Miller pop-out that had the Saints on the verge of getting out of the inning without allowing a run, Davis made sure that wouldn't happen as he connected for his fourth homer in just seven AAA games to put the Cubs in front 4-0. That homer proved to be the difference as many MLB analysts are wondering what took so long to get Davis up in AAA.
Brennen Davis...YOU. ARE. RIDICULOUS!!

The outfielder just hit his fourth home run in his seventh Triple-A game to give us a 4-0 lead over St. Paul. pic.twitter.com/iHZW93wSqV

— Iowa Cubs (@IowaCubs) September 23, 2021
Despite pitching in and out of traffic during the game's early stages, Abbott did what he needed to do and managed to keep the Saints offense in check through five innings as they still hadn't crossed home. That was until the sixth when Abbott started to run out of gas, and the Saints offense used that to their advantage to make something happen.
With one down in the inning, Abbott walked Tomas Telis and Gilberto Celestino, putting a pair of runners on base, but a strikeout sandwiched between had him on the verge of escaping without further damage. Marty Peavey elected to go with Roberts in this situation, and he immediately gave up an RBI single to Ben Rortvedt to make things 4-1 before another single by Jimmy Kerrigan had the bases loaded.
Fortunately for Roberts and the Cubs, he was able to get out of that situation without allowing another run and the Cubs pitching took care of the rest as they took down the Saints 4-1. Davis continues to be a hitting machine in his brief time, with AAA leading the way with a pair of hits to go with three RBIs as he is now hitting .444 in seven games.
Abiatal Avelino, Jared Young, and Romine added the remaining three hits as the Cubs managed just five hits, but capitalized on those chances. Greg Deichmann suffered a hitless night and is hitting just .227 since being acquired at the trade deadline. With the rest of the Cubs, full-season leagues finished for the season, we expected to see some more players moved up to AAA and Christopher Morel was one. After leading AA Tennessee in homers and RBIs this season, Morel made his AAA debut Wednesday, going hitless with a strikeout, but he did manage a walk in the win.
Starting off the Final Stretch the right way! pic.twitter.com/85n2uqhu7H

— Iowa Cubs (@IowaCubs) September 23, 2021