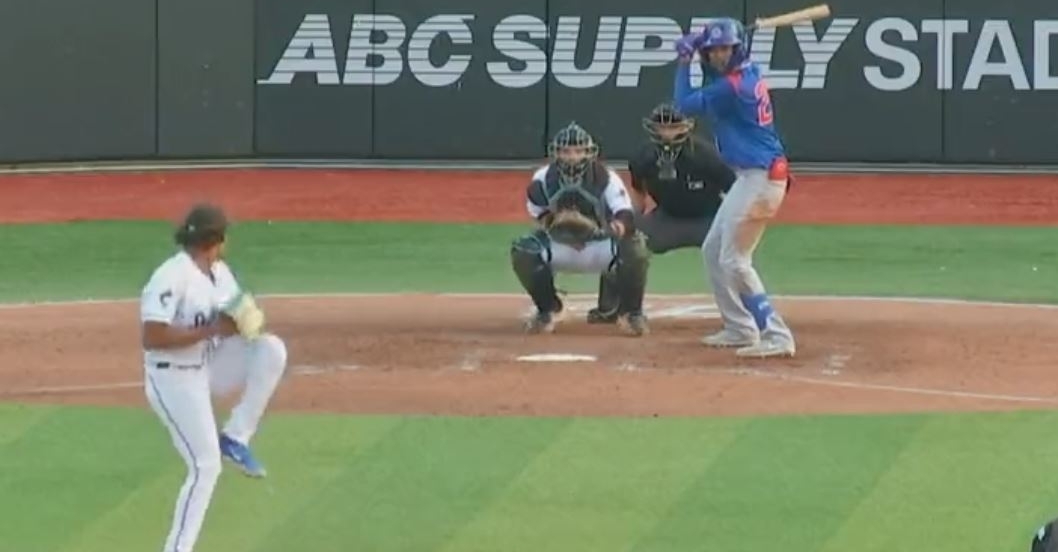 | | |
| --- | --- |
| Cubs Minor League News: Alcantara impressive, Wicks pitches gem, Murray raking, more | |
---
| | | |
| --- | --- | --- |
| Saturday, May 20, 2023, 11:14 AM | | |
Friday was a bit lighter of a night on the diamond as Mother Nature postponed Iowa's game. That left three affiliations playing Friday night, as all three were looking to do some damage on the diamond. Overall, the results were positive, with the Cubs posting a 2-1 record that saw some great pitching and explosive offensive performances.
Still, some teams are struggling right now, and it will take some serious soul-searching for them to turn it around. The best part of the Minor League season is that apart from AAA, the minor league season is split into two halves, so you could have a bad first half and a great second half and still make the playoffs. Making the playoffs is the goal for the entire organization, as three of their four teams remain in a great spot.
IOWA CUBS at INDIANAPOLIS INDIANS (Postponed, DH 5/20)
Tonight's game at Indianapolis has been postponed due to inclement weather. We will play a doubleheader tomorrow night with game one schedule for 5:15 pm CT. 📝⬇️ https://t.co/H03qohC7eQ

— Iowa Cubs (@IowaCubs) May 19, 2023
TENNESSEE SMOKIES 5 - PENSACOLA BLUE WAHOOS 1
When the Smokies went on their postseason run before falling to Pensacola in the Championship, they did it in an unconventional way as all of their wins came on the road. That included a win at Pensacola as the Smokies continue to battle where they won their final game a season ago.
Things didn't start well for the Smokies in this series, but they have turned it on and are now on the verge of winning a huge series. Left-hander Jordan Wicks was back on the mound as he continued to do what he had done the past month. Wicks was dominant on the hill giving the Smokies five innings of one-run, two-hit ball. He walked none and struck out five as his ERA stands at 2.55.
The Jordan Wicks FB/CH combo, as viewed from the left side of the mound. Brutal. pic.twitter.com/PoXswn3e6g

— Itsacon (@thats_so_cub) May 20, 2023
Once Wicks left, Michael Ryan turned to his pen as they continued to the job. With the combination of Chris Kachmar, Blake Whitney, and Ben Hecht, the Smokies pen silenced the Blue Wahoos while the offense took care of the rest. Despite the score looking one-sided, things were close early as Luis Palacios gave Pensacola five strong innings of his own.
Tennessee opened the scoring in the second with the Pablo Aliendo RBI single before making things 2-0 in the third on another Chase Strumpf homer. Apart from that, things were very quiet early on, with the lone run-off of Wicks coming in the fifth.
Troy Johnston provided all of the Pensacola offense as his solo shot pulled them within 2-1, but that was it for them offensively.
Immediately following that homer, the Smokies offense got going again and put the game away in the sixth. Nelson Maldonado can be credited with that, as his two RBI double made things 4-1. BJ Murray Jr capped off the scoring in the eighth with another homer, as he has now reached base in 27 straight games. Murray Jr and Strumpf did the most damage as they combined for five of the team's seven hits. Murray Jr had three, with Strumpf adding two.
BJ Murray Jr consecutive on-base streak: 27 games. pic.twitter.com/ekCjHqnmX9

— Itsacon (@thats_so_cub) May 19, 2023
BJ Murray Jr now 2-2 tonight. Everything he's hitting is finding a hole. pic.twitter.com/WOf02nbZz7

— Itsacon (@thats_so_cub) May 20, 2023
Go ahead and crown BJ Murray Jr the Cubs minor league player of the month. 3rd hit of the night: pic.twitter.com/qvCIoXKdZU

— Itsacon (@thats_so_cub) May 20, 2023
BJ Murray, @BJMurray14, goes 3 for 3 with a homer and Jordan Wicks, @jordan_wicks99, moves to 3-0 on the season as the Smokies top the Wahoos. #SmokiesBaseball #NextStartsHere #BestYearEver pic.twitter.com/PMGNbhTIGB

— Tennessee Smokies (@smokiesbaseball) May 20, 2023
SOUTH BEND CUBS 13 - BELOIT SKY CARP 5
You want to talk about a team capitalizing on their chances. That would be South Bend, as two massive innings led to 12 runs which was more than enough offense in this one. Tyler Santana got the start and continues to impress as he delivered his best start of the season. Santana gave the Cubs five shutout innings and allowed just one hit with three punchouts.
Ezequiel Pagán: not just another pretty swing. pic.twitter.com/99OYEIyThm

— Itsacon (@thats_so_cub) May 20, 2023
Offensively, things got off to a slow start for both teams, but once the third inning started, the Cubs scored 12 times to bust things wide open.
Announcer: "If they both score here we're going to be in trouble." Ezequiel Pagán obliges. pic.twitter.com/9RbzTkjZND

— Itsacon (@thats_so_cub) May 20, 2023
Five of those runs came in the third as the Cubs opened up an early 5-0 lead. A wild pitch and an error led to the first runs coming home before the Bryce Ball single made things 3-0. The Cubs capped off that inning with a Scott McKeon double, putting the Sky Carp in a tough spot.
As if five runs in the fifth wasn't good enough, why not add 12 in the fourth, as the South Bend offense showed no signs of letting up? Kevin Alcantara kicked that inning off with a two-run triple and then came home on a two-run double by Ezequiel Pagan as the Cubs led 9-0.
Kevin Alcántara triple.
That's the tweet.#SBCubs | #NextStartsHere pic.twitter.com/gCEz3Nv5qw

— South Bend Cubs (@SBCubs) May 20, 2023
Another McKeon double pushed the lead to 11-0 with a wild pitch making things 12-0 heading into the bottom of the fourth.
It took Beloit six innings to break through, but with Brad Depperman on the mound in relief of Santana, the Sky Carp used a massive inning of their own to at least show some signs of life. A passed ball and bases-loaded walk aided the first two runs in the sixth, with a Jacob Berry double bringing home two more to make things 12-4. Davis Bradshaw got in on the fun with an RBI single to close out the five-run inning, but the Sky Carp still trailed 12-5.
That would be all the offense they would generate on the evening as the Cubs added a late game run on a bases-loaded walk to Ball to close things out 13-5 and picked up another big win. McKeon and Ball provided a lot of the thunder in this one, as they had three hits and a combined six RBIs.
Scott McKeon 2-RBI double!
After 4 innings, #SBCubs lead 12-0.
Yes.... 12-0. pic.twitter.com/QIBcgnSdpX

— South Bend Cubs (@SBCubs) May 20, 2023
McKeon had four, with Ball adding two. You also had Pagan and Alcantara add multi-hit games while combining for five additional RBIs between them.
BOOM! Back within half a game of 1st place! pic.twitter.com/Rd8uedyfby

— South Bend Cubs (@SBCubs) May 20, 2023
AUGUSTA GREENJACKETS 8 - MYRTLE BEACH PELICANS 1
While things were mostly good on Friday, there was some bad, and that came from the Pelicans. Things could be better for them right now, as they can't hit consistently, and their pitching has gone South. You started to see this during the second half of last season, as they are the one team that needs a mental reset.
Jackson Ferris continues to be brought along slowly and tossed two scoreless frames. A good inning from Jordan Holloway followed that before the bottom fell out on Brandon Noriega. With Noriega struggling to contain the Augusta offense, things became much easier for Owen Murphy on the mound as the 2022 first-pick got through five innings.
Murphy allowed one run across those five innings with five strikeouts, with that run coming in the first. With Christopher Morel doing his thing in the majors, it is his brother Rafael trying to make a name for himself in High-A as Morel took Murphy deep in the first for an early 1-0 lead. That was not only the only run Murphy allowed but the only run the Pelican's offense scored as Augusta closed the game with eight unanswered runs.
The first of those runs came on the Jeremy Celedonio single in the third to bring things to even before taking the lead for good in the fourth. Dawson Dimon picked up what was the game-winning single to make things 2-1, while an error made things 3-1. Augusta kept the pressure on Noriega and added three more runs in the fifth to bust the game open.
All three runs came on one swing, with Celedonio belting a three-run shot to make things 6-1 and put the game out of reach. Augusta added a solo shot from Ethan Workinger and a Tyler Collins RBI single to close out the scoring as they took care of the Pelicans 8-1.
The Pelicans managed just three hits, with Miguel Fabrizio adding two with the Morel homer. Celedonio led Augusta with three hits and four RBIs in the win.

Upgrade Your Account
Unlock premium boards and exclusive features (e.g. ad-free) by upgrading your account today.
Upgrade Now

Tags: Cubs Baseball
,
Jordan Wicks
,
Chris Kachmar
,
Ben Hecht
,
Pablo Aliendo
,
Chase Strumpf
,
Nelson Maldonado
,
Tyler Santana
,
Scott McKeon
,
Kevin Alcantara
,
Ezequiel Pagan
,
Christopher Morel