| | |
| --- | --- |
| Cubs Minor League News: Avelino rakes in I-Cubs loss, Sanders impressive, Perlaza with 3 h | |
---
| | | |
| --- | --- | --- |
| Sunday, August 22, 2021, 12:00 PM | | |
The more, the merrier is starting to become the theme down on the farm for the Cubs. Not only were all seven teams in action, but several teams continue to make up games from earlier in the season, with more on the horizon later this week and into next week. You also have both DSL teams facing off as they do every Sunday.
With eight games initially scheduled to get played, that number dropped to six as another team saw their contest get rained out with the expectation to get played on Sunday. Also, take in two teams playing each other, and the Cubs came away with a 2-4 record on the evening where they could have had a chance at .500 or better.
SAINT PAUL SAINTS 7 – IOWA CUBS 4
The Saints have the Cubs number, at least in this series, they do as they continue to make quick work of Iowa. After spending all season in AA, Luis Lugo made his AAA debut and had a rough go of things allowing six runs in just four innings of work. He did strikeout five as fellow AA teammates Brendon Little, and Ryan Kellogg joined him, with Tony Cingrani finishing things out.
Even with Lugo's struggles on the mound, the Cubs were able to keep things close most of the early going, with Trayce Thompson giving Iowa a 1-0 lead in the first with an RBI double. Still holding a 1-0 lead in the third, Jose Miranda connected for a two-run shot to put the Saints in front, only to see Jared Young answer with his first AAA homer in the fourth as Iowa was back in front 3-2.
The fifth inning is when everything changed for Lugo as he began the inning on the mound, but was unable to finish it. With the bases loaded, Mark Contreras cashed in with an RBI single that not only gave the Saints a 4-3, but put them in front for good. Drew Maggi picked up an RBI groundout to extend the lead to 5-3 before a wild pitch made it 6-3 as all those runs were charged to Lugo.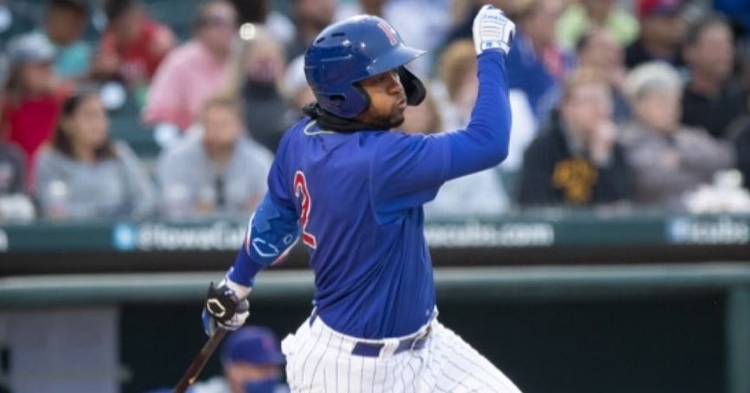 Abiatal Avelino did his best to keep things close in the seventh, picking up an RBI double to pull within 6-4. Unfortunately, the Cubs didn't get any closer, with Saint Paul adding a sacrifice fly shortly after and picking up a 7-4 win. Avelino is the one player who continues to hit Saints pitching well as he led the way with two hits. Thompson, Jordan, Jared Young, and Alfonso Rivas all had hits, with Greg Deichmann struggling with another hitless day.
Final from St. Paul. pic.twitter.com/RVD83ThbIG

— Iowa Cubs (@IowaCubs) August 22, 2021
BIRMINGHAM BARONS 2 – TENNESSEE SMOKIES 1 (game 1)
In what was a scheduled doubleheader following an early series rain out, the Barons and Smokies were locked into a pitcher's duel with Birmingham coming out on top 2-1. This was disappointing when you think about it, especially when looking at the start Cam Sanders put together. The righty went six innings, allowing two runs to go with seven hits. Unfortunately, the Smokies offense couldn't get much done offensively as they fell.
Both runs surrendered by Sanders came early in the game as he settled in nicely after the third. JJ Muno put the Barons in front for good with an RBI single to center in the second, only to see Yolbert Sanchez deliver the game-winning solo shot in the top of the third. Tennessee was held in check through five innings until Tyler Payne delivered their lone RBI with a sacrifice fly before falling by that 2-1 score.
Tennessee managed just four hits in the loss, with Chase Strumpf leading the way with two. Nelson Maldonado and Andy Weber picked up the remaining two hits in the loss, while Brennen Davis and Nelson Velazquez went hitless.
TENNESSEE SMOKIES vs. BIRMINGHAM BARONS (Game 2 Postponed rescheduled for Sunday)
Tonight's second game has been postponed. It will be made up in a Double Header tomorrow with the first game starting at 1:00pm. Gates open at 12:00pm. It's also a Trucker Hat giveaway day presented by Pepsi for the first 1,000 fans! #SmokiesBaseball #GoSmokies pic.twitter.com/87bwgZfTWM

— Tennessee Smokies (@smokiesbaseball) August 22, 2021
SOUTH BEND CUBS 4 – QUAD CITIES RIVER BANDITS 2
Things haven't gone well for the Cubs over the early stages of this series, but they finally made their fans happy with a solid 4-2-win Saturday. Anderson Espinoza was on the bump for the Cubs as he twirled five strong innings of shutout ball to earn his first win. Espinoza allowed just one hit to go with seven strikeouts in the victory.
With both teams held scoreless through three innings, the Cubs managed to not only strike first in the fourth but took the lead for good. Tyler Durna got things started with an RBI single before coming home to score on the Bryce Windham single later in the inning to put South Bend in front 2-0. It took Quad Cities six innings to get on the board, with John Rave continuing his great series with an RBI single, cutting the deficit in half 2-1.
Fortunately for South Bend, their offense had an answer to that run, with Windham connecting for the game-winning homer to make things 3-1. Luis Vazquez added an RBI single later in the sixth, building their lead to 4-1. Rave capped off the scoring for both sides with a second RBI single, but it wasn't enough as the Cubs picked up a 4-2 win.
There was plenty of offense to go around with nine hits, but it was Yonathan Perlaza who led the way with three. Durna and Windham added two hits of their own, with Vazquez and Liam Spence rounding out the hits. Alexander Canario and Bryce Ball went hitless.
FAYETTEVILLE WOODPECKERS 5 – MYRTLE BEACH PELICANS 4
Not only did the Pelicans drop another game to the Woodpeckers, but they dropped it in walk-off fashion. To make matters worse, Fayetteville pushed across all five of their runs after the seventh inning as the bullpen was not at their best.
DavidJohn Herz continues to be a victim of many of those late-game meltdowns as he put together another great outing.
Herz was nothing short of spectacular despite going just four innings, scattering one hit, and walking three. He struck out 10 hitters in his outing, giving him four outings with at least 10 punchouts this season.
And that is a new CAREER-HIGH 10 STRIKEOUTS for @DavidjohnHerz in his hometown.

This guy is a dude. pic.twitter.com/dEiW1A7PJH

— Myrtle Beach Pelicans (@Pelicanbaseball) August 21, 2021
Given the way he was pitching, it was only a matter of time until the offense backed him up, and that came in the third inning as a wild pitch put the Pelicans in front. Peter Matt added an RBI single later in the third as the Pelicans led 2-0.
Myrtle Beach doubled their lead in the fourth as Jonathan Sierra and Jacob Wetzel added RBI singles to stretch the lead to 4-0. With Herz now out of the game, that lead would hold until the sixth, but it was all Fayetteville after that. In the sixth, a Justin Williams double started the comeback effort before the Nerio Rodriguez single cut the deficit in half 4-2.
Two innings later saw Rodriguez come through again with another single as the Woodpeckers were within 4-3 and one inning to go. With Bailey Reid looking to close things out, Fayetteville had other ideas as Michael Sandle doubled home the tying run to pull even 4-4. A handful of pitchers later saw Jordan Brewer come through as his RBI single capped off the comeback in walk-off fashion.
Once again, the Pelicans top of the order was huge, with Kevin Made and Yohendrick Pinango collecting two hits each. Josue Huma added two hits from the ninth spot, with Sierra and Wetzel collecting the other hits. Jordan Nwogu suffered a hitless day, but did take two walks.
Herz strikes out 10 in his hometown.

Woodpeckers walk off winners.

Series finale tomorrow at 2. #MBPelicans pic.twitter.com/mFarXxu7rm

— Myrtle Beach Pelicans (@Pelicanbaseball) August 22, 2021
ACL CUBS 6 – ACL ATHLETICS 2 (game 1)
It isn't two often you have games rained out in Arizona, but this season seems like it has had more than ever. Saturday was another case of that as the Cubs and Athletics played a doubleheader with the Cubs taking game one. Luis Devers had another positive outing on the mound allowing two earned runs in 3 2/3 innings while striking out six. Flame thrower Darius Valdez returned to the mound tossing a scoreless inning of relief in his rehab stint.
Devers got off to a rough start as the first inning appeared to be his issue. Not only did an error allow for the Athletics first run to score, Nick Bruiser doubled the lead and put the Athletics up 2-0. The rest of the game was all Cubs, and that started with the Miguel Fabrizio homer in the bottom of the second to tie things up 2-2. The Cubs finished them off in the fifth when Yeison Santana singled home a pair to go up 4-2 before the Reggie Preciado triple capped off a four-run fifth lifting the Cubs 6-2.
ACL ATHLETICS 15 – ACL CUBS 3 (game 2)
The second game of their doubleheader was a much different story as the Cubs had a rough go of things. Even with Owen Caissie putting the Cubs in front with an RBI double in the first, the Athletics wasted little time not only taking the lead but busting things wide open.
Most of their damage came in the third inning when they pushed across seven runs to take a 7-1 lead. George Bell and Jhoan Paulino collected RBI singles that contributed to three runs, but the Cubs pitching did them no favors walking in a pair of runners to go with a bases-loaded hit by pitch. Fast forward to the fifth, and the Athletics continued to go about their business with Jose Mujica and Bell, each going deep to make things 10-1.
The scoring barrage continued for the Athletics as they continued to make life difficult for Cubs, pitching pushing across five more runs the next two innings to build a 15-1 lead. Even though they were getting crushed on the scoreboard, the Cubs didn't just pack it in as Ismael Mena ended the game on a positive, picking up a two-run single to make things 15-3.
Even though the Cubs had just three runs, they somehow connected for 12 hits, with James Triantos leading the way with three. Caissie, Mena, and Edgar Camargo added multi-hit games, with Flemin Bautista, Malcom Quintero, and Rafael Morel picking up the rest of the hits.
DSL CUBS BLUE 3 – DSL CUBS RED 2
If you have been following our Minor League recap series, you will see that Sunday in the DSL is a Cubs vs. Cubs matchup. This time around, DSL Blue took the win as they improved to 12-13 on the season. A total of 12 pitchers were used in the nine-inning game, six coming from each side as most of them pitched well during their appearances.
For DSL Blue, it was in the second inning when they grabbed the early lead with Joanfran Rojas grounding into a force out only to have an error aide two runners to score for an early 2-0 lead. Red wasted little time battling back in the bottom of the second as a double play may have killed the rally, but it at least brought home a run to make things 2-1.
That score would hold until the eighth inning when Blue cashed in with the winning hit. That hit came off the bat of Jerry Torres as his RBI single pushed across the winning run with Blue in front 3-1. Just like in the second when Blue scored the game's first runs, Red had an answer in the bottom of the eight as Brayan Altuve picked up a single to pull Red within 3-2. Unfortunately for his team, that was the final run of the day as DSL Blue held off DSL Red for the 3-2 win.

Tags: Cubs Baseball
,
Luis Lugo
,
Brendon Little
,
Ryan Kellogg
,
Jared Young
,
Abiatal Avelino
,
Alfonso Rivas
,
Cam Sanders
,
Chase Strumpf
,
Nelson Maldonado
,
Andy Weber
,
Brennen Davis
,
Nelson Velazquez
,
Tyler Durna
,
Luis Vazquez
,
Yonathan Perlaza
,
Jonathan Sierra
,
Josue Huma