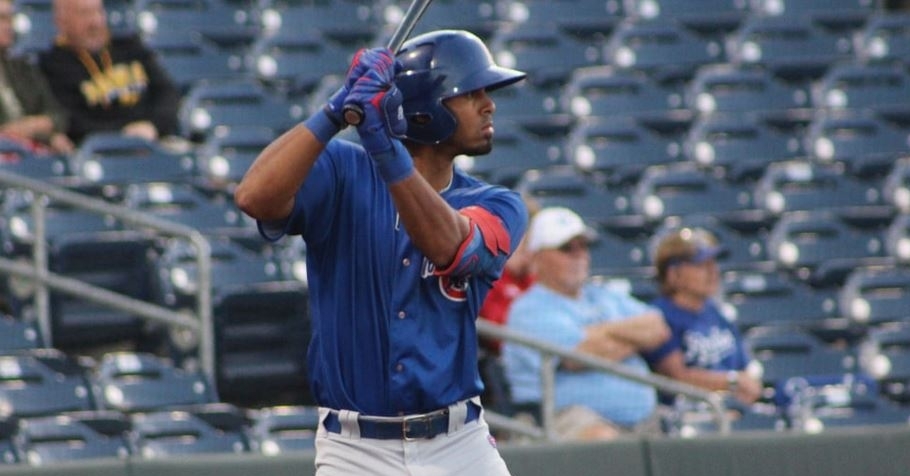 | | |
| --- | --- |
| Cubs Minor League News: Brennen Davis with two homers for Iowa, Kevin Made impressive, mor | |
---
| | | |
| --- | --- | --- |
| Wednesday, September 15, 2021, 2:43 PM | | |
We have reached the final stretch for much of Minor League Baseball, but that doesn't mean it is time to shy away from what they are doing. With six games on the docket Tuesday night, there was plenty of action to go around, but Iowa stole the show.
After it was announced that the AAA season would get extended an extra 10 games, the Cubs felt the need to promote their top prospect as Brennen Davis is now a part of the Iowa Cubs. His debut was everything the Cubs were hoping for and more which we will get into in a minute. The rest of the organization went about their business as the results are what the fans have come to expect this season.
IOWA CUBS 8 – OMAHA STORM CHASERS 1
With Ryan Kellogg making another start, the Iowa Cubs got plenty of offense and dominated the high-powered Storm Chasers 8-1. Kellogg continues to give the Cubs quality starts despite not going a ton of innings as he allowed just one run on three hits in four innings of work.
In the first inning, Iowa wasted no time getting the scoring going, with Abiatal Avelino connecting for an RBI single to give Iowa the 1-0 lead. Omaha was able to pull even in the bottom of the first off, the Nick Pratto sacrifice fly, as
that was not only the lone run Kellogg allowed, but the lone run for the Storm Chasers in the game.
Moving to the second inning, Cubs fans witnessed an exciting inning, and something they hope happens very frequently in the near future. Davis did what you would expect him to do in his first AAA at-bat as he pummeled a ball over the left-field fence to make things 2-1 Iowa.
New level? No problem!

Brennen Davis homers in his first Triple-A at-bat. pic.twitter.com/mKVikg9wMV

— Iowa Cubs (@IowaCubs) September 15, 2021
Nico Hoerner continued his rehab assignment and picked up an RBI double to push the lead to 3-1 before Greg Deichmann ripped an RBI single to make things 5-1 Cubs. All three of those players figure to be significant pieces for the Cubs in the near future, so this was exciting to see.
As if one homer wasn't good enough, why not make it two as Davis doubled up and hit his second homer in as many at-bats to extend the Cubs lead to 7-1 in the third.
No update on the fan in left field, but Brennen Davis did in fact hit his second home run of the night.

The Chicago Cubs' No. 1 prospect is now 2-for-2 with two home runs in his Triple-A debut. pic.twitter.com/HBblFMQfLB

— Iowa Cubs (@IowaCubs) September 15, 2021
Another Deichmann single in the fourth inning capped off the scoring as the Cubs rolled 8-1. Deichmann led the offense with three hits to go with his three RBIs, with Davis adding a pair of homers and three RBIs. Andrew Romine continues to see the ball well, adding two hits of his own, and is now hitting .303 with Iowa.
We got it done tonight in game one against Omaha! pic.twitter.com/pDj4hVoMoy

— Iowa Cubs (@IowaCubs) September 15, 2021
TENNESSEE SMOKIES at BILOXI SHUCKERS (Cancelled: rain)
As of now, there are no plans to make this game up as both teams are eliminated from playoff contention and will have their seasons end on Sunday.
That's a wrap on the 2021 Smokies home season. Thank you for making it a great one, fans! We will see you in 2022! #SmokiesBaseball #GoSmokies pic.twitter.com/6ZHmZs7V8F

— Tennessee Smokies (@smokiesbaseball) September 12, 2021
QUAD CITIES RIVER BANDITS 5 – SOUTH BEND CUBS 4
Wins have been hard to come by for South Bend lately, but it isn't like they are not trying. Across their series with Beloit and now with Quad Cities, the Cubs have battled their opponents to the end only to lose the game late. That was once again the case Tuesday as Eduarniel Nunez allowed a ninth-inning run to give the River Bandits a walk-off 5-4 win.
Jordan Wicks made his third start as a pro, and for the first time, he suffered a rough outing. After not allowing a run over his first two starts, Wicks was hit hard in his 1 2/3 innings, allowing three runs on four hits to go with one strikeout. He gave way to Tyler Santana, who, despite walking five and striking out three, tossed 4 1/3 scoreless innings before Hunter Bigge and Nunez closed out the game.
As good as Wicks has been over his first two starts, he was allowing too much contact, and that finally came back to bite him here. John Rave ripped an RBI triple to center field with a pair of runners on base, giving Quad Cities a 2-0 lead. Looking to keep pace early, Jake Slaughter ended a long homerless drought with his second homer of the season, tying things up 2-2.
The River Bandits continued to keep the pressure on and make things difficult for Wicks as they retook the lead in the bottom of the second 3-2 as Rubendy Jaquez connected for an RBI single. Still trailing 3-2 in the sixth, South Bend was able to pull even once again, with Bryce Windham cashing in with an RBI double to make things 3-3. Windham wasn't done having a great day as he collected his third hit in the eighth, bringing home another run to give the Cubs a 4-3 late.
After Bigge uncorked a wild pitch that allowed Quad Cities to tie things up in the eight, Nunez was called on to pitch the ninth in hopes of extending the game. Instead, Nunez couldn't get the job done, allowing a Rave single to lift the River Bandits 5-4. Windham had a great night at the plate leading the way with three hits and two RBIs. Slaughter picked up two hits to go with his two RBIs, with Tyler Durna and Yohendrick Pinango grabbing two hits.
Bryce Windham has three-hit day but Cubs fall in walkoff fashion. pic.twitter.com/FKaRhRPin8

— South Bend Cubs (@SBCubs) September 15, 2021
AUGUSTA GREENJACKETS 5 – MYRTLE BEACH PELICANS 4
Unlike the South Bend, who let the game get away late, the Pelicans started their final homestand of the season in losing fashion as a late-game comeback attempt came up just short. Richard Gallardo was on the bump, and despite going 4 2/3 innings, it was not a good outing. Not only did he allow 10 hits, but all five runs were charged to him as he continues to go through the growing pains of a young pitcher. Carlos Ocampo, Sheldon Reed, and Frankie Scalzo Jr pitched the final 4 1/3 innings allowing just two hits with seven punchouts.
Not only did the Justin-Henry Malloy RBI ground out, giving the Greenjackets the lead for good in the first, but a Christian Robinson doubled that lead in the second for the 2-0 advantage early. That score would hold until the fifth inning when Bryson Horne and Robinson added RBI singles to push the Greenjackets lead to 5-0. Robinson had three RBIs leading the way on offense for both sides.
It took five innings for the Pelicans offense to get going, but things started to look up once they did. Kevin Made got the Pelicans on the board with an RBI double in the fifth as his strong second half of the season continues. One inning later saw the Pelicans pull within 5-4 on a trio of RBI doubles as Jonathan Sierra, Ed Howard, and Josue Huma all struck the ball well.
With a shot to win the game in the ninth, Made reached base with a one-out single before a two-out single by Owen Caissie, and a walk to Casey Optiz loaded the bases. Needing a hit to win the game, Jacob Wetzel came away empty-handed as his strikeout ended the threat and ended the comeback effort of the Pelicans.
Birds fall short in series opener. We'll be back tomorrow for game two. #MBPelicans pic.twitter.com/wkEyzYFH95

— Myrtle Beach Pelicans (@Pelicanbaseball) September 15, 2021
Made was the lone player with multiple hits for Myrtle Beach, as he led the way with two hits and an RBI. Caissie, Opitz, Sierra, Huma, and Howard had the rest of the hits, while Cristian Franklin took three walks from the leadoff spot.
ACL CUBS 13 – ACL ANGELS 1
If the Cubs are going to make the playoffs, they need to have a great final week of the season, and winning 13-1 certainly helps. Led by a pitching staff that allowed just one hit while striking out 11, the offense came to life and put a whopping on the Angels. Jason Adam earned his second win in relief as he continued to rehab from an early spring injury.
The lone run the Angels scored came in the second inning as an error on a pickoff attempt allowed for the go-ahead run to score, making things 1-0. From that moment on, it was all Cubs as they scored 13 unanswered runs to close out the game, with seven of those coming in the second inning. Acquired from the Pittsburgh Pirates in the Duane Underwood JR deal over the winter, Shendrik Apostel has had a quiet 2021 season, but broke out with a two-run double to give the Cubs a 2-1 lead.
Apostel came around to score on the Christian Olivo RBI single before RBI singles from Kevin Alcantara, and Juan Mora had the Cubs up 7-1 in the second. One inning later saw the Cubs offense continue to keep the pressure on with Apostel and Ezequiel Pagan picking up RBI singles mixed with an Olivo RBI groundout to extend the lead to 10-1. The Cubs capped off the scoring in the fourth when Yovanny Cuevas cleared the bases with a bases-loaded triple as the Cubs rolled 13-1.
Apostel was one of four players with two hits joining Malcom Quintero, Pagan, and Alcantara. Apostel also added three RBIs, as did Cuevas, as the Cubs offense was alive and well on Tuesday.
DSL CUBS RED 4 – DSL TIGERS 2
While wins have been few and far between for the CUBS DSL league teams, they have been playing better lately, including a 4-3 win yesterday. The Tigers grabbed the 1-0 lead in the first as Kenyi Perez uncorked a wild pitch, gifting the Tigers a quick run. Fortunately for the Cubs, they were able to even things up in the second, with Andrews Cruz picking up an RBI groundout in the second to make things 1-1.
In the bottom of the second, the Tigers continued to keep the pressure on, with Cristian Santana ripping an RBI double to make things 2-1. That lead didn't last long as Moises Ballesteros picked a great time to hit his first homer of the season to give the Cubs a 3-2 lead in the third. The Cubs added to their lead in the fifth inning off a wild pitch and went on to win by that 4-2 score.
After cooling off for a couple of weeks, Pedro Ramirez got right back to hitting, picking up two hits and bringing his average to .361 on the season. Elias Fabian added a pair of hits from the bottom third of the lineup, with Ballesteros grabbing that final hit with his homer.
DSL CUBS BLUE 3 – DSL ROYALS 0
Tuesday was a rare day in the DSL as both Cubs teams came away with wins. For Blue, it was all about pitching as three pitchers combined to allow two hits in a 3-0 shutout win. The first of those pitchers was starter Samuel Rodriguez who went five innings and allowed both hits. He may not have gotten the win, but he lowered his ERA to 2.50 in what has been a great season so far.
Anthony Mendez picked up his fourth win of the season in relief, tossing a scoreless sixth to lower his ERA to 2.93 while Michael Arias collected his third save of the season. Not only did the Cubs pitch well, but so did the Royals, as they kept the Cubs scoreless through five innings. That was until the sixth when a Wally Soto walk, and Frank Hernandez extended the inning as the Cubs had a chance for a two-out rally. They made sure to cash in on that chance with Leonel Espinoza connecting for his sixth homer of the season to give the Cubs the 3-0 win.
Espinoza led the way with a pair of hits and all three RBIs in the win as four others had a hit in the game. Cristian Hernandez, Frank Hernandez, Jerry Torres, and Oscar Hernandez had hits as Cristian Hernandez is hitting a .303.

Tags: Cubs Baseball
,
Brennen Davis
,
Ryan Kellogg
,
Abiatal Avelino
,
,
Eduarniel Nunez
,
Hunter Bigge
,
Tyler Durna
,
Richard Gallardo
,
Jonathan Sierra
,
Josue Huma
,
Jason Adam
,
Duane Underwood
,
Yovanny Cuevas