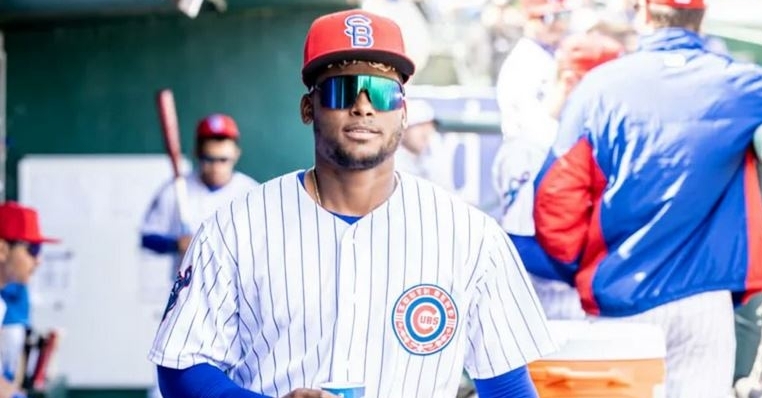 | | |
| --- | --- |
| Cubs Minor League News: Canario blasts two bombs, Slaughter homers, Verdugo raking, more | |
---
| | | |
| --- | --- | --- |
| Monday, June 27, 2022, 10:34 AM | | |
Playing .500 baseball will not make you a playoff team, but you will have days or weeks where you don't reach your potential. For the Cubs minor league system, results were better than their 2-5 showing on Saturday, but they still only managed to go 2-2 and will now have a day off to recover and get ready for next week.
LOUISVILLE 10 - IOWA CUBS 5
If it weren't for the seven-run sixth inning that the Bats put together, Iowa would have ended the week on a positive note. That was not the case, as the Bats doubled up the Cubs with that big inning.
Making his first start since returning to AAA was Caleb Killian, who had mixed results. From a positive side of things, his one walk and seven strikeouts showed that he still has the command everyone is talking about. However, giving up three runs in three innings was not good as he gave way to Cam Sanders and Ben Leeper, who struggled.
Killian put the Cubs in an early hole by allowing a home run to Jose Barrero in the first inning and then two more runs in the second, giving Louisville the 3-0 lead. Fortunately for him, the Cubs offense bailed him out in the fourth inning as their offense started to get things rolling.
Greg Deichmann got the Cubs on the board with a sacrifice fly before Dixon Machado, Jackson Frazier, and Darius Hill delivered RBI singles to make things 4-3 Iowa. Erick Castillo reached on an error in the sixth inning, allowing for another run to cross, but after that, it was all Louisville who ended the game with seven unanswered runs.
All seven of those runs came in one inning, with three homers doing the trick. Taylor Motter and Stuart Fairchild connected for solo shots while Alejo Lopez unloaded for a grand slam to make things 10-5. Lorenzo Cedrola added an RBI single in that inning to put away the Cubs. Machado led the way with three hits while Hill added two.
Final from Louisville Slugger Field. pic.twitter.com/n170amMRhi

— Iowa Cubs (@IowaCubs) June 26, 2022
TENNESSEE SMOKIES 7 - CHATTANOOGA LOOKOUTS 1
It took long enough, but the Smokies finally put together a dominating performance on Sunday against the Lookouts. With the offense putting up seven runs and Peyton Remy giving the Smokies five innings of one-run ball, it was more than enough for another Tennessee win.
The long ball played a massive role in the Smokies success, with Jake Slaughter going deep in the first and Alexander Canario going deep in the second for the 2-0 lead.
Jake Slaughter puts the Smokies on the board early with a solo shot in the bottom of the first! pic.twitter.com/0PDoRC5Ymf

— Tennessee Smokies (@smokiesbaseball) June 26, 2022
Alexander Canario with a boomerang home run! Smokies lead 2-0. pic.twitter.com/oBy41UPQlU

— Tennessee Smokies (@smokiesbaseball) June 26, 2022
An RBI single by Luis Vazquez in the fourth mixed with a Cam Balego RBI walk put the Smokies up 4-0 as the game was practically over by then.
The lone run of the day for the Lookouts came in Remy's last inning of work when Eric Yang took him deep for a solo shot. The Smokies closed the game with three more runs, two coming off Matt Mervis RBIs, while Canario added his second solo shot of the day.
No. 18 @Cubs prospect Alexander Canario doubles down on jacks for @smokiesbaseball. pic.twitter.com/P1Q2QOk3VJ

— Minor League Baseball (@MiLB) June 26, 2022
Canario paced the offense with three hits, while Slaughter and Yonathan Perlaza added two.
SOUTH BEND CUBS 10 - PEORIA CHIEFS 7
Anchored by a six-run inning that helped South Bend overcome rough starting pitching, the Cubs picked up a series win against the Chiefs with a 10-7 victory. Manuel Espinoza took the ball and was roughed up for four runs in just 3 2/3 innings. He gave way to Bailey Reed, who struggled in his 2/3 innings, while Walker Powell, Eduarniel Nunez, and Zac Leigh gave South Bend 4 2/3 scoreless frames to end the game.
Not only did Peoria strike first with a Luis Rodriguez singled in the second, but L.J. Jones belted a two-run shot in the third to extend the lead to 4-0. Pete Crow-Armstrong put South Bend on the board with an RBI groundout in the bottom of the third before Fabian Pertuz added a solo shot to make things 4-2.
In the fourth inning, the Cubs offense came to life as they took the lead for good and didn't look back. Luis Verdugo started things off with a game-tying RBI single before Scott McKeon put them in front for good with another single. Crow-Armstrong added another RBI single ahead of the game-winning Pertuz single, had South Bend up 8-4, capping off a six-run frame.
Looking to keep things close, Peoria responded with a three-run fifth anchored by the Carlos Soto two-run single to pull within 8-7. That would be as close as they would get, with Verdugo capping off the scoring with a two-run shot in the bottom of the fifth to lift the Cubs 10-7. Verdugo had a great day collecting a team-high three hits with four RBIs. Owen Caissie and Pertuz added three hits, with Pertuz collecting three RBIs.
KANNAPOLIS CANNON BALLERS 6 - MYRTLE BEACH PELICANS 1
Although it was another series win for the birds, the Pelicans ended the week on a two-game skid. Despite solid pitching for most of the game, Kannapolis used a five-run frame to bust things open and never looked back.
That big inning was more than enough for Tommy Sommer, who allowed just one run in six innings of work with eight punchouts. On the flip side, you have to feel for Richard Gallardo, who received little to no help. Sure, allowing five runs in 3 2/3 innings is never good, but none of those runs were earned, making his line look a ton better.
The lone run off of Sommer came in the fourth inning, and it also gave the Pelicans a 1-0 lead as Felix Stevens connected for an RBI double. With two down in the bottom of the fourth, a costly Pelicans error extended the inning and opened the flood gates for five unearned runs.
Samil Polanco tied things up with an RBI groundout before the Victor Torres single put the Cannon Ballers up for good. The big blow that inning was the bases-loaded double by Wilber Sanchez, and just like that, it was a 5-1 game. Kannapolis would add to that lead in the fifth when Wilfred Veras unloaded for a solo shot, and that was the final score with the Pelicans falling 6-1. Kevin Alcantara and Stevens led the way with two hits.
We take four of six against the Cannon Ballers.

Heading back to Myrtle for a six-game set against Charleston starting on Tuesday.#MBPelicans pic.twitter.com/IRj0t0GGre

— Myrtle Beach Pelicans (@Pelicanbaseball) June 26, 2022

Tags: Cubs Baseball
,
Cam Sanders
,
Dixon Machado
,
Darius Hill
,
Erick Castillo
,
Peyton Remy
,
Alexander Canario
,
Luis Vazquez
,
Cam Balego
,
Yonathan Perlaza
,
Eduarniel Nunez
,
Richard Gallardo