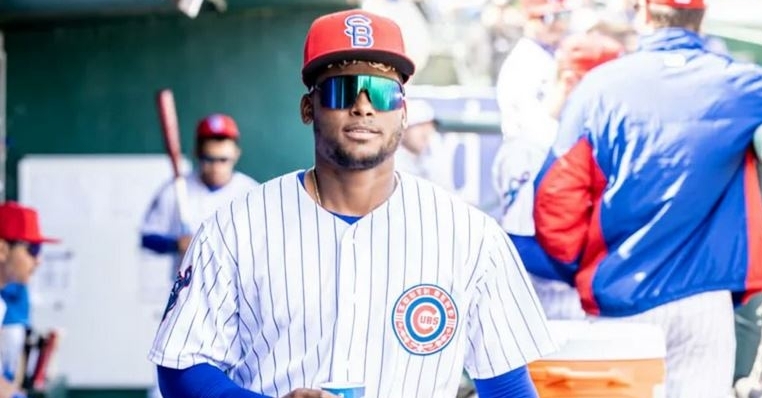 | | |
| --- | --- |
| Cubs Minor League News: Canario, Weber, Optiz with two homers each | |
---
| | | |
| --- | --- | --- |
| Monday, August 22, 2022, 9:54 AM | | |
What better way to end a Minor League week than by going 3-1 in overall play? To make things better, the three wins came from the teams either in the postseason or fighting for the postseason, which is all you can ask for at this point.
With the A-Ball season down to their final three weeks with AA shortly behind them, Cubs fans should start to pay attention in the coming weeks. Not only will one team be in postseason play for sure, but there is a real possibility that three of their minor league teams are playing in the playoffs. With Rookie League play ending on Tuesday, some names like Cristian Hernandez and Brennen Davis could be on the move to help some of these teams out.
INDIANAPOLIS INDIANS 8 - IOWA CUBS 2
The lone team not to win on Sunday was AAA Iowa, but that shouldn't be a surprise. This team played well up until early June, but has gone 16 games under .500. For whatever reason, the Cubs went with a bullpen game as Dakota Mekkes started and was one of six pitchers used.
Jeremiah Estrada was the final pitcher used, and he was the only one not to allow a run as he still hasn't allowed an earned run in AAA. With Mekkes on the mound, not only did the Indians take the lead for good on the Hoy Park homer in the first, but a wild pitch in the second made things 2-0.
Iowa kept things close in the game's early stages, with Greg Deichmann picking up an RBI double in the fourth to tie things up 2-2. In terms of offense, that would be it for the Cubs, as Indianapolis ended the game with six unanswered runs. Two of those runs came in the bottom of the fourth, with three more coming in the fifth as Brendt Citta RBI single and the Carter Bins two-run shot did most of the damage.
Citta capped off the scoring with a sacrifice fly in the seventh as the Indians rolled to a series win on Sunday. Iowa had five hits in the game, with Darius Hill leading two. He is hitting .341 with Iowa this season. Deichmann, Tyler Payne, and Narcisco Crook had the other three hits.
Final from Victory Field. pic.twitter.com/7RbT1flPYT

— Iowa Cubs (@IowaCubs) August 21, 2022
TENNESSEE SMOKIES 13 - BIRMINGHAM BARONS 5
Things did not start well this week, but the Smokies did manage to finish things on a positive note. With their dominating win on Sunday, the Smokies are just one game behind Rocket City for the divisional lead, but, more importantly, lead this Barons team by four games for the second-half playoff spot.
Although not at his best, Ben Brown did pick up his second win in a Smokies uniform lasting five innings and allowing three runs. He struck out seven with no walks before Chris Clarke finished things off for the rare four-inning save. It was a big day for Alexander Canario, who put the Smokies in front for good with his two-run blast in the first.
RBI doubles by Raudy Read in the first, and Alex Destino tied things up, but another long ball from the Smokies in the third put them back in front with Jake Slaughter connecting for this one. Once again, the Barons had an answer as Read kept things close with a homer of his own to tie things up 3-3.
From that point on, it was all Smokies which started with the go-ahead Jake Washer single in the fourth. One inning later saw Canario unload for his second homer of the game and 31st on the season to open things up 7-3, with Andy Weber adding a homer of his own to make things 8-3.
Ninth-ranked @Cubs prospect Alexander Canario continued to flex his power with two home runs through the first five innings for @smokiesbaseball ?? pic.twitter.com/M8xQDuUMDW

— Minor League Baseball (@MiLB) August 22, 2022
Weber was not done as he connected for a three-run homer in the seventh to extend the lead to 11-3, giving him his first multi-homer game of the season. Add in doubles by Cole Roederer and Slaughter, and the Smokies took a 13-3 lead into the eighth inning before the Barons scored twice off Clarke to fall 13-5. Slaughter led the way with three hits, while Weber, Canario, Roederer, and Nelson Maldonado had two.
SOUTH BEND CUBS 4 - BELOIT SKY CARP 3
Remember when the Cubs were riding a six-game losing streak and fell into a tie for first? Well, that seems to be a thing of the past as the Cubs won the final five games against Beloit to open a five-game lead in the division and are 30-18 in the second half.
South Bend received another great effort from Daniel Palencia, who tossed four scoreless frames with six punchouts. He gave way to a somewhat shaky bullpen, but Adam Laskey was able to play stopper to pick up the win while Dalton Stambaugh grabbed the save.
Despite taking the loss, Luis Palacios gave Beloit a strong outing as he struck out eight South Bend hitters in six innings while allowing all four runs. The first of those runs came on a Fabian Pertuz homer in the first, with Casey Opitz going deep in the second to make things 2-0.
It took six innings for Beloit to break through, and with just one swing, Dalvy Rosario brought things back to even as his two-run shot made things 2-2. Multi-homer games were a theme on Sunday as Opitz picked up his first career multi-homer game to provide the Cubs with the winning runs as they took a 4-2 lead into the seventh.
We crushed 3 more @hoosierlottery homers in today's 4-3 win over Beloit!

Featuring Fabian Pertuz and Casey Opitz (x2). pic.twitter.com/4s4OvPN7xj

— South Bend Cubs (@SBCubs) August 21, 2022
2nd pro game at first base for @CaseyOpitz and he makes this gem of a double play, yesterday's @LavenInsurance Defensive Play of the Game! pic.twitter.com/nlCOiXUFRi

— South Bend Cubs (@SBCubs) August 22, 2022
Although Michael McAvene struggled with his command and allowed an eighth-inning run, the Cubs still held on for the victory and have given themselves some breathing room in the division. Opitz joined Yeison Santana with two hits, while Pablo Aliendo, Pertuz, and Jonathan Sierra grabbed the remaining hits.
Casey Opitz Day.@CaseyOpitz homered twice, made the play of the day on defense, and chatted with @BKingSports after the win. pic.twitter.com/U5wHcu9tNJ

— South Bend Cubs (@SBCubs) August 21, 2022
Home sweet home. pic.twitter.com/ZELekfr21j

— South Bend Cubs (@SBCubs) August 21, 2022
MYRTLE BEACH PELICANS 7 - DOWN EAST WOOD DUCKS 1
It may not have been a good week or even a great second half for the Pelicans, but things ended in dominant fashion for the Pelicans. Looking to back the recently acquired Saul Gonzalez, the Pelicans offense woke up for seven runs, including three in the eighth inning, to take the win.
Gonzalez lasted just two innings as the Pelicans used four different pitchers, with three of them giving the team two innings or more. One of the hottest hitters on the team is Liam Spence, and with one swing in the second, he put Myrtle Beach in front for good 2-0 with his third homer of the season.
The lone run for Down East came later in that inning when Junior Paniagua went deep for a solo shot to make things 2-1. The Pelicans continued to keep the pressure on in the early innings, with Parker Chavers picking up an RBI single in the third, with James Triantos adding one in the fourth to make things 4-1.
That score would hold until the eighth inning, when Kevin Alcantara opened what would be a three-run eighth inning with another RBI single. Juan Mora added a sacrifice fly later in the inning, but a costly error on that same play allowed for an additional run to score as the Pelicans took the 7-1 lead and won by that score as the rain ended things in the eighth inning.
When he bats leadoff, Alcantara has been one of the better hitters, and he was at it again with three hits. Spence added two hits, with five other players picking up one hit for the birds.
Finished the week strong.

Birds win a rain-shortened series finale. Back in Myrtle next week.#MBPelicans pic.twitter.com/yqpwU0gP9Y

— Myrtle Beach Pelicans (@Pelicanbaseball) August 21, 2022

Tags: Cubs Baseball
,
Brennen Davis
,
Dakota Mekkes
,
Jeremiah Estrada
,
Darius Hill
,
Alexander Canario
,
Andy Weber
,
Cole Roederer
,
Nelson Maldonado
,
Daniel Palencia
,
Adam Laskey
,
Dalton Stambaugh
,
Fabian Pertuz
,
Casey Opitz
,
Michael McAvene
,
Yeison Santana
,
Pablo Aliendo
,
Jonathan Sierra
,
Parker Chavers
,
James Triantos
,
Kevin Alcantara
,
Juan Mora