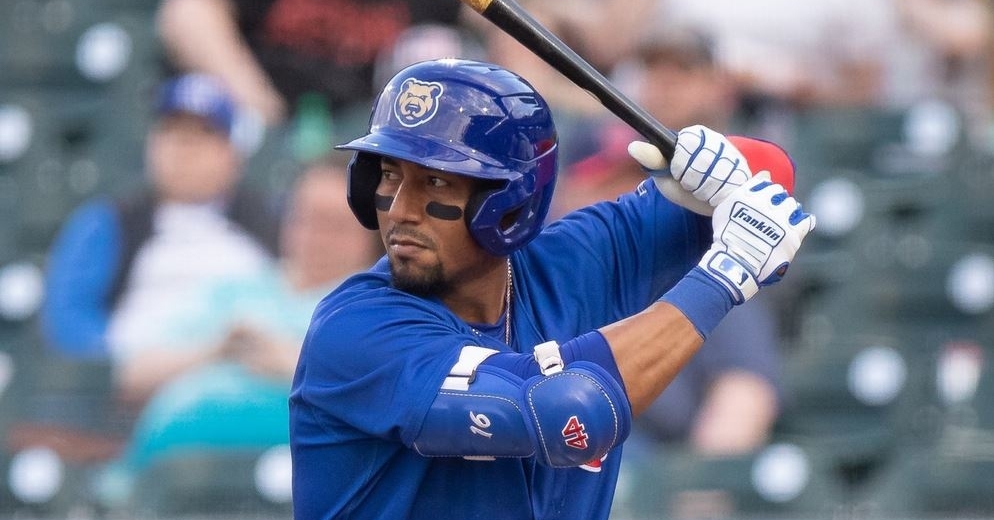 | | |
| --- | --- |
| Cubs Minor League News: Garcia rips two homers in I-Cubs win, SB with walk-off win, more | |
---
| | | |
| --- | --- | --- |
| Monday, April 25, 2022, 11:07 AM | | |
It would be nice to see the Cubs organization come up with a clean sweep one of these days. After trying for several weeks, the Cubs minor league system has seen several 3-1 nights and is still looking for a perfect night on the diamond.
Sunday was another one of those occurrences where the Cubs saw the system go 3-1 and continued to win games at an elite clip. This has been lacking in the system for the better part of the last two years, so to see all four organizations competitive again bodes well for the future.
IOWA CUBS 8 - LOUISVILLE BATS 4
Although most of their runs came later in the game, Iowa could still take the series from the Bats and doubled them up on Sunday. Robert Gellman not only continued his strong showing in AAA by giving Iowa five innings, but allowed his first earned run of the season as his ERA sits at 0.69.
His outing was more than good enough as the Iowa offense backed him and the pen with plenty of support. After being held scoreless for two innings, the Cubs cashed in during the top of the third when the suddenly hot Ilderamo Vargas connected for his fourth triple of the season to make things 1-0. Vargas came home to score later in that inning off the Jared Young sacrifice fly to put them in front 2-0.
Louisville answered with a run on the Allen Cordoba single to pull within 2-1 before Robel Garcia extended the lead to 3-1 with a solo shot. Two innings later, Garcia was at it again as he connected for his second homer of the game, with this one being a three-run to put the Cubs up 6-1.
With things well in hand during the top of the seventh, Iowa capped off their scoring on the Donnie Dewees RBI single, followed by a P.J. Higgins sacrifice fly to extend the lead to 8-1. Louisville managed to get three runs across the final few innings, but it wasn't enough to overtake Iowa. The Cubs tallied nine hits, with Higgins, Garcia, and Vargas grabbing a pair.
Got it done. pic.twitter.com/QPLc69q6Bq

— Iowa Cubs (@IowaCubs) April 24, 2022
ROCKET CITY TRASH PANDAS 6 - TENNESSEE SMOKIES 4
Despite the scoreline, things were much closer early on, which you have to credit Javiar Assad for that. The left-hander gave Tennessee five innings of two-run ball, but neither of them were earned. He gave way to Danis Correa, who got lit up for three runs in the sixth before Scott Kobos, Eury Ramos, and Burl Carraway kept Rocket City quite late.
Like Iowa, this game had a deadlocked 0-0 score until Braxton Miller ripped a two-run shot off Assad in the top of the third to take a 2-0 lead. Not only did Tennessee answer in the bottom half of the third with the Christopher Morel two-run shot, but Chase Strumpf added his third homer of the season in the fourth to put the Smokies on top 4-2.
Once Assad left after five innings, things went south for Tennessee, with most of that damage coming with Correa on the mound in the sixth. Correa had plenty of traffic to work around, but induced a double play to nearly get out of the jam with the team up 4-3. Correa then saw the lead completely evaporate when Jose Gomez connected for a two-run shot to make things 5-4. Rocket City added to that lead with a wild pitch in the seventh as they managed to hold on for the 6-4 win. Nelson Maldonado picked up three more hits to raise his average to .436.
The Smokies split the series with the Trash Pandas. Off to Chattanooga. pic.twitter.com/0KkvqkOVsF

— Tennessee Smokies (@smokiesbaseball) April 24, 2022
SOUTH BEND CUBS 5 - BELOIT SKY CARP 3
There were some late-game fireworks in South Bend on Sunday as the Cubs used a three-run ninth inning to walk off the Sky Carp. Max Bain made a rare start, but gave South Bend four strong innings allowing two runs as his ERA sits at 3.75. Chris Clarke relieved him and gave the South Bend four innings of relief as he allowed one unearned run to go with three strikeouts.
Third inning scoring was a trend all day long, with South Bend striking first on a Jake Washer solo shot to put South Bend on top 1-0. That homer was followed by a homer from Beloit as Cody Morissette connected for his second home of the season to the Sky Carp in front 2-1.
With Clarke now on to work the fifth, Beloit extended their lead to 3-1 as a throwing error by Washer on a Stolen base attempt led to a run-scoring. Fortunately for Washer, he would get his revenge late, but the fifth inning single by Luis Verdugo brought South Bend within 3-2.
Still trailing by one and heading to the bottom of the ninth, South Bend was down to their last chance. What started with a leadoff walk to Alexander Canario quickly turned south as Canario was nailed at home plate trying to score on the Fabian Pertuz double.
Ed Howard kept things alive by working a walk to set things up for Washer with two outs in the inning. Already with one homer in the game, Washer needed just two pitches to hit his second as he crushed a walk-off three-run shot to give the Cubs a 5-3 win. Washer led the way with three hits and four RBIs, with Pertuz and Verdugo grabbing two hits.
SUNDAY FUNDAY WALK-OFF! pic.twitter.com/Jn2ylJ6rYY

— South Bend Cubs (@SBCubs) April 24, 2022
MYRTLE BEACH PELICANS 7 - DELMARVA SHOREBIRDS 4
Sparked by a four-run first inning, the Pelicans backed their pitching staff which was enough to carry them to another win. Even with a big lead, Luis Devers struggled to put the Shorebirds away as he allowed four runs in four innings of work. He gave way to possibly the best pitcher in the system right now as Riley Martin secured his first win and gave the Pelicans three scoreless frames to go with seven punchouts. His ERA is now 0.68, and he has 4BB and 27K in under 14 innings.
Riley Martin doing Riley Martin things.@Riley_Martin16 strikes out the side in the fifth, still tied 4-4 heading to the sixth. pic.twitter.com/5fGD8pYbIM

— Myrtle Beach Pelicans (@Pelicanbaseball) April 24, 2022
Malcolm Quintero played a huge part in the four-run first as his two-run double gave the Pelicans the lead for good 2-0. After an error pushed across another run, Ezequiel Pagan capped off the four-run frame with an RBI single to make things 4-0.
One inning later saw the Delmarva comeback attempt begin with Josue Cruz picking up an RBI single to make things 4-1 before a three-run third tied things up 4-4. The Greg Cullen two-run triple pulled them within 4-3 before he came home to score on the Isaac Bellony grounder.
Looking to retake the lead in the sixth, Juan Mora cashed in with an RBI single to make things 5-4 before an error allowed Jacob Wetzel to reach and pushed a second run across. Myrtle Beach would add another run later to secure the 7-4 win.
After this week, it's pretty clear.

Pelicans are the better water birds.

Myrtle Beach takes five of six in Delmarva. #MBPelicans pic.twitter.com/rs89lENlvU

— Myrtle Beach Pelicans (@Pelicanbaseball) April 24, 2022