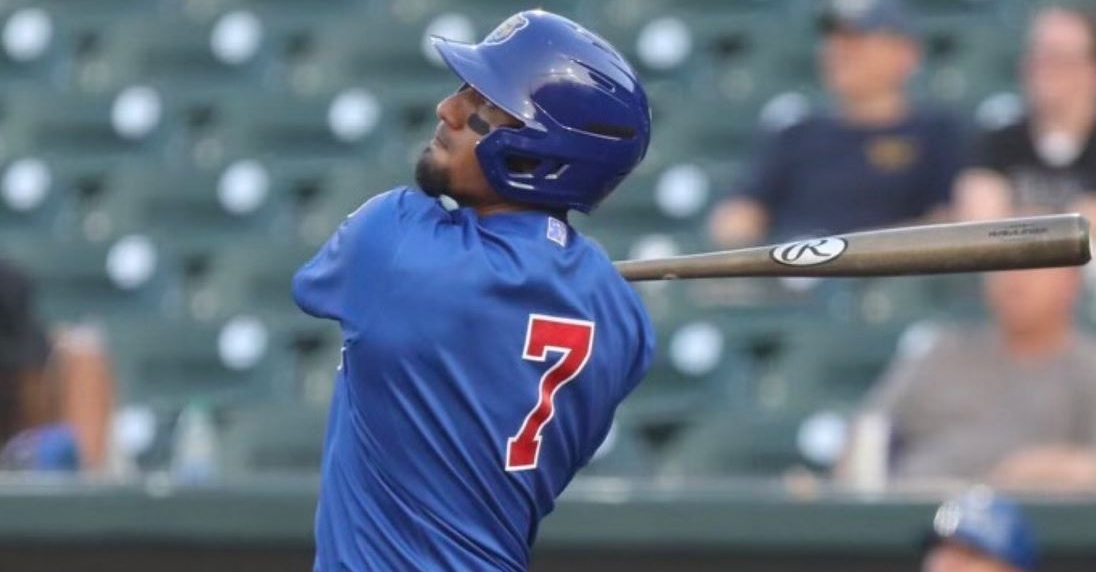 | | |
| --- | --- |
| Cubs Minor League News: Garcia with two homers, Mervis with walk-off homer, more | |
---
| | | |
| --- | --- | --- |
| Wednesday, May 11, 2022, 12:12 PM | | |
The wins continue to pile up for the Cubs minor league system as they posted another strong 3-1 showing. Once again, Myrtle Beach was the surprise loser, but that doesn't take away from what this organization has accomplished so far.
All four of the Cubs minor league teams are sitting at .500 or better, with three of them above that mark. Iowa is the lone team that doesn't have a winning record right now, but even at .500, it is nice to see the organization care about minor league wins right now, which is something they didn't care about in years past.
IOWA CUBS 5 - OMAHA STORM CHASERS 2
One of the best teams in AAA last season, and one that gave the Cubs fits was Omaha. It is refreshing to see a lot of that team no longer with the team, and the Cubs capitalized on that last night.
Matt Swarmer made the start and was nothing short of lights out. In 5 2/3 innings, Swarmer was charged with two earned runs, but only allowed one hit. He walked two and struck out 10 to lower his ERA to 2.17. Opposing him was Daniel Mengden, who was equally as good. Across his five innings, Mengden allowed just one run on four hits despite battling through command issues.
Neither team had much of anything going through three innings, which all changed in the fourth. That was not only the inning Swarmer allowed his lone hit, but his lone runs with Vinny Pasquantino going deep to make things 2-0. Continuing to turn back the clock to 2019, Robel Garcia stays red-hot as his solo shot brought things to 2-1.
It's always a good night to beat the @OMAStormChasers ?? pic.twitter.com/2glM4G5tdQ

— Iowa Cubs (@IowaCubs) May 11, 2022
Two innings later saw Tyler Payne cash in as his RBI single brought things back to even 2-2. Looking to add to an already great game, Garcia went deep for a second time in the seventh, giving the Cubs the lead for good 4-2.
Ro-Bomb #2 of the night for the lead! pic.twitter.com/I6U5UlKTVi

— Iowa Cubs (@IowaCubs) May 11, 2022
John Hicks added a homer late in the game to cap off the scoring in the Cubs 5-2 win. With his three hits and team-high three RBIs, Garcia is now hitting .279. Dixon Machado also gave the Cubs a multi-hit effort, but the 4-4 day from Payne earns some recognition.
It's always a good night to beat the @OMAStormChasers ?? pic.twitter.com/2glM4G5tdQ

— Iowa Cubs (@IowaCubs) May 11, 2022
TENNESSEE SMOKIES 8 - MONTGOMERY BISCUITS 4
The suddenly surging Smokies are playing great baseball and continued that by doubling up the Biscuits. Brandon Leibrandt wasn't particularly strong in his start, allowing three runs in four innings. However, the bullpen was outstanding as they allowed one run on just two hits, with that run coming late.
Home runs played a considerable role in this game early as the first six runs were all scored via the homer. First, it was Greg Jones crushing a two-run shot to give Montgomery the lead. Then it was Yonathan Perlaza in the second to tie things up before Luis Vazquez gave the Smokies their first lead in the third. That lead didn't last long, with Kameron Misner going yard in the fourth to pull even again 3-3.
The home run ball continued to play a massive role for Tennessee the rest of the way as all, but one of their runs came via the home run. With Bryce Windham giving the Smokies the lead for good with a fourth-inning sacrifice fly, Chase Strumpf came through with the game-winning knock as his three-run shot extended the lead to 7-3. Later on, in the eighth inning saw Levi Jordan get in on the fun as his solo shot extended the lead to 8-3. Montgomery would add a solo shot of their own in the ninth, but still fell by an 8-4 score.
Strumpf was one of four players to record multiple hits while leading the way with three RBIs. Andy Weber, Jordan, and Vazquez also had two hits in the win.
Perlaza, Vazquez, Strumpf, and Jordan all homer in a 8-4 victory over Montgomery. You could say we "shelled" them on Peanut Free Night. ?? pic.twitter.com/evA8V0thAK

— Tennessee Smokies (@smokiesbaseball) May 11, 2022
SOUTH BEND 9 - FORT WAYNE TIN CAPS 7
In the most exciting game of the night, South Bend continued to capitalize on their seven-game homestand, winning a highly competitive game. It took a late-game homer from Owen Caissie to flip the momentum, and the Cubs did the rest.
The Cubs couldn't have asked for a much worse start to their game as Kohl Franklin and Joe Nahas were charged with all seven runs in six innings. Franklin is continuing to build up his arm after missing two seasons, but the organization needs to turn him loose at some point.
The Tin Caps not only struck first, but struck for three first-inning runs on a trio of RBI doubles from Robert Hassell, Joshua Mears, and Angle Solarte. Despite Matt Mervis putting South Bend on his back early to deliver a solo shot in the second and an RBI single in the third, South Bend was still trailing before the Tin Caps started to open things up.
Corey Rosier picked up an RBI single in the fourth to push the lead to 5-2, followed by the Jack Stronach homer in the sixth to bust the game wide open at 7-2. That is when things started to change in favor of South Bend, and all it took was one swing.
After putting on a show in Arizona last summer and then in his brief stint with Myrtle Beach, Caissie has had a tough go of things in High A thus far. The 20-year-old outfielder continues to battle, and that hard work paid off with his first homer of the season. This was not just an ordinary homer. This was a Grand Slam that brought the Cubs within 7-6 and gave them all the momentum they needed.
Luis Verdugo continued that momentum swing with a game-tying single in the eighth before the Cubs gave the fans something to really cheer about. With two down and a runner on base in the ninth, Mervis stepped to the plate and came through with his second homer of the day and his second walk-off shot of the season as the Cubs came back 9-7.
A MATT MERVIS WALK-OFF BOMB WINS IT!

The #SBCubs have won 7 in a row, and this @hoosierlottery home run was the dagger over Fort Wayne in the 9th.

The Comeback Cubs do it again! pic.twitter.com/LAekKDAEa5

— SBCubs Fly The WWWWWWW (@SBCubs) May 11, 2022
Both Mervis and Caissie finished with four RBIs, but Mervis led the way offensively with three hits. Fabian Pertuz gave the Cubs another multi-hit game in a 10-hit performance. Cole Roederer made his return to South Bend only to go 0-5 with two strikeouts.
FLY THE W!!

WALK-OFF MATT MERVIS! pic.twitter.com/FlJOJFa28H

— SBCubs Fly The WWWWWWW (@SBCubs) May 11, 2022
CHARLESTON RIVER DOGS 7 - MYRTLE BEACH PELICANS 3
As good as the Pelicans have been this season, they may have found their match as Charleston has an identical 19-9 record. In what could be a crucial series in terms of first-half playoff standings, it was the Riverdogs cruising to the 7-3 game one win.
Coming off arguably his best start of the season was Luke Little as he hit the mound again. Little wasn't as fortunate this time as he allowed five runs on five hits in just two innings, but only two earned runs. Take that away, and the rest of the day was pretty good, with Jake Reindl and John Oquendo keeping the Riverdogs scoreless across the final four innings.
While the end of the game was good, this game was decided in the first three innings as Charleston came out hot. Singles by Mason Auer in the first and Shane Sasaki in the second gave the Riverdogs a 2-0 lead, and they would never look back.
The third inning is when the Riverdogs began to pull away, with Auer adding a second RBI single to push home a pair. The Pelicans would commit a costly error on that same play, which led to another run coming home and a 5-0 Charleston lead.
Down 7-0 in the fifth after the Riverdogs added a pair, it was time for the Pelicans offense to come to life and hopefully make a comeback. BJ Murray Jr. did his part by going deep for the second time to end the shutout.
Over everything!@BJMurray14 | #MBPelicans pic.twitter.com/WyHGk9siMt

— Myrtle Beach Pelicans (@Pelicanbaseball) May 11, 2022
Pete Crow Armstrong would add an RBI single later in the fifth as the Pelicans were within 7-2.
Unfortunately for Myrtle Beach, their offense stalled out after the sixth and wasted a golden opportunity at that. On the strength of three walks mixed with a wild pitch, the Pelicans brought home another run and were one hit away from making this a game. That hit never came, and Myrtle Beach had to settle for the 7-3 defeat. Five different Pelicans had a hit in the game, with those coming from Murray Jr, Crow-Armstrong, James Triantos, Ezequiel Pagan, and Kevin Made.
Came up short tonight.#MBPelicans pic.twitter.com/2FgXwEWTQP

— Myrtle Beach Pelicans (@Pelicanbaseball) May 11, 2022