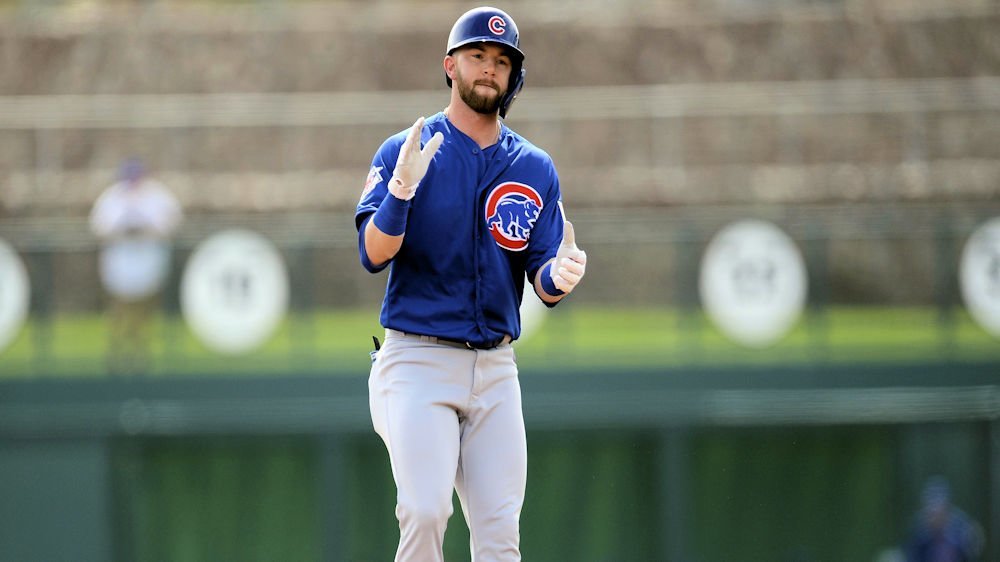 | | |
| --- | --- |
| Cubs Minor League News: Giambrone homers in I-Cubs loss, Bautista impressive, more | |
---
| | | |
| --- | --- | --- |
| Friday, June 25, 2021, 5:00 PM | | |
While the Cubs excited fans with a combined no-hitter, that was about the brunt of the excitement on the night as the Cubs went 0-4 on the farm. Some of the teams put together a competitive night on the diamond, while others struggled to get much going. Regardless of results at this point, keeping tabs on key prospects is especially important for a Franchise that will need some new faces sooner rather than later.
OMAHA STORM CHASERS 8 – IOWA CUBS 6 (7 Innings)
Even though the Cubs dropped a weather-shortened game to Omaha last night, you have to give them some credit. They are facing the best team in the league and have done a great job hanging with them from start to finish. Mike Hauschild made his second AAA start of the season and got lit up as he was charged with eight runs in 3 2/3 innings. The Cubs didn't help him out too much either, as only three of those eight runs were earned.
Down 2-0 in the third after Omaha pushed across runs in the first two innings, the Cubs dug themselves a big hole as an error not only pushed across the game's third run, but left the inning open for more. Omaha made Iowa pay as Anderson Miller took Hauschild deep for a grand slam putting Iowa in a 7-0 hole. Edward Olivares added a solo shot in the fourth as Omaha was on cruise control 8-0.
Give the Cubs some credit. They refused to back down without a fight and clawed their way back into the game. Since being inserted into the lineup a little over a week ago, Trent Giambrone has been playing well as he opened the scoring for Iowa with an RBI single. Tony Wolters and his single followed that up before an Ian Miller groundout, and Dee Strange-Gordon single had Iowa within 8-4 after four.
One inning later saw Giambrone continue his great game as he ripped a line drive over the left-field fence for the two-run shot to make things 8-6. Giambrone has always had big-time power as he led Iowa in homers the past two seasons. However, just when momentum started going Iowa's way, mother nature stepped in as severe weather forced the game to be called early, with Iowa coming up two runs short.
Giambrone was one of three players to have multi-hit nights, joining Michael Hermosillo and Taylor Gushue. Strange-Gordon, Wolters, and Tyler Ladendorf tallied the rest of the hits for Iowa, with Nick Martini and Alfonso Rivas going hitless.
The rain cut our comeback off early tonight. We'll see you tomorrow night at 7:08! pic.twitter.com/8SL13iUZzR

— Iowa Cubs (@IowaCubs) June 25, 2021
MISSISSIPPI BRAVES 6 – TENNESSEE SMOKIES 2
Being the youngest team in AA comes with challenges, and scoring runs is undoubtedly a challenge for this team. No matter how good the pitching has been, the Smokies continue to struggle to bring guys in as they are missing tons of players on the IL. When you have a pitching staff that gives up six runs, it makes for a long night on the diamond.
Erich Uelmen continues to take his bumps and bruises on the mound as he took the loss to fall to 1-5 on the season. Uelmen did give Tennessee some much-needed length going seven innings, but after allowing four runs on seven hits, it was too much for the offense to overcome. Oddly enough, Tennessee were the ones to crack the scoreboard first when Andy Weber picked up a second-inning sacrifice fly to take a 1-0 lead.
That lead was short-lived as the Braves got the better of Uelmen in the third, bringing home three runs to take a 3-1 lead. All three of those runs came off of homers, with Wendell Rijo tying things up with a solo shot and Shea Langeliers putting the Braves on top 3-1 with a two-run bomb. Refusing to go down without a fight, Nelson Maldonado picked up an RBI single in the fifth inning to pull the Smokies within 3-2. Unfortunately, that would be as close as things would get for them as the Braves ended the game with three unanswered runs, including another homer from Rijo later in the game.
The Smokies offense continues to be a work in progress as they try to piece something together to combat the missing parts. With just five hits, there wasn't much working as Maldonado was joined by Darius Hill, Brennen Davis, Weber, and Tim Susnara. Chase Strumpf and Christopher Morel continue to battle through some prolonged slumps as both of them are now under the Mendoza line this season.
FORT WAYNE TIN CAPS 9 – SOUTH BEND CUBS 1
While the Chicago Cubs went on to toss a no-hitter overnight, South Bend was working on being no hit themselves as the Cubs were held without a hit through eight innings. Despite that, they not only had a 1-0 lead at one point, but managed to stay tied 1-1 as the game shifted to the seventh. In that inning, Burl Carraway and Jose Albertos were roughed up as the duo combined to allow eight runs in that inning, giving Fort Wayne a 9-1 win.
That painful inning took away from Derek Casey's strong start, who struck out a season-high 11 to go with two walks in 6 1/3 innings of work. Casey was charged with two of those earned runs in the seventh, but he wasn't the one that served up the hits. So how did the Cubs score a run without a hit, you may ask? Well, that took place in the third when Edmond Americaan reached base on a two-out walk.
Americaan would then steal second and later advance to third on a wild pitch. During the wild pitch, Fort Wayne catcher Johnny Homza committed a throwing error trying to nab Americaan, allowing him to score to give South Bend a 1-0 lead. However, the Cubs didn't hold that lead for too long as Casey served up a game-tying homer to Kelvin Melean the next inning.
That score held surge until the seventh when a bases-loaded walk and hit by pitch put Fort Wayne in front 3-1. After hitting his homer in the fourth, Melean added to an already great game as his two-run single took a 3-1 game and turned it into a 5-1 Tin Caps lead. Justin Lopez delivered the back-breaking blow as his fourth homer of the season was a grand slam to hand South Bend a 9-1 loss.
Nelson Velazquez and Jake Slaughter were the lone Cubs to record hits, with Americaan, Slaughter, Jacob Olson, and Matt Burch adding walks to reach base. Delvin Zinn and Yonathan Perlaza went hitless, as did the newest South Bend catcher Harrison Wenson.
A career-best 11 strikeouts for @Derek_Casey14 but the Cubs falter again in a loss to Fort Wayne. pic.twitter.com/7CS5WpLTyM

— South Bend Cubs (@SBCubs) June 25, 2021
COLUMBIA FIREFLIES 6 – MYRTLE BEACH PELICANS 4
After being no-hit the night before, Columbia wanted to take out their frustrations on a Pelicans team that has played well to open the series. They did that and more by scratching across five runs in the first five innings to hold off Myrtle Beach 6-4. Didier Vargas took the ball for the start once again and surrendered three runs in four innings of work. It was just the second start of the season for Vargas as he continues to build up arm strength.
Kale Emshoff greeted Vargas rather rudely in the second inning, connecting for a two-run shot to make things 2-0. However, the Pelicans wanted to make sure the Fireflies knew this wouldn't be an easy game as Flemin Bautista answered that homer with his first homer of the season in the third, tying things up 2-2. The back-and-forth affair continued with Gage Hughes going deep for the first time to make things 3-2 before Jordan Nwogu tied things up again with a fourth-inning RBI single.
Still tied 3-3 in the bottom of the fifth, Columbus was able to touch up the Pelicans pen and raced out to take the lead off Darryl Collins single before a wild pitch made things 5-3. Columbia never looked back, adding a sixth run in the eighth, which was just enough to hold on in the 6-4 win. After connecting for his first homer earlier, Bautista added the Pelicans fourth and final run in the seventh off an RBI single.
Bautista played a significant role in the team's offensive success, collecting a pair of hits to go with three RBIs. Jonathan Sierra stayed hot, grabbing two hits to raise his average to 260, while Yohendrick Pinango, Ryan Reynolds, and Nwogu added the remaining hits. Yeison Santana struck out three times in the no. 9 spot, but was able to pick up his first hit since returning to the team.
Tonight wasn't as fun. We'll be back for game four tomorrow night. #MBPelicans pic.twitter.com/kO2Jt6J1Ln

— Myrtle Beach Pelicans (@Pelicanbaseball) June 25, 2021

Tags: Cubs Baseball
,
Trent Giambrone
,
Ian Miller
,
Michael Hermosillo
,
Taylor Gushue
,
Alfonso Rivas
,
Erich Uelmen
,
Andy Weber
,
Nelson Maldonado
,
Darius Hill
,
Brennen Davis
,
Chase Strumpf
,
Christopher Morel
,
Jose Albertos
,
Derek Casey
,
Edmond Americaan
,
Nelson Velazquez
,
Jacob Olson
,
Delvin Zinn
,
Yonathan Perlaza
,
Didier Vargas
,
Jonathan Sierra
,
Ryan Reynolds