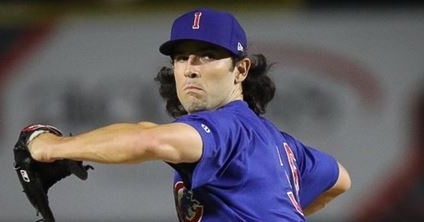 | | |
| --- | --- |
| Cubs Minor League News: I-Cubs dominated by Storm Chasers, Ed Howard's first pro homer, mo | |
---
| | | |
| --- | --- | --- |
| Sunday, June 27, 2021, 1:00 PM | | |
Make that two nights in a row where the Cubs have gone winless down on the farm. It has not been an easy weekend for the Cubs system as they have gone 0-7 the past two days and 2-9 the past three days. Those are not the results you would like to see within an organization, but much like the Chicago Cubs, the minor league affiliates have had to deal with their fair share of injuries, and it has hurt their system.
OMAHA STORM CHASERS 13 – IOWA CUBS 2
After getting walked off by the Cubs on Friday, Omaha took their frustrations out on Iowa Saturday, pounding them 13-2. The Storm Chasers used a four-run first and an eight-run fifth to do most of their damage as the Cubs fell behind early and couldn't recover.
Joe Biagini started and lasted 1 2/3 innings of work, allowing four runs on five hits with just three earned runs. On the other hand, Ryan Kellogg was the one that was hit the hardest as he labored through three innings of work. Despite allowing nine runs on 10 hits, Kellogg was only charged with three earned runs as the Iowa defense did him no favors.
All four of the Omaha runs in the first inning came off RBI singles, with Ryan McBroom and Nick Dini picking up one RBI each, while Gabriel Cancel added a two-run single to give Omaha a 4-0 lead early. That lead grew to 5-0 in the third when Anderson Miller connected for his seventh blast of the season, but it was in the fifth when Omaha put the game away, using an eight-run frame to take a 13-0 lead.
Dini and Cancel picked up RBI doubles in that frame, with Alcides Escobar picking up an RBI single. Iowa also helped the Omaha case with a throwing error by Trent Giambrone, which not only forced Kellogg to throw more pitches, but helped Miller connect for his second homer of the game as Iowa had a long uphill battle to climb at this point.
Both Cubs runs came in the sixth and seventh inning, and none of them came off a hit. Instead, it was a wild pitch that saw Iowa get on the board first, before a seventh-inning balk capped off the scoring in what was a 13-2 shellacking. There wasn't much to get excited about with just six hits, but Taylor Gushue stayed hot, picking up two more hits. He was joined by Dee Strange-Gordon, Giambrone, Vance Vizcaino, and Ian Miller, who all had one hit. Dillon Maples made his first rehab appearance and tossed a scoreless eighth inning with two strikeouts.
A game was played tonight. pic.twitter.com/lX1J0ASAGq

— Iowa Cubs (@IowaCubs) June 27, 2021
MISSISSIPPI BRAVES 5 – TENNESSEE SMOKIES 0
Not only have the hits been hard to come by for Tennessee, but so has scoring as the Smokies fell 5-0 to the Braves on Saturday and now sit 15-30 on the season. Dakota Chalmers took the ball for the start and tossed two scoreless innings of one-hit ball to go with three strikeouts. He handed things off to Alex Katz, who pitched the next four innings and was charged with three earned runs.
All three of those runs came off one swing in the fourth inning when Wendell Rijo connected for a three-run shot giving the Braves a 3-0 lead they wouldn't give back. After some excellent work by Juan Gamez and the Smokies bullpen, Manuel Rodriguez allowed the game's final two runs in the eighth inning. Despite walking three hitters, including a bases-loaded walk to Jacob Pearson, an error earlier in the inning, both runs unearned as the Smokies fall 5-0.
Not only were the Smokies shut out, but they connected for just two hits while taking no walks and striking out 13 times. Nelson Maldonado raised his average to 295 with a hit, while Connor Myers continued his strong series from the bottom of the order. Darius Hill suffered a rare hitless night, with Brennen Davis also going hitless. However, Tennessee did receive some good news as catcher Miguel Amaya should be returning to the lineup soon.
SOUTH BEND CUBS 1 – FORT WAYNE TIN CAPS 1 (Suspended in the third)
While most of the Cubs system didn't perform well on Saturday, South Bend was off to a great start before mother nature got in the way. Chris Kachmar was off to a strong start as he allowed just one run on one hit through three innings, with that run coming off an Augustin Ruiz first-inning double.
The Cubs were able to answer that run with a run of their own in the bottom of the first as Nelson Velazquez continued his outstanding series by ripping an RBI double to tie things up 1-1. In total, the Cubs had two hits, with Yonathan Perlaza and Velazquez grabbing both those hits in the first. Their game will be completed on Sunday, before the start of their regularly scheduled game.
Due to the inclement weather, today's game has been SUSPENDED.#SBCubs and @TinCaps will resume this game tomorrow beginning at 12:05pm. Gates at 11:30am. Will resume the game in the bottom of the 3rd inning and complete all nine innings. (1/2) pic.twitter.com/jaxrCTeMH4

— South Bend Cubs (@SBCubs) June 27, 2021
COLUMBIA FIREFLIES 6 – MYRTLE BEACH PELICANS 2 (10 Innings)
In what was a great game all night long, the final score doesn't indicate that as the Pelicans allowed their second walk-off grand slam of the season to fall 6-2. Manuel Espinoza not only tossed in a great start, but he is slowly emerging as the ace of this staff with DavidJohn Herz. In five innings, Espinoza scattered four hits and one walk while striking out two. Most importantly, he didn't allow a run as his ERA fell to 3.78 on the season.
The Pelicans offense has been far from explosive this season, but one thing they have done well in this series is score first. That was indeed the case on Saturday, as both runs came in the first inning. The first of those came from Ed Howard as he connected for his first career professional homer to give Myrtle Beach a 1-0 lead.
Fifth-ranked @Cubs prospect Ed Howard's first pro homer for @Pelicanbaseball wins everyone in the ballpark a chicken sandwich. pic.twitter.com/TdKHlRJHeH

— MLB Pipeline (@MLBPipeline) June 26, 2021
Ethan Hearn would add an RBI single later that inning as the Pelicans were up 2-0.
That was more than enough support for Espinoza as the Pelicans made that score hold up until the seventh inning. With Danis Correa on in relief, the Pelicans defense did him no favors as a costly error allowed for the first Firefly run to score, making things 2-1. That would be significant as Carlos Ocampo allowed a game-tying Juan Carlos Negret homer in the eighth to make things 2-2. That put a damper on another solid performance by Ocampo as he struck out three once again.
After going down in order in the ninth, the teams treated fans to some extra baseball, but the Pelicans bats were still quiet as they now went nine innings without a run. Making just his sixth appearance of the season, the Pelicans turned to Jarod Wright in extras as he looked to keep things rolling. After recording the first out of the inning, Wright walked the next hitter before intentionally walking another to set up the double play.
While that strategy was certainly an option, loading the bases in extras is living dangerously, and the Fireflies made him pay. On the very first pitch of the next at-bat, Darryl Collins sent Pelicans fans home in utter disappointment as Wright served up the walk-off grand slam in a 6-2 loss. Take away the first inning in which the Pelicans had two hits, and they mustered just three hits the rest of the way.
One of those hits came on the Ryan Reynolds eighth-inning double, while the other two came off the bat of Jacob Wetzel. Jordan Nwogu and Yohendrick Pinango went hitless.
Walkoff grand slam gives Columbia the win. Series finale tomorrow. #MBPelicans pic.twitter.com/yNn9CFlGzP

— Myrtle Beach Pelicans (@Pelicanbaseball) June 27, 2021

Tags: Cubs Baseball
,
Ryan Kellogg
,
Trent Giambrone
,
Taylor Gushue
,
Vance Vizcaino
,
Ian Miller
,
Dillon Maples
,
Juan Gamez
,
Manuel Rodriguez
,
Nelson Maldonado
,
Connor Myers
,
Darius Hill
,
Brennen Davis
,
Miguel Amaya
,
Chris Kachmar
,
Nelson Velazquez
,
Yonathan Perlaza
,
Ryan Reynolds