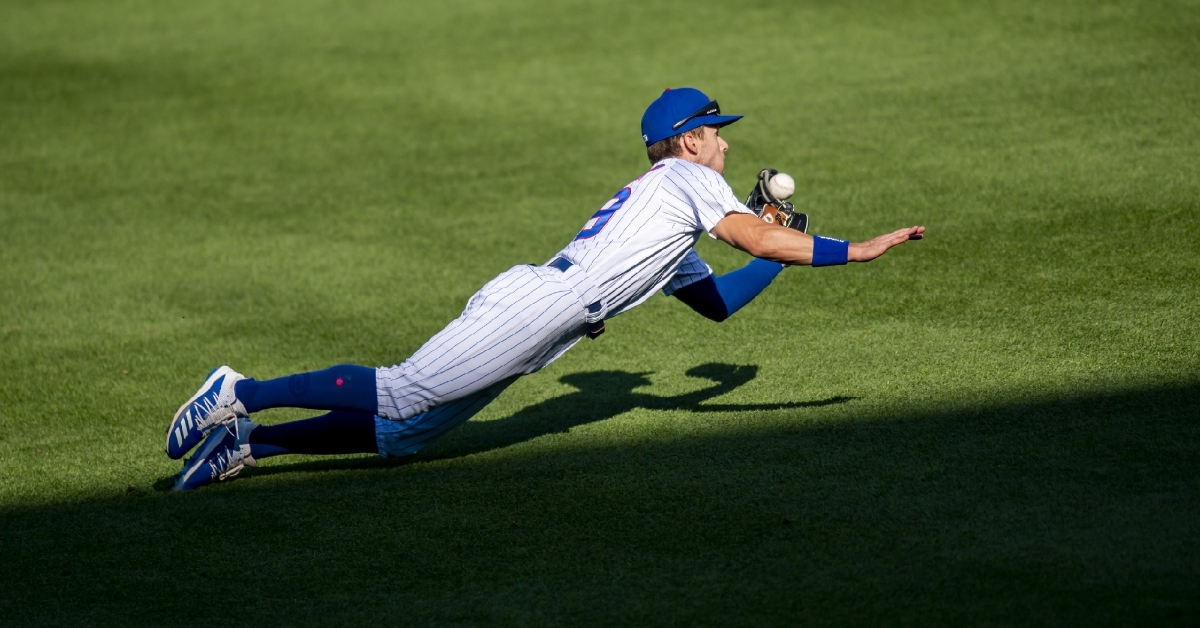 | | |
| --- | --- |
| Cubs Minor League News: Ian Miller collects three hits, Jensen impressive, Pelicans split | |
---
| | | |
| --- | --- | --- |
| Sunday, May 16, 2021, 12:00 PM | | |
It was a busy night on the farm last night as all four teams were once again in action. To add to the fun, the system had their first doubleheader of the year in which the Pelicans and Green Jackets split the two games.
Outside of that win, fans were greeted to an extra-inning affair, classic pitchers duel, but still only managed to go 1-4 across the five games on the evening. As mentioned the other day, wins and losses are great and all, but this is a season where development tops the overall records.
IOWA CUBS 1 – SAINT PAUL SAINTS 2
Pitching was the name of the game on Saturday as both the Cubs and Saints combined for just three runs on 10 total hits. In the end, it was Saint Paul getting the last laugh walking off the Cubs 2-1. Making his second start on his rehab assignment was Shelby Miller, who lasted 3 1/3 inning. Miller kept his team in the game, allowing an unearned run on three hits but struggled with his command a little bit, walking three and striking out four.
Second MLB rehab appearance for Shelby Miller in an @IowaCubs uniform is complete: 3.1 IP, 3 H, 1 R, 0 ER, 4 K, 3 BB. 7.1 IP with 0 ER and 9 K's overall in two outings.

Has looked pretty sharp overall. Fastball velocity was 94-96 tonight.

— Alex Cohen (@voiceofcohen) May 16, 2021
He gave way to Jake Jewell, Adrian Sampson, and Robert Stock, as that trio held the Saints offense in check until the ninth inning. Down 1-0 after a second-inning Keon Broxton RBI single, Ian Miller tied things up in the top of the fourth with an RBI single of his own. It was his first hit in a while as he has been silenced. The rest of the game was all about pitching until Ryan Jeffers delivered a walk-off homer in the night to cap off the 2-1 Saints win.
Trayce Thompson was held hitless for the first time since joining Iowa but still worked a walk to keep his on-base streak going. After being quiet for four games, Miller woke up in a big way delivering the team's lone RBI and collecting three hits.
With three hits tonight, Ian Miller is your ?@EMCInsurance? Player of the Game! pic.twitter.com/iVoKwF9jaP

— Iowa Cubs (@IowaCubs) May 16, 2021
Nick Martini returned to Iowa to deliver a hit with P.J. Higgins recording the other. Cameron Maybin was held hitless with a pair of strikeouts but did reach base with a walk.
St. Paul hits a walk-off home run to win 2-1. Series finale tomorrow at 2:05! pic.twitter.com/1MYoTJNTbv

— Iowa Cubs (@IowaCubs) May 16, 2021
TENNESSEE SMOKIES 1 – ROCKET CITY TRASH PANDAS 9
The only team lost by more than four runs on Saturday, and that team was Tennessee. It didn't help that both Luis Lugo and Scott Effross combined to allow nine runs in five innings of work as the Smokies dug themselves a huge hole they couldn't recover from.
David Mackinnon opened the scoring for Rocket City as he took Lugo deep for a two-run in the first for the 2-0 lead. Tennessee responded with a Vance Vizcaino solo shot in the second as they closed the deficit to 2-1. Unfortunately, that would be as close as the Smokies would get with Gavin Cecchini crushing a three-run shot in the bottom of the third ahead of the Izzy Wilson homer go put Rocket City up 6-1.
The Trash Pandas added three more runs in the fifth, with Orlando Martinez delivering a two-run double following an earlier error, and that was all the offense Rocket City needed in the 9-1 win. Even though pitching struggled early on for Tennessee, Bailey Clark and Manuel Rodriguez got things together, allowing just one hit in their three innings of relief to go with three walks and five strikeouts.
Offensively, the Smokies were limited to just four hits, with Vizcaino responsible for two of those hits, including the lone RBI. Tyler Payne and Erick Castillo recorded the other two hits for the Smokies on the evening. Darius Hill continues to adjust to AA pitching, going 0-4, while Christopher Morel was held to an 0-3 night. Miguel Amaya was given the night off.
SOUTH BEND CUBS 5 – BELOIT SNAPPERS 6 (10 innings)
Walk-off wins were the theme of the night in the farm system as South Bend was locked in a close battle with Beloit. After the teams played to a 4-4 tie through nine innings, South Bend struck first in the extra frame to take a 5-4 lead.
Unfortunately, it would be the Snappers getting the last laugh, pushing across a pair of runs in the bottom of the 10th to claim a 6-5 win.
Ryan Jensen made his second start of the season and has been impressive so far. In four innings of work, Jensen allowed just one run on three hits to go with one walk and four strikeouts. His command has been outstanding this season after struggling to find the zone last year. Despite his six strikeouts in three innings, Alex Katz allowed three runs in three innings of work in relief before Brandon Hughes was saddled with the loss in relief.
It was the Cubs offense who struck first in this one which is becoming more typical lately. Cole Roederer pushed across the game's first run in the top of the third with an RBI single to left. South Bend was gifted a second run shortly after as a balk made things 2-0. The lone run charged to Jensen was in the bottom of third when Connor Scott delivered an RBI single to cut things to 2-1.
South Bend extended their lead to 4-1 in the top of the fifth when Delvin Zinn ribbed an RBI single ahead of an error to push across the second run. A Thomas Jones single in the bottom of the fifth made things 4-2 before Beloit cashed in during the seventh. After providing the first two runs of the game, the Scott, Jones duo was clutch again, using a pair of singles to draw even 4-4 and send the game to extras.
In the top of the 10th, Nelson Velazquez gave the Cubs the lead as his sacrifice fly made things 5-4. Hoping to hold onto that one-run lead, Hughes served up a walk-off two-run shot to Griffin Conine, and the Snappers deliver the 6-5 walk-off win. Despite pushing across five runs, South Bend was held to just five hits, with Yonathan Perlaza responsible for two.
Roederer, D.J. Artis, and Zinn picked up the other three as the top of the or reached base seven times, adding four walks to their line. After his big game the other night, Reivaj Garcia was held hitless, striking out once in the losing effort.
Tough loss, we'll be back tomorrow. pic.twitter.com/vFllqLIc3p

— South Bend Cubs (@SBCubs) May 16, 2021
AUGUSTA GREEN JACKETS 1 – MYRTLE BEACH PELICANS 5 (Game 1)
In a makeup of their earlier series rainout, the Pelicans were set to play two, taking game one 5-1. Manuel Espinoza was on the mound lowering his ERA to 2.57 after allowing just one run on five hits in his five innings of work. Scott Kobos finished things off with two strikeouts in two innings.
The Pelicans only scored in two innings, but both were multi-run innings, including their three-run first. Yohendrick Pinango got things started with an RBI single in the first, putting the Pelicans in front for good 1-0. Jonathan Sierra followed that up with a single later in the inning as the Pelicans led 3-0 after one.
2-run single for Jonathan Sierra in his first AB of the season. Pelicans lead 3-0 pic.twitter.com/q54jByQKdW

— Jordan Miller (@Miller_MiLB) May 15, 2021
Sierra was just getting started on the day as he added a second RBI single in the bottom of the third to extend the lead to 5-0. Sierra not only collected multiple hits but pushed across four runs in the game. Braulio Vasquez put an end to the shut-out bid with a fourth-inning RBI single, but the Pelicans wouldn't give up anything else, winning 5-1. Myrtle Beach only needed four hits to win the game, with Sierra responsible for two and Pinango grabbing one. Edmond Americaan picked up the fourth hit in the game one win.
AUGUSTA GREEN JACKETS 2 – MYRTLE BEACH PELICANS 1 (Game 2)
Looking for the doubleheader sweep, the Pelicans turned to DavidJohn Herz for the start as he is continuing to gain valuable experience. Despite walking three in just 2 1/3 innings of work, Herz didn't allow a hit and kept Augusta off the board. He teamed up with Alex Whitney as the duo held Augusta scoreless through five innings.
Holding a 1-0 lead entering the seventh, the Green Jackets were able to tie things up off Bailey Reid before adding a run-in extras, Jake Reindl. That eighth-inning run proved to be the difference in the 2-1 win. It took both offenses a while to get going, but in the fifth, Myrtle Beach was able to bust through first.
Following a walk to Sierra, he was able to steal second before heading to third on a wild pitch. His trip around the bases continued a few pitches later as another wild pitch allowed him to come home to score the game's first run and gave the Pelicans a 1-0 lead. That 1-0 score held up until the seventh when Stephen Paolini ripped a single off Reid to tie things up 1-1 and sent the game to extras. One inning later, Landon Stephens cashed in with the game-winning hit as the Green Jackets stole game two 2-1.
The Pelicans were only able to collect three hits, with Americaan and Luis Verdugo credited with two. At long last, Ethan Hearn picked up his first hit of the season, bringing his season average to .045 on the year. Yeison Santana went 0-2 while Pinango went 0-3.
Wake up with the highlights from yesterday's doubleheader split.

Sixth and final game of the first homestand tonight at 6:05 PM! pic.twitter.com/C8TPOLErfw

— Myrtle Beach Pelicans (@Pelicanbaseball) May 16, 2021

Tags: Cubs Baseball
,
Jake Jewell
,
Robert Stock
,
Ian Miller
,
Luis Lugo
,
Scott Effross
,
Vance Vizcaino
,
Bailey Clark
,
Manuel Rodriguez
,
Erick Castillo
,
Darius Hill
,
Christopher Morel
,
Miguel Amaya
,
Ryan Jensen
,
Brandon Hughes
,
Cole Roederer
,
Delvin Zinn
,
Nelson Velazquez
,
Yonathan Perlaza
,
Jonathan Sierra
,
Edmond Americaan