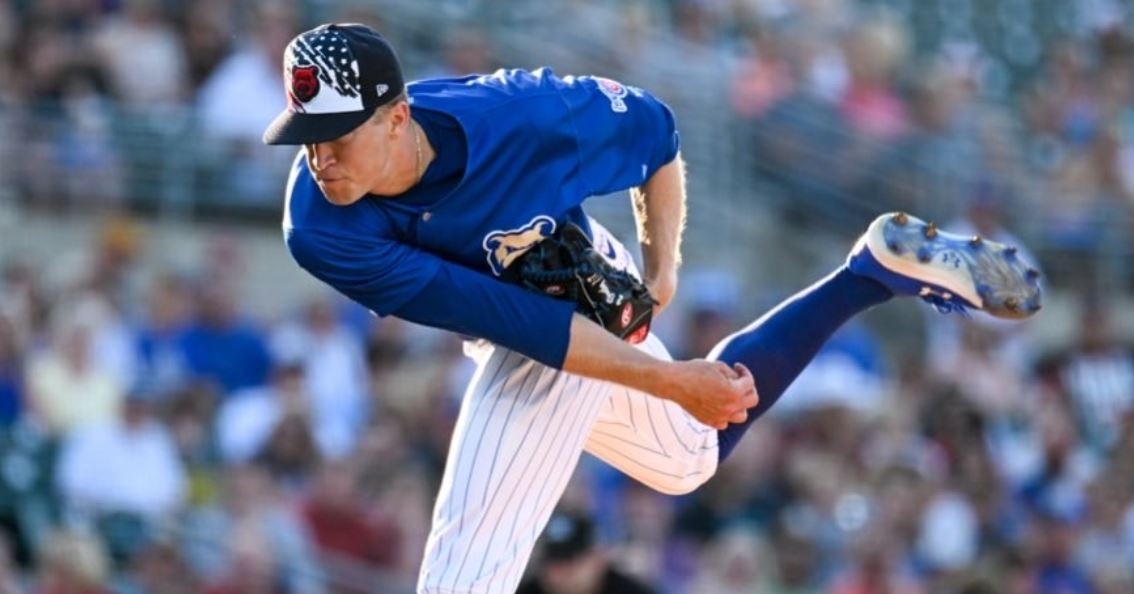 | | |
| --- | --- |
| Cubs Minor League News: Kilian impressive, Suzuki raking, Maldonado and Triantos homer | |
---
| | | |
| --- | --- | --- |
| Sunday, July 3, 2022, 10:06 AM | | |
For the first time in three days, the Cubs came away with a winning record going 4-3 on the night. You had both Myrtle Beach and South Bend continue their hot streaks while some luck started to go the Rookie Leagues way.
COLUMBUS CLIPPERS 10 - IOWA CUBS 6 (F/10)
The Cubs can't buy a win against this Clippers team which was evident in this one. After allowing double digit runs in each of their last three games, the Cubs did a great job keeping the Columbus offense in check holding them to just five runs through nine innings. That was until the 10th when Columbus scored five times to reach double digits again and won 10-6.
Making his second start since returning to AAA was Caleb Killian who was brilliant. Across his five innings, Killian allowed just one run on three hits while walking two and striking out seven. That is the version the Cubs are hoping returns to Wrigley at some point this season. Outside of that, the Cubs bullpen was not very good as they gave this game back to Columbus.
Down 1-0 in the second, Jackson Frazier tied things up with a sacrifice fly, but that was the brunt of the offense early on for the Cubs. Seiya Suzuki continues to play well on his rehab stint picking up an RBI double in the third to put the Cubs up 2-1.
Seiya Suzuki clubs this RBI double to give us the lead! pic.twitter.com/RSEO3P4MPm

— Iowa Cubs (@IowaCubs) July 3, 2022
That score would hold until the sixth inning with Columbus coming through with three runs to take a 4-2 lead before adding another run late.
Fortunately, Nelson Maldonado had plans to keep things close, picking up a homer in the sixth to pull the Cubs within a run before Carlos Sepulveda knotted things up with a single in the eighth to send the game into extras.
Nelson Maldonado brings us within a run with this solo blast! ?? pic.twitter.com/Azx93y63e5

— Iowa Cubs (@IowaCubs) July 3, 2022
It was in the extra frame when Columbus scored five times with four coming off the David Fry grand slam as that was enough to top the Cubs 10-6.
Final from Principal Park. pic.twitter.com/7IHMTQX4l3

— Iowa Cubs (@IowaCubs) July 3, 2022
ROCKET CITY TRASH PANDAS 11- TENNESSEE SMOKIES 9
Just like that, pitching has gone out the window as the Trash Pandas put up 11 on the Smokies. A large chunk of the Trash Pandas offense came in the middle innings where they pushed across nine runs. Four of those runs came in the third off the Livan Soto single and Preston Palmeiro double to give Rocket City a 4-0 lead.
Bryce Windham picked up an RBI single in the bottom of the third to get the Smokies on the board, but once again the Trash Pandas offense was on fire in the fourth with Kevin Maitan adding another RBI double with Palmiero picking up an RBI single. Bryce Ball and Luis Vazquez did their best to keep things close as they picked up RBI hits to make things 7-3.
Back-to-back doubles from Strumpf and Ball lead to another run for the Smokies! 7-2 Rocket City in the bottom of the 4th. @CStrumpf @bryceball_05 pic.twitter.com/zOgPaMFMDl

— Tennessee Smokies (@smokiesbaseball) July 3, 2022
RBI single from Vazquez! The Smokies now trail just 7-3 in the bottom of the 4th. pic.twitter.com/Aj4BEFIxUH

— Tennessee Smokies (@smokiesbaseball) July 3, 2022
Down 9-3 in the sixth, Windham came through with another RBI hit as his double made things 9-4. That set the stage for Matt Mervis whose bases clearing double made this a ballgame with the Smokies trailing 9-7.
A 3-RUN BASES CLEARING DOUBLE FOR MERVIS!!!! Smokies only trail 9-7 in the bottom of the 6th. #Comebackseason @mmervis12 pic.twitter.com/AKcs64t4VJ

— Tennessee Smokies (@smokiesbaseball) July 3, 2022
Not about to let off the gas quite yet, Soto would add another RBI double in the seventh to push the lead back out to 11-7 as the Smokies needed some late game magic to pull out a win.
A bases loaded hit by pitch to Mervis in the seventh would help, but the Smokies couldn't come away with more as that proved to be the turning point in the game. Vasquez singled home the Smokies ninth run of the game in the eighth, but that would be it as the Smokies dropped a high-scoring affair 11-9.
Smokies fall 11-9. See you tomorrow for the 3rd of July! ?????? pic.twitter.com/vOnaD6p6Z5

— Tennessee Smokies (@smokiesbaseball) July 3, 2022
SOUTH BEND CUBS 2 - BELOIT SKY CARP 1
Sometimes all it takes is one inning to grab enough runs to win and that is what to South Bend in those one. Despite scoring just two times, both of those runs came in the second inning before the Cubs pitching took care of the rest to help them win their 10th straight.
DJ Herz battled through some command issues as he walked four and struck out seven across four innings, but when you only allow one run on two hits it doesn't matter how you do. Following three scoreless frames from Jaret Wright, Zac Leigh took over where he closed things out for the Cubs 10th consecutive win.
From an offensive side of things, all the Cubs runs came in one inning with Fabian Pertuz picking up the go ahead double in the second before BJ Murray Jr provided the game winning hit with a double. Fortunately for South Bend, that would be all the offense they would need as the Will Banfield double in the fourth was all the Sky Carp could do in the 2-1 loss.
CATCH OF THE YEAR??

Top-3 @Cubs prospect Pete Crow-Armstrong is a magician. What a play!#SCTop10 @ESPNAssignDesk pic.twitter.com/mcfXMhK9J7

— South Bend Cubs (@SBCubs) July 3, 2022
10 W's in a row ?

Still undefeated in the 2nd half ?

CUBS ARE HOT! ??#FlyTheW pic.twitter.com/eWupcX7yE2

— South Bend Cubs (@SBCubs) July 3, 2022
MYRTLE BEACH PELICANS 13 - CHARLESTON RIVER DOGS 6
Sparked by an early six-run inning, the Pelicans offense came to play as they picked up their fourth straight win against the River Dogs. Richard Gallardo is going through a rare rough patch right now and that continued during his four inning outing allowing five earned runs.
However, when your offense gives you six runs of early support it does makes things a lot easier. Singles from Malcolm Quintero and Alejandro Rivero started that massive inning off before a Juan Mora fielder's choice and Kevin Made groundout made things 4-0. The James Triantos double later in that frame capped off the scoring with the Pelicans off and running 6-0.
The River Dogs did a nice job battling back by scoring three times in the third, but homers by Felix Stevens and Triantos in the third and fourth innings saw the birds lead grow to 8-3.
2 straight nights, 2 fastballs up in the zone, 2 homers for James Triantos!

The No. 4 @Cubs prospect does it again for @Pelicanbaseball. pic.twitter.com/sTptgapMdy

— MLB Pipeline (@MLBPipeline) July 3, 2022
The River Dogs continued to put up a good fight, scoring two more times to make things 8-5, but every time they scored the Pelicans had something in store.
Mora and Kevin Alcantara would each add two RBIs across the final few frames as the Pelicans took care of the River Dogs yet again 13-6.
Happy Sunday!

Wake up with the highlights from last night's series win over the RiverDogs! pic.twitter.com/ywpgpb1rhT

— Myrtle Beach Pelicans (@Pelicanbaseball) July 3, 2022
ACL Cubs 9 ACL Athletics 2: Miguel Amaya picked up his first RBIin over a year.
DSL Cubs Blue 8 DSL Mets 2
DSL PIRATES 3 DSL Cubs red 2